All the pieces in our shop are available and ready for shipment. Local and nationwide shipping available for an additional fee. Select "buy now" on an item to go to my Etsy Shop or message me to purchase directly through us.
Since our pieces are salvaged and often are antiques or vintage, there may be imperfections. Colors in photos may vary to real life due to lighting or viewing devices. If you would like more info on the color palette or would like more pictures, please let me know and I'd be happy to share!
Stunning Antique Wardrobe**Vintage Farmhouse Look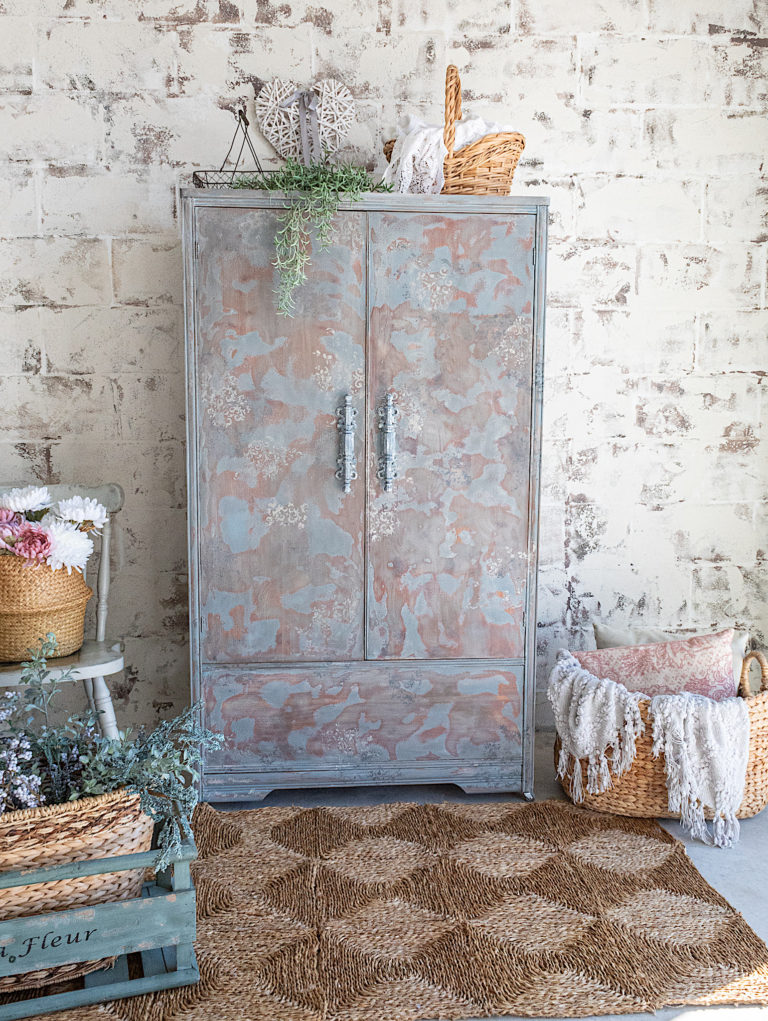 $548, Shipping not included.
A wardrobe that will take your breath away and make a beautiful statement piece in your home. This cherished piece from the 1940's has been refinished to honor its vintage history using distressing, stain and waxing techniques. It boasts a stunning soft and aged look as something one might find in the French countryside, a cozy cottage or an English manor. This rare beauty will adorn any room of the home. Store your clothing, accessories, shoes, linens, kitchen pots, or your winter coats in style.
Condition: This piece has small wheels, handy for moving into place, however the wardrobe is old and should be handled with care. It is in very good shape for its age. The doors need a little tug to open but it functions just fine as a wardrobe and has a beautiful cedar wood interior. It has one clothing rack across the width of the interior and a small bar on its left door for additional hanging. The bottom part is spacious and useful for additional storage.
Measures:
Exterior: 62.5″ H x 36″ W x 21.5″ D
Interior: 57″ H x 35″ W x 21″ D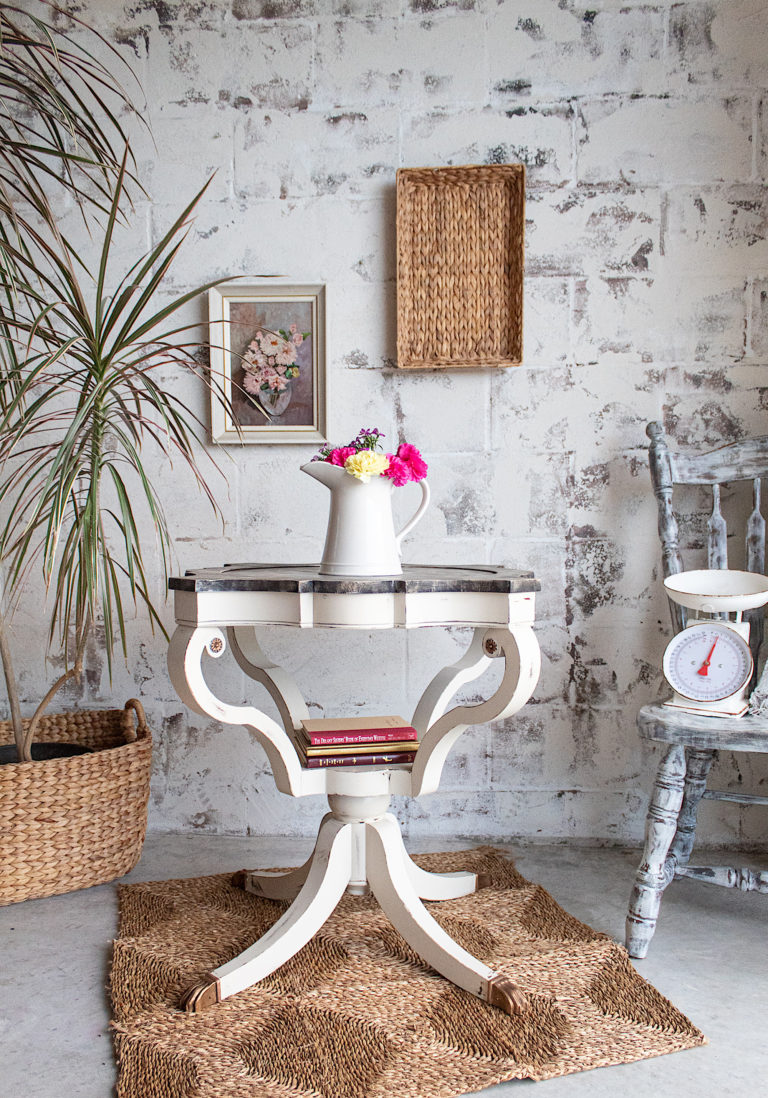 **SOLD**$165, shipping not included
This stunning table was refinished in a lovely off white color with Fusion's Champlain Mineral Paint. It was lightly distressed for an  aged look and the table top was given a rustic wood look using paint, stain and waxing techniques. The feet and metal details were spruced up using Aged Brass Art Alchemy Metallique Wax. The table's curved lines give this piece such a stylish look. Its warm and light tones soften the aesthetic of this small table and make it perfect for a farmhouse or cottage look. The table is very light weight and easy to move around the home until you find the perfect decorative spot! You can display decor on its small shelf and on its beautiful top. This table will look breathtaking in just about any room of the home!
Measures: 38″ x 38″ x 28″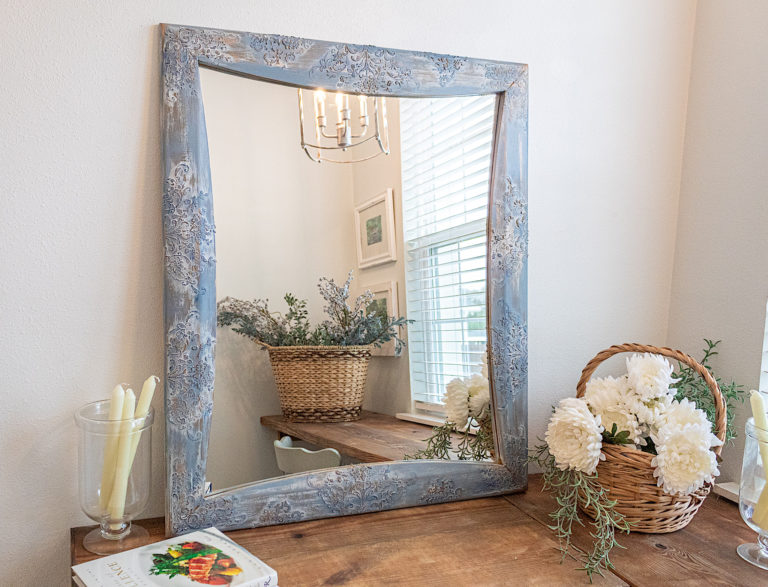 $145, shipping not included
Loving that nostalgic French Vintage Look? This stunning mirror was refinished to create an antique inspired style as something one might find in a beautiful French or European scene. A paint layering technique using chalk paints and metallics helped create beautiful texture and depth. The primary color of this mirror is a lovely blue, Behr's Forever Denim. A distressed look reveals gold and white undertones. Metallic waxes in Rose Gold and Deep Blue were used to highlight details. Hand made raised stencils cascade around the mirror's frame for gorgeous detail.
This ornate mirror will be a stylish piece in any room of the home. Its frame is in wonderful refinished condition. The glass of the mirror has some tiny spots in some places that are typical of a vintage piece. They are minimally visible and don't create any major obstruction to viewing in the mirror. This mirror will look beautiful hung up or leaned up against a wall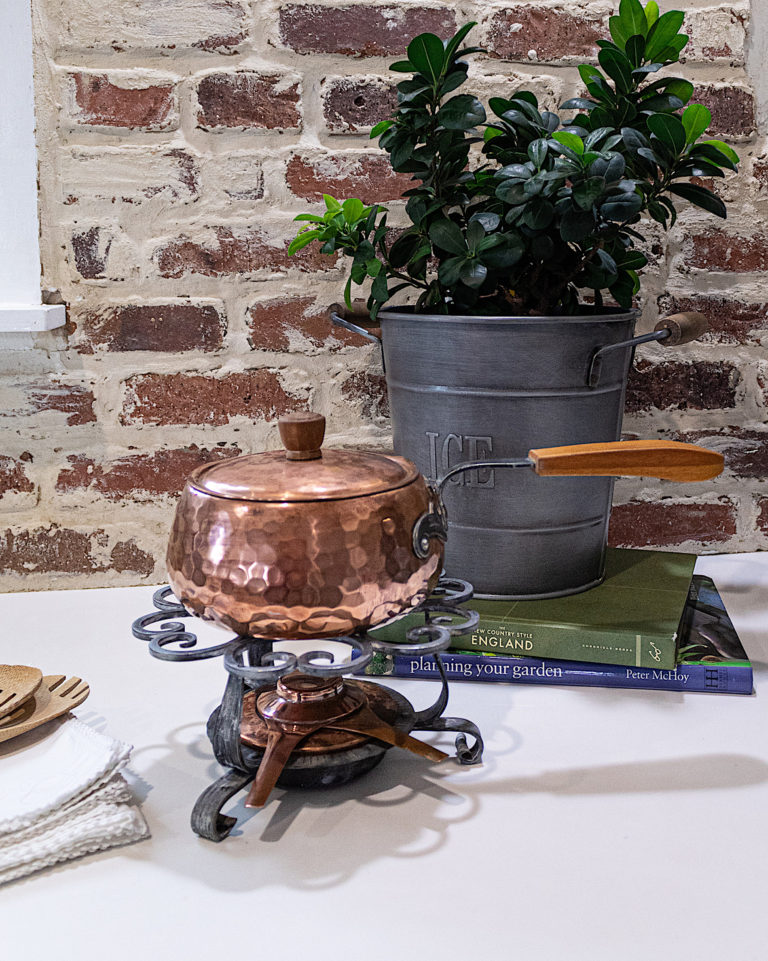 $60, Shipping not included
Swiss made Mid-Century Modern hammered Stockli Netstal pot with fondu burner shows beautiful craftsmanship. It would be a show piece in any copper cookware collection or as a stand alone treasure! This pot and burner have been polished to reveal their gorgeous copper finish. The copper pot handle is wood and steel and there is a wooden knob on the lid. The burner has an ornate metal design. This pot and burner are in very good condition with minor surface marks expected from vintage items.
Pot length w/handle: 14.25″
Rim diameter: 5.5"
Saucepan depth: 3.2"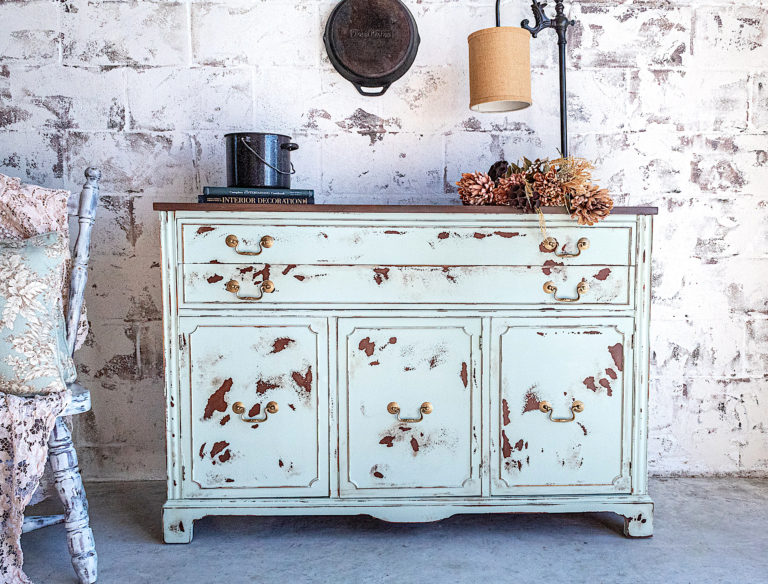 $534, shipping not included.
A stunning piece refinished in a time-honored look. A distressing technique was used to create a vintage look and dark waxes add depth and texture to the aesthetic. Painted in Fusion Mineral Paint's Inglenook, a silky mint color, the buffet radiates with vintage character and beauty. Circa 1940's, this antique piece boasts two long drawers with a top felt-lined silverware drawer and plenty of storage in its lower cabinets. The wood top was given a rich finish using a combination of Briarsmoke and Walnut stains. The entire piece was sealed with clear coat.
This buffet is in very good condition for its age. One drawer sticks a little but opens just fine with a little extra tug. There is a mild scent of age in the interior typical of antique pieces which we have treated but can be improved upon by airing out more if it is an issue.
The classic lines and moulding details of this buffet are something to admire. This rare piece of history could be used as an entryway sideboard, a beautiful buffet in the dining or living room, as a statement dresser in the bedroom or for decorative storage in any room of the home.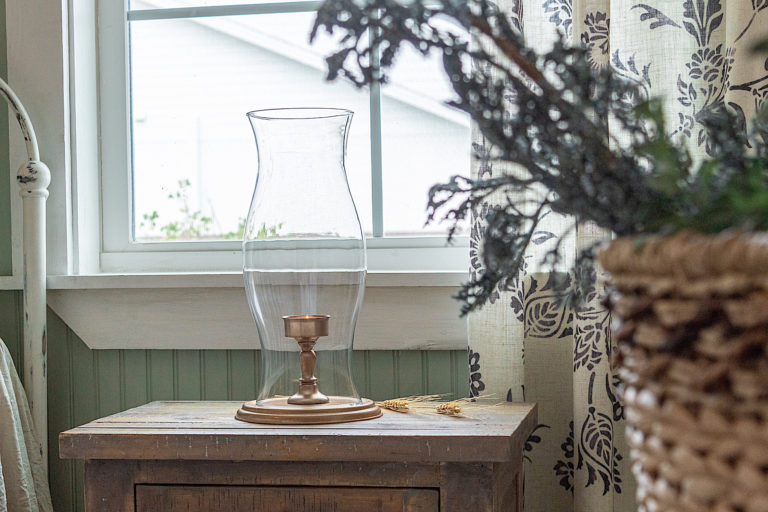 $35, Shipping not included
This stunning home decor candle holder boasts a beautiful shapely large glass shade. The base was refinished using DecoArt Antique Bronze enamel for a stylish, slightly hammered-coppered look. This is one of those special pieces sure to make a gorgeous decor statement in the home. It has a sleek look and its curved lines add elegance and sophistication. The shade can be pulled off (it is not connected to the base) for ease of cleaning. Dress up a table, dresser, shelf or counter top with this glamorous candle holder.
1 candle included
Measures:
Total Height: 15″
Shade width: 5″
Base width: 7″
Candle Opening Diameter: 2.
$83, Shipping not included.
This showstopping table is the sweetest thing! It was refinished to boast beauty and detail. Fusion Mineral Paint's Divine Lavender was the perfect color to embolden the table's lovely curves and lines. A gorgeous transfer adorns the top and Rose Gold Gilding Wax was used to accentuate pretty details and edges. Clear coat was used to seal the table and the lovely feet were refreshed using copper paint and rose gold wax. This salvaged piece is in wonderful condition. It is light weight and easy to move around to decorate different areas of the home. There a few small vein marks from the wood that are minimally visible and do not seem to take away from the beauty of this table! This piece can be used as an end table or night stand and is sure to turn heads wherever it is placed!
Measures:
27″ Height
19″ x 19″ Table Top
Weight: 11 lbs.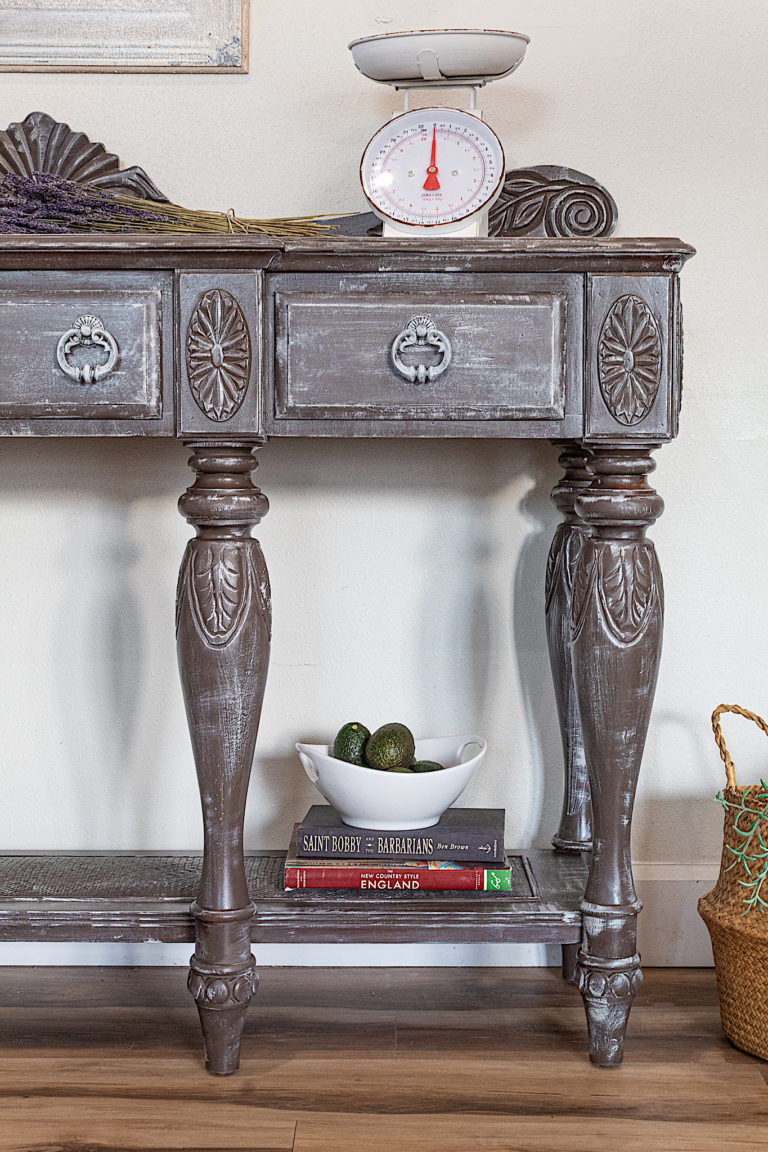 $520, shipping not included
This stunning sideboard or buffet is rich in wood carved details. A rare find, this beauty was refinished in a French Vintage Inspired look using chalk paint. Behr's Chocolate Swirl, a rich brown serves as the primary color. Behr's Weathered White was used to create a gently distressed look and to accent all the luscious details. A special technique was used on the top to create subtle distressed patterns. The entire piece was sealed with Charcoal Black wax for enhanced depth and dimension. This sideboard boasts two levels for displaying your decor or china. Silverware or home accessories can be stored in any of its three drawers. The curved legs on this piece are simply breathtaking. This sideboard or buffet will beautifully adorn an entryway, dining room, living room, bedroom or office. It's sophisticated and aged style will go with many home decor styles.
Measurements:
60.5″ Length
44.5″ Height
17″ Width
Since our pieces are salvaged and often are antiques or vintage, there may be imperfections. Colors in photos may vary to real life due to lighting or viewing devices. If you would like more info on the color palette or would like more pictures, please let me know and I'd be happy to share!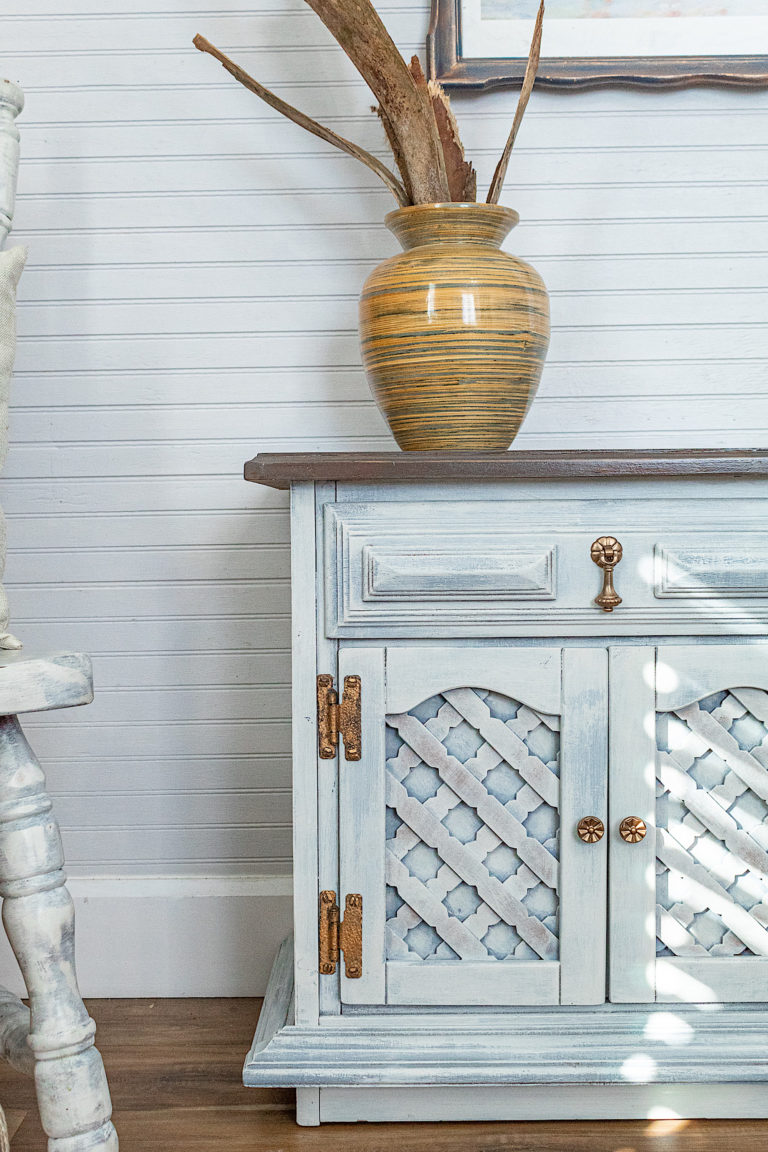 **SOLD**This end table or night stand was renovated to capture a beautiful cottage style. It was refinished using chalk paint and metallic waxes. The distressed technique features a primary color of Behr's weathered white with subtle undertones of Behr's Forever denim and hints of aged brass metallic wax for some striking definition and depth. Its charming rustic aesthetic is perfect to feature with farmhouse, coastal, vintage or European inspired decor. This small table will make huge impact in any room of the home. The top of the table had some nicks and a few small welts. Rather than hiding them, they were accentuated for rustic character using a stain finish. This table has a beautiful wood pattern on its door fronts and its original hardware was freshened up with antique bronze metallic wax. It boasts a spacious interior for storage and one top drawer.
Measures:
24″ H
25″ W
16″ D