The bathroom, by virtue of its role in the home should not need be deprived of beauty and style. In fact it lends itself splendidly to elegance and sophistication. When I thought of our master bath I envisioned luxury—a bit of glam against the farmhouse backdrop.

Luxury does not have to come with a high price tag. We found this gorgeous quartzite remnant—rich in grays and greens. It tied perfectly with the colors of our vanity and our tile floor.   When you shop for stone countertops make sure to ask if they have any remnants left over from other jobs. They are usually in smaller pieces (but often large enough for a bathroom vanity) and the store will be happy to offload them at a discounted price.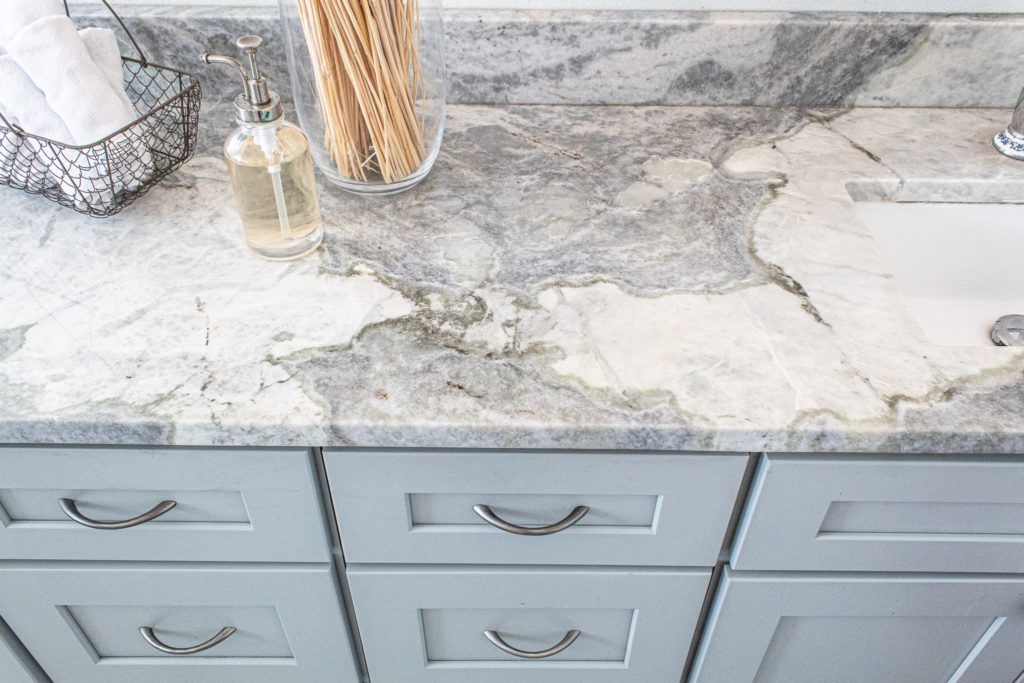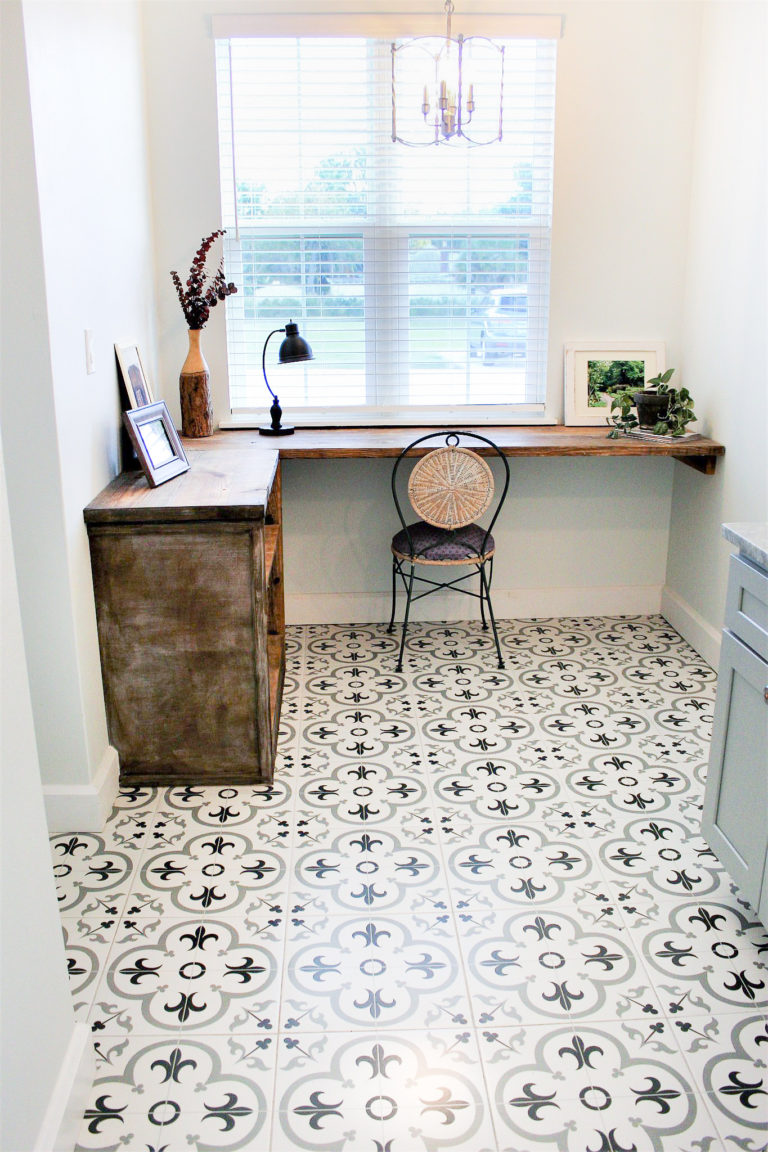 For our floors I chose Florentina Gray Ceramic Tiles. I originally wanted patterned Spanish tiles but these small tiles can be pretty pricey. When I saw the Florentina Gray at Floor and Decor, I thought they were beautiful. The pattern was classy and simple and the colors just so happened to match my palette. And at under $1 per square foot hubby was sold too!
Ronny built a makeup vanity that doubles as a desk and offered a warm touch of rustic in the modern setting. This space could be used for a soaking tub, but honestly it would be underutilized in our home. It's become my cozy nook for applying makeup (great light from the window), working on my laptop, and catching my toddlers as they escape through the back door! Ronny used left over lumber from construction and made it nice and wide. I love how I can spread out for fun projects like picture framing.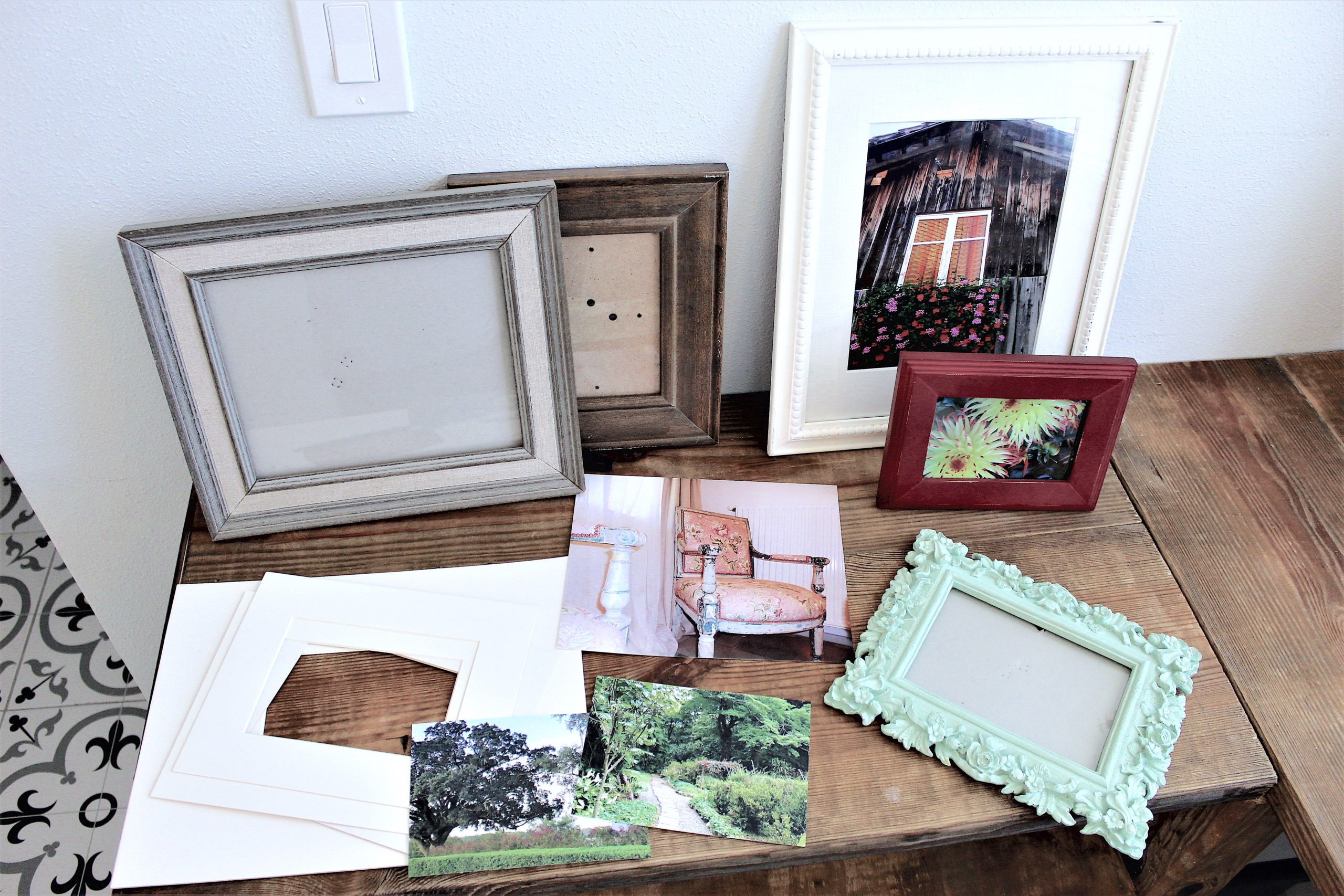 I'm not a huge fan of bulky medicine cabinets. When we were building, before drywall went up, I framed two squares in the studs the size of two picture frames I had. Once drywall was up, I inserted wooden boxes I had made into each square and using hinges I covered them with the picture frames. And voila! A recessed and disguised medicine cabinet. This project could be done after drywall by cutting into the drywall and afterwards patching up.
I need to get a better picture up of the shower! This one does not do it justice. We had our blueprint designer make the shower rather large. I did all the wall tiling and I almost wish we had scaled back in size more. Ronny laid hexagon tile from Floor and Decor and we lined the shower niche in a mosaic marble tile.  When you're on a budget, splurging on expensive tile in small areas is much more doable.
Another way we saved money was buying all the hardware for the house  from Hobby Lobby. They have a large selection of gorgeous pulls and knobs.
Our vanity cabinets were RTA (Ready To Assemble) which also cut down immensely on cabinet costs. They arrived in boxes and Ronny assembled and installed.
No need to get complicated in small spaces. A shelf I made and stained from leftover lumber added a functional and decorative touch. I love using personal art and photography throughout the house. This was a painting I had done years ago and was collecting dust. I re-framed it and I love how it became the focal point of this space.
I purchased all faucets and fixtures for the house on ebay. There is an abundance of selections on ebay at a fraction of the cost of store-bought fixtures. Just make sure to check with your plumber first on what may or may not be compatible.
I hope you enjoyed our master bathroom tour. Let me know what you think or if you have any questions. What special details have you incorporated to make your bathroom feel up to snub?