The salle de baines by virtue of its role in the home should not need be deprived of beauty and style. In fact it lends itself splendidly to elegance and sophistication.
I wanted to infuse an essence of luxury into our master bathroom mixed in with the farmhouse backdrop of our home. To do this I brought in elements with glam factor like metal chandeliers, quartzite countertops and marble tiles for a shower niche. Getting creative with your shopping and knowing where to save and where to splurge helps to stay within budget.
One way to save on expensive countertops is to ask for remnants at your home suppliers or stone yards. Suppliers often have pieces left over from other jobs which they will sell at a discount. We found this beautiful quartzite remnant under retail cost which was large enough for our bathroom vanity.
Disclosure: Some of the links provided are affiliate links. By purchasing through these links it supports this blog and the work we do and there is no extra cost to you. If you would like to read our full disclosure, click HERE.
Ebay is great for scouting a wide selection of discounted kitchen and bathroom fixtures. Just be sure to check ahead of time with your plumber for compatibility.
I fell in love with these chrome single handle faucets and their elegant vintage aesthetic. When home decorating I consider those small details that can really bring in style and timeless appeal.
Choosing rectangular under-mounted sinks versus oval or rounded added an edge of modern to the vanity.
Going with RTA (Ready-To-Assemble) cabinets was one way in which we saved thousands of dollars when we built our home. The semi-custom RTA cabinets we purchased for our master bath came in a subtle hue of grayish-blue and tied in effortlessly with the color palette in the rest of the space.
I found all my hardware for our home at Hobby Lobby. They have a wonderful collection of unique pulls and knobs. I used this Silver Leaf Rub n' Buff to add a metallic highlight to the rust-colored hardware—an easy way to glam things up!
We installed Florentina Gray Ceramic Tiles from Floor & Decor. The pattern is a nod to homes of earlier days without the price tag of authentic vintage tiles.
Design with form and function in mind
My husband Ronny built a makeup vanity from leftover lumber that doubles as a desk. I gave the raw wood an aged look and I love how the natural wood adds a rustic touch in the bathroom.
A floating tub would have been another option for this space, but we opted for something that would function better for our needs and lifestyle.
In lieu of bulky medicine cabinets, I DIY'd some picture frame cabinets. When we were building, before drywall went up, I framed two squares in the studs the size of two picture frames I had.
Once drywall was up I inserted two boxes I had made from scrap wood into the square holes in the wall and nailed them in.
I attached the pictures frames to the  wooden boxes using small hinges.
You can get creative to make stylish medicine cabinets that look like wall art and function as concealed storage. This is one DIY I enjoy admiring every day.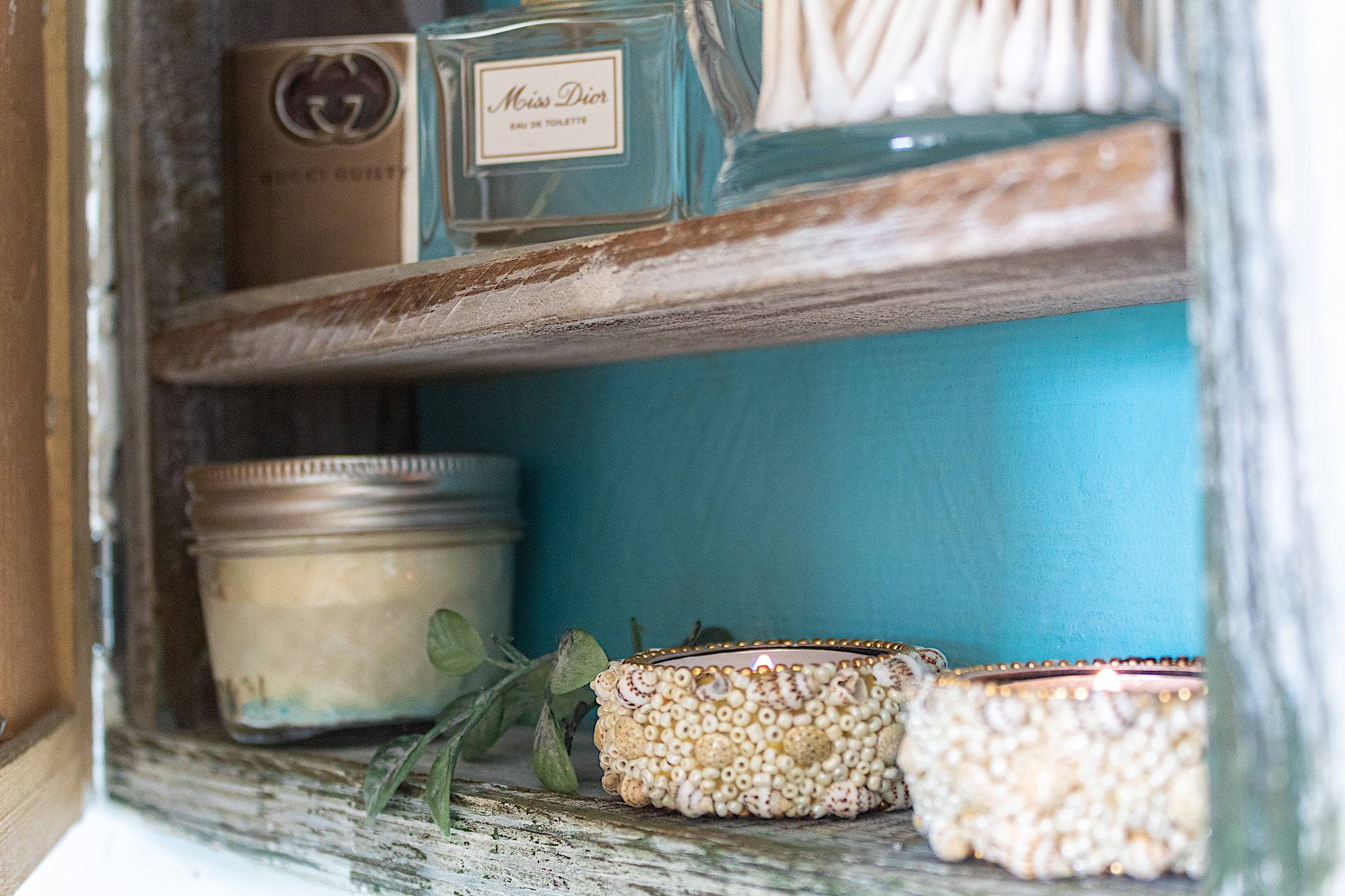 Elevate the decor aesthetic by properly combining different design styles
To pull off mixing farmhouse and modern styles in this space I looked for elements that complemented each other. When I saw this chandelier I knew it would fit wonderfully.
Use of metals is common in modern settings. This pendant captured both styles with its clean metal lines and rustic paint finish.
Wooden elements, woven baskets, textured throw pillows—these are some ways in which you can achieve a modern farmhouse feel. The earthy elements warm up the aesthetic without taking away from the elegant vibe.
I hope that you have enjoyed our master bathroom tour. If you'd like to see the rest of our farmhouse, visit the our home page.

Thank you for stopping by friends!