Our master bedroom is perhaps my favorite place to escape in our home. It is my retreat at the end of the day or for that rare mid-day break. It is my comfy spot, my sanctuary.
Today I'm sharing how I designed our room to be cozy and soothing. I'm always inspired by French Countryside and Farmhouse styles. Join me as I share a few different looks from our bedroom.
Roadside wildflowers in a basket brighten up the room in an effortless way.
I love incorporating texture when I'm styling a room to create dimension that draws the eye into the space. I use earthy elements through textiles, throw pillows and baskets to add instant warmth and coziness.
Our beadboard accent wall anchors the space with Farmhouse charm. Limiting it to one wall keeps the beadboard from overwhelming or outdating the look of the room.
I searched high and low for wall sconces that I liked. They needed to have a twist switch for ease of bedside use so that limited my options. When I came across these Vintage Black Sconces with White Globes on Amazon I knew they would be perfect. They are a fun detail on the beadboard backdrop.
A mirror given to us from a former neighbor was just the perfect piece to hang over a 1950's trunk I discovered in the garage of the very first home I owned.
The mirror had been painted a dark glossy brown. I added two coats of DecoArt's Glorious Gold Metallic Paint for a French vintage look. The trunk got a mint green makeover and a new top made out of pallet boards I antiqued using paint and my go to antiquing wax.
I always wanted a bedspread that would drape delicately down the sides of the bed and pool on the floor. I found this Ruffle Skirt Shabby Chic Bed Spread on Amazon and although it doesn't reach the floor thanks to our 3 inch mattress topper, I absolutely love it!
Our night stands were due for an update. I refinished them and I love their new primitive look. This makeover was so easy and one of my absolute favorites. See the tutorial HERE.
The dresser in our room was one I renovated to sell and ended up keeping for myself. When I was photographing it to list in my shop I realized how perfectly it fit in our room—I simply couldn't part with it.
I loved the French Provincial lines and created an antiqued look on the drawers for a pretty contrast with the gray paint. If you'd like to see how I created this look click HERE.
Thrifting and DIY'ing are great ways to add your personal touch to your decor or to change up the look while staying in budget.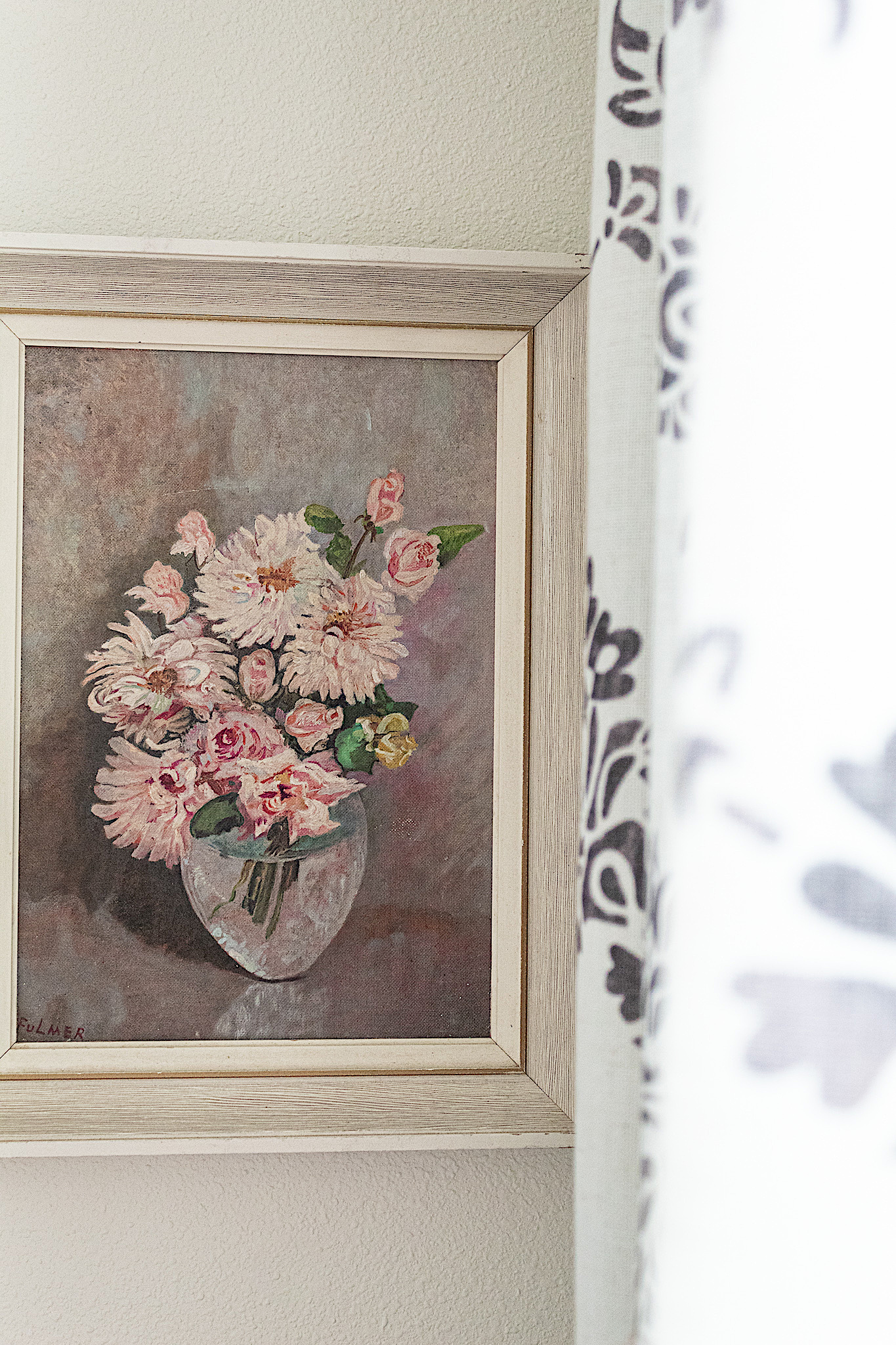 Youtube has so many fun tutorials. I learned how to crochet these adorable mini poufs and dropped them in a basket for a simple and pretty decor statement.
I made our curtain rods from leftover construction rebar and ping pong balls. I spray painted everything in matte slate spray paint, cut the rebars to size and drilled a hole in the ping pong balls. The balls made pretty end knobs and I hung my curtains with vintage style curtain rings I found on amazon.
Some things, like my glamorous ceiling fan, are must-have new purchases. I absolutely love that our fan is a show piece rather than a device you'd like to hide from view.
Remember the pretty wildflowers in a basket at the top of this post? When your flowers begin to wilt, you can repurpose them as dried foliage. I tied these with twine and hung them upside down on our back door for a whimsical cottage look.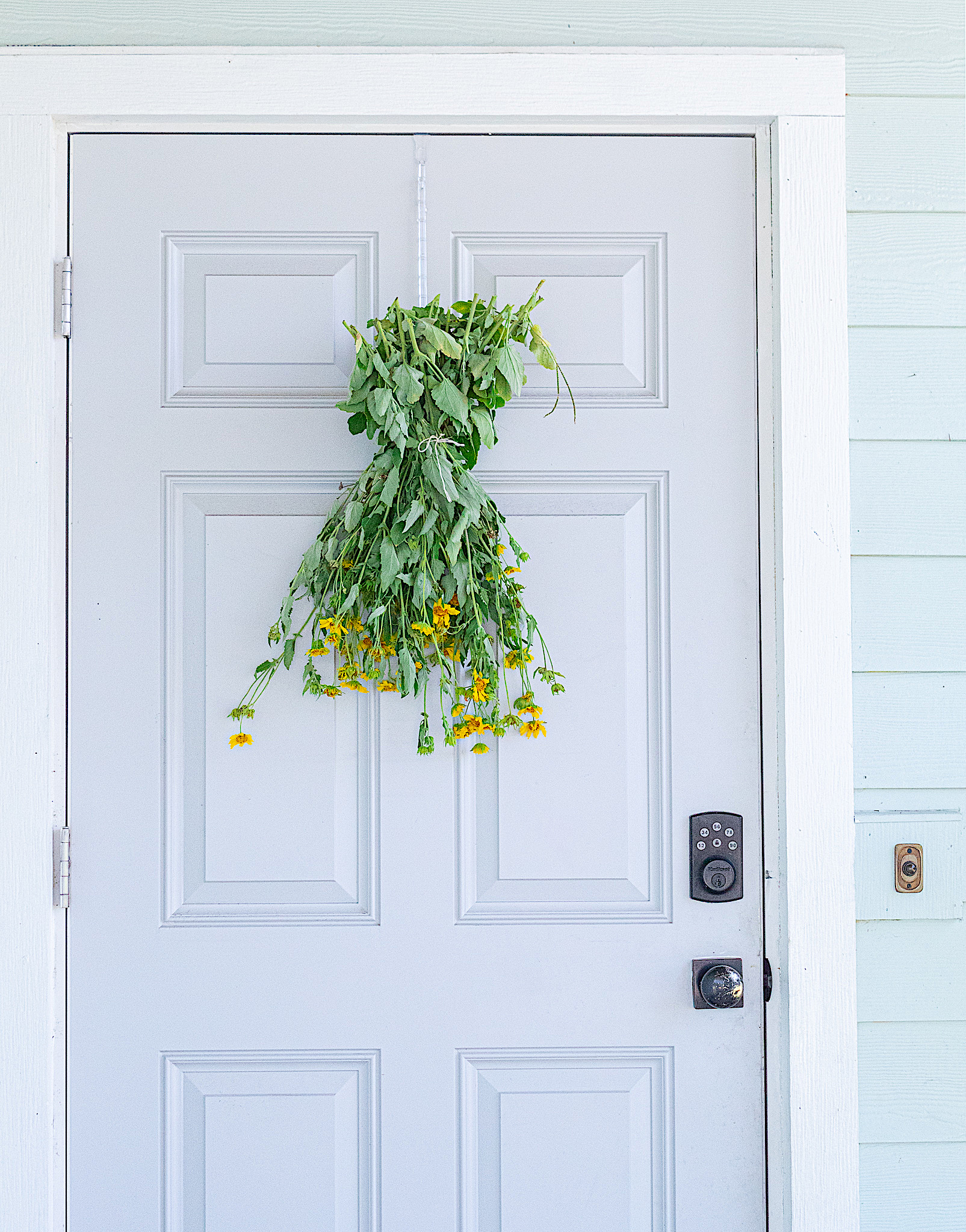 It truly is a pleasure to be able to design your bedroom to your liking and comfort. What makes your bedroom yours? I hope that you have enjoyed this bedroom tour. Be sure to SUBSCRIBE at the bottom of this page so you never miss a thing!