I struggled terribly when it came to deciding on the exterior color of our home. It's one of those BIG decisions that you're kind of stuck with once it's done. Although white is a beautiful look for a farmhouse, I wanted something a little more unique.
A mint hue was what I had in mind as my number one choice. But I wrestled with ideas of a yellow or a light gray.
I spent weeks looking at color swatches and trying to find online images of homes with similar colors. I pooled opinions from friends and family and ended up going with Copen Blue by Sherwin Williams. I had it lightened by 50%. The final look is exactly what I envisioned!
Disclosure: Some of the links provided are affiliate links. By purchasing through these links you are supporting this family blog and the work we do and there is no extra cost to you. For the full disclosure, click HERE.
My husband  Ronny wrapped the front four posts in white wood from Home Depot. I stained them with my absolute favorite stain, Varathene's Briar Smoke and gave them a coat of a waterproof sealant. A year later and the posts are still looking wonderful.
The metal roof was a big investment but one that we know will pay off. As our roofer said, "it's a forever roof." And of course I just love the timeless look of a metal roof.
We saved in other areas to be able to splurge on must haves. Ronny's request for a three car garage was fulfilled via a second structure attached by a breezeway to the main house. The space above the garage will be a guest house, but a project for much later.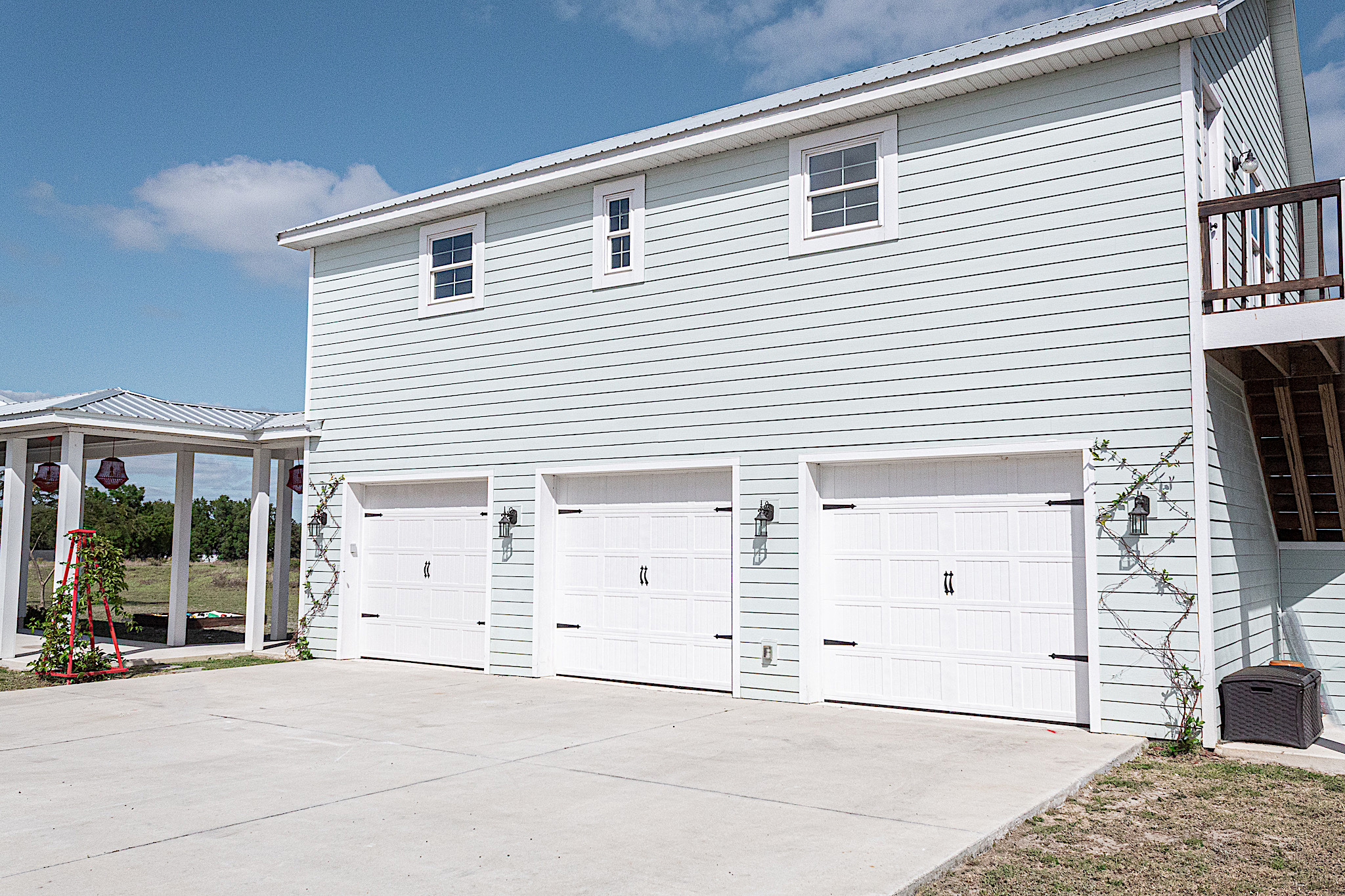 The choices available for doors these days can be overwhelming.  It helped me to narrow down my choices from a few favorites I clipped from home decor magazines. In the end I went with a six lite door with a dentil shelf. I loved its simple and traditional character.

I originally painted it in Glidden's Silver Bullet. The Julienne door knob and matching deadbolt were spray painted in Rust-Oleum's Bright Gold and top coated with Rust-Oleum's Clear Gloss. 
I made the mistake of using interior paint the first time I painted our front door. After a few months, the paint began to show signs of mildew. It was a good reason to change things up with a bold color, Behr's Graphic Charcoal.
If you'd like to see more pictures of the new front door and how I restyled it using color, layers and texture, visit my Fall Front Door post.
Wooden doors make such a statement. I would have really liked wooden French doors for our living room but it wasn't in the budget and they are not as energy efficient as other materials.
Instead we ordered stainable fiberglass doors. The surface has a textured pattern that resembles wood grain. I applied two coats of Minwax's Walnut Gel Stain and I was so impressed with the results. It made the doors look just like wood doors.
Dressing up the home's exterior with greenery and flowering plants is another way to up your design aesthetic. These diamond-shaped trellises add a beautiful detail to our garage and were SO easy to make. I can't wait to see the vines and flowers dripping over the wall sconces.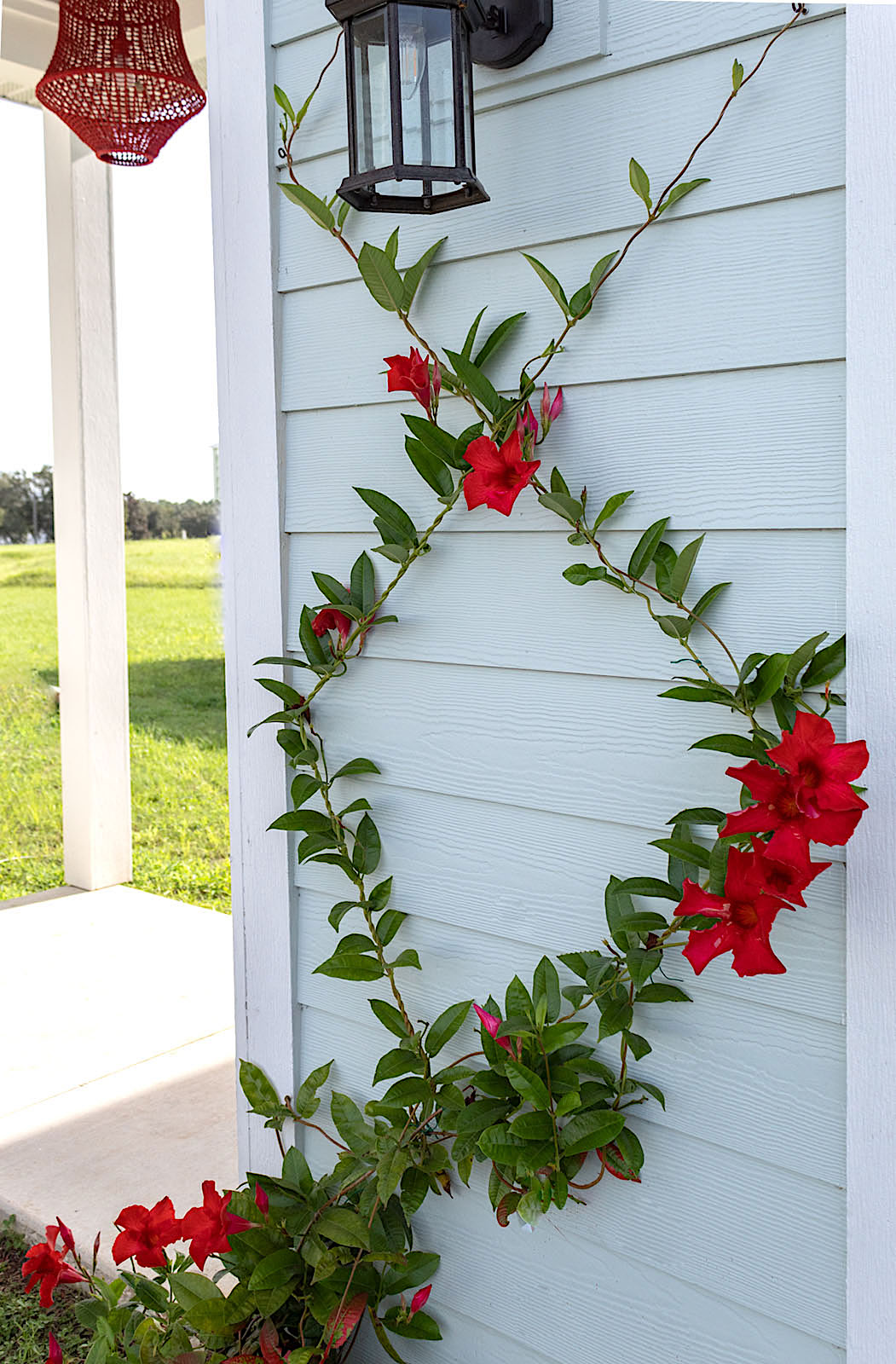 We bought four of these Madison Exterior Wall Sconces in matte black from Build.com for our garage. I love their detail and at night they look so beautiful.
Crocheted pendant lights from Ikea were spray painted cherry red and hung along the breezeway. The pop of red brings added cheer to the surrounding pastels.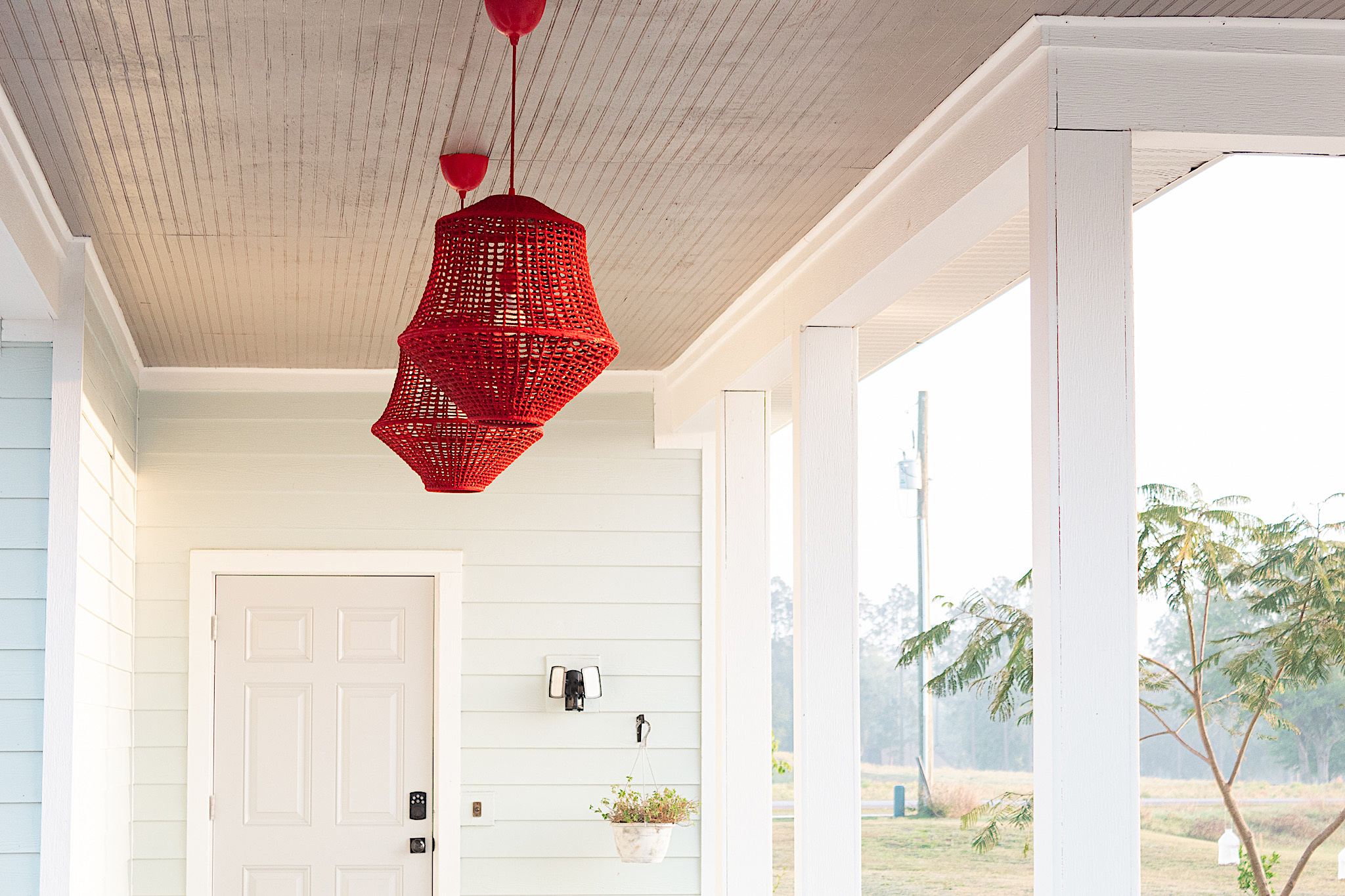 One of the major draws for us in picking the of Sugarberry Cottage house plan was its porches. We like to dine and spend time outdoors and to have ample space to do that was important. Our kids love to set up their toys on the porch and they spend hours on end soaking in the fresh air. The outdoor spaces are lived in and that feels good.

I enjoy using Nature's elements to create beauty around the home. Fallen bamboo twigs were perfect for making a door wreath for our Sugarberry Cottage. Visit my DIY Door Wreath Post to see how I made this lovely wreath with a simple aesthetic.
A year after move-in I'm finally able to shift my focus towards our landscape design. This process takes time, thought and hard work. I did an entire post where I share some of what we've done so far to create ornamental beauty and to establish a foundation for a food forest. If you'd like to see more, visit my Scenes From Our Garden post.
Thank you for taking a stroll with us around our Sugarberry Cottage. I hope you enjoyed it. What were the special features of your home that drew you to it? I believe a home speaks to each owner in its own special way.