HELLO LOVELY READERS! IN THIS POST I AM SHARING HOW I DRESSED UP OUR GARAGE EXTERIOR BY CREATING TWO FLORAL DIAMOND TRELLISES. One of my absolute favorite things in life are plants—they are truly nature's artwork.  I have mentioned it before that home decorating should not be confined to the indoors. I love using plant decor to enhance our home's exterior.
I bought two Red Mandevilla plants for my trellises. They produce lots of beautiful red blooms, are fast growing and are perennials (come back each year). I decided a diamond pattern would make a big impact on the two narrow walls at either end of the garage. You won't believe how easy it was to make these. Take a look…
Disclosure: Some of the links provided are affiliate links. By purchasing through these links you are supporting this family blog and the work we do and there is no extra cost to you. If you would like to read our full disclosure, click HERE.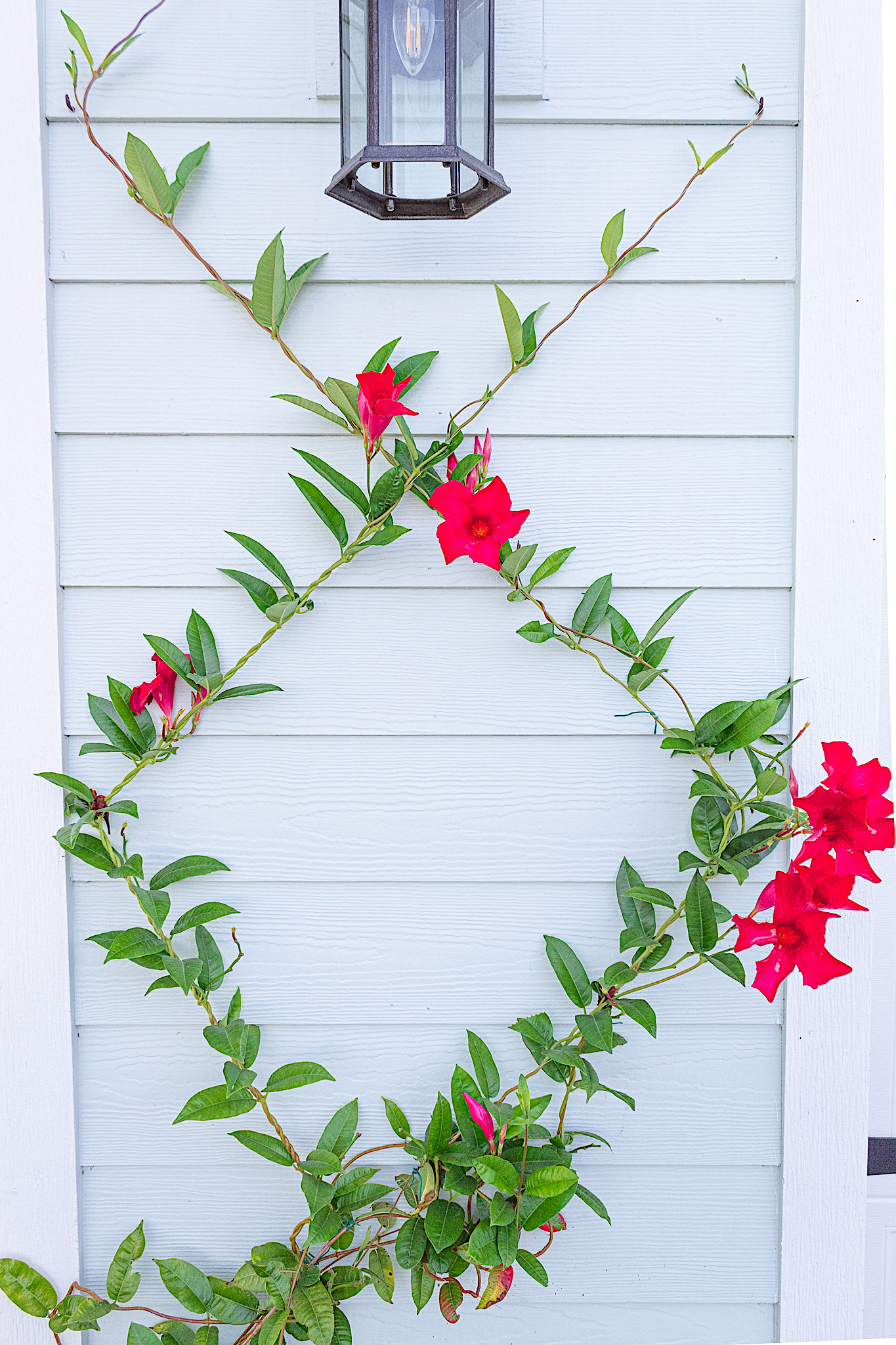 The first step of this project was to install 8 small screw eye hooks to each wall (4 on each side). I created 4 rows each spaced out 13″ apart.
I first drilled a small pilot hole into the wall and twisted in the hooks with my hand. The one thing I failed to do was use galvanized metal hooks. So my hooks are rusting a little. If I were to do this again, I would use these hooks instead.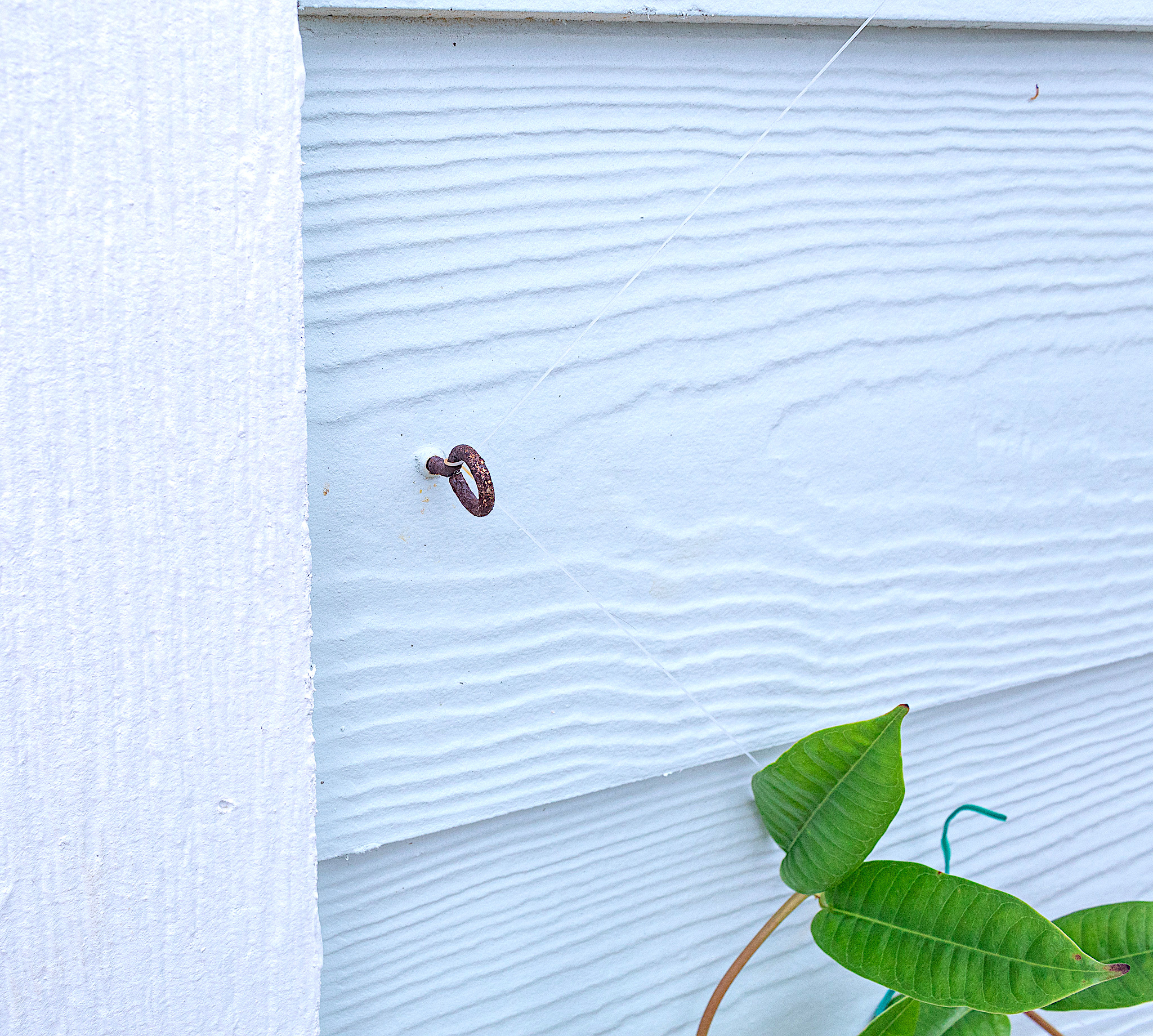 Once the hooks were in place, I used fishing line to create my diamond pattern. Unfortunately I don't have pictures to show the entire process but it goes like this:
1. Tie your fishing line at the bottom row (row closest to the ground) right hook.
2. Once tied, run your line to the second row left hook (basically you're going up and diagonal).
3. Wrap your line around the hook and proceed to run the line up to the third row right hook.
4. Wrap (just loop it around, no need to tie) the line around the third row right hook and proceed to the 4th (top row) left hook.
5. Tie your line on this hook and cut the end with scissors.
6. Repeat the process on the opposite side of the wall by starting with the bottom row again, but this time tstart by tying the line to the left hook.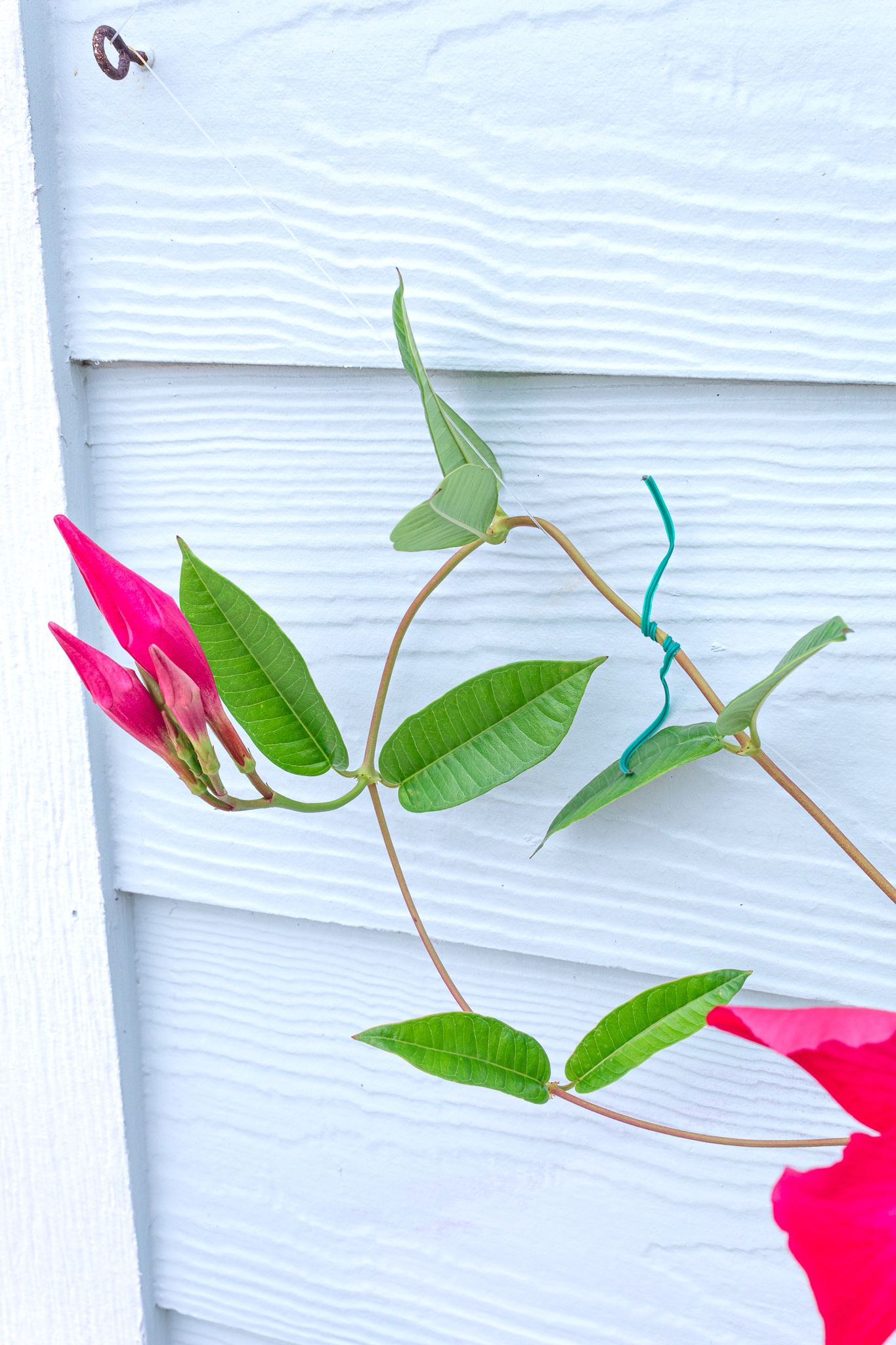 3. Begin Training Your Vine
I am using these plant ties to help the plant grow in the pattern I want. As the vine grows, I simply tie parts of it to the fishing line. The plant will eventually grow thicker and cover the little twist ties. Or you can remove them once the plant has secured itself on the fishing line.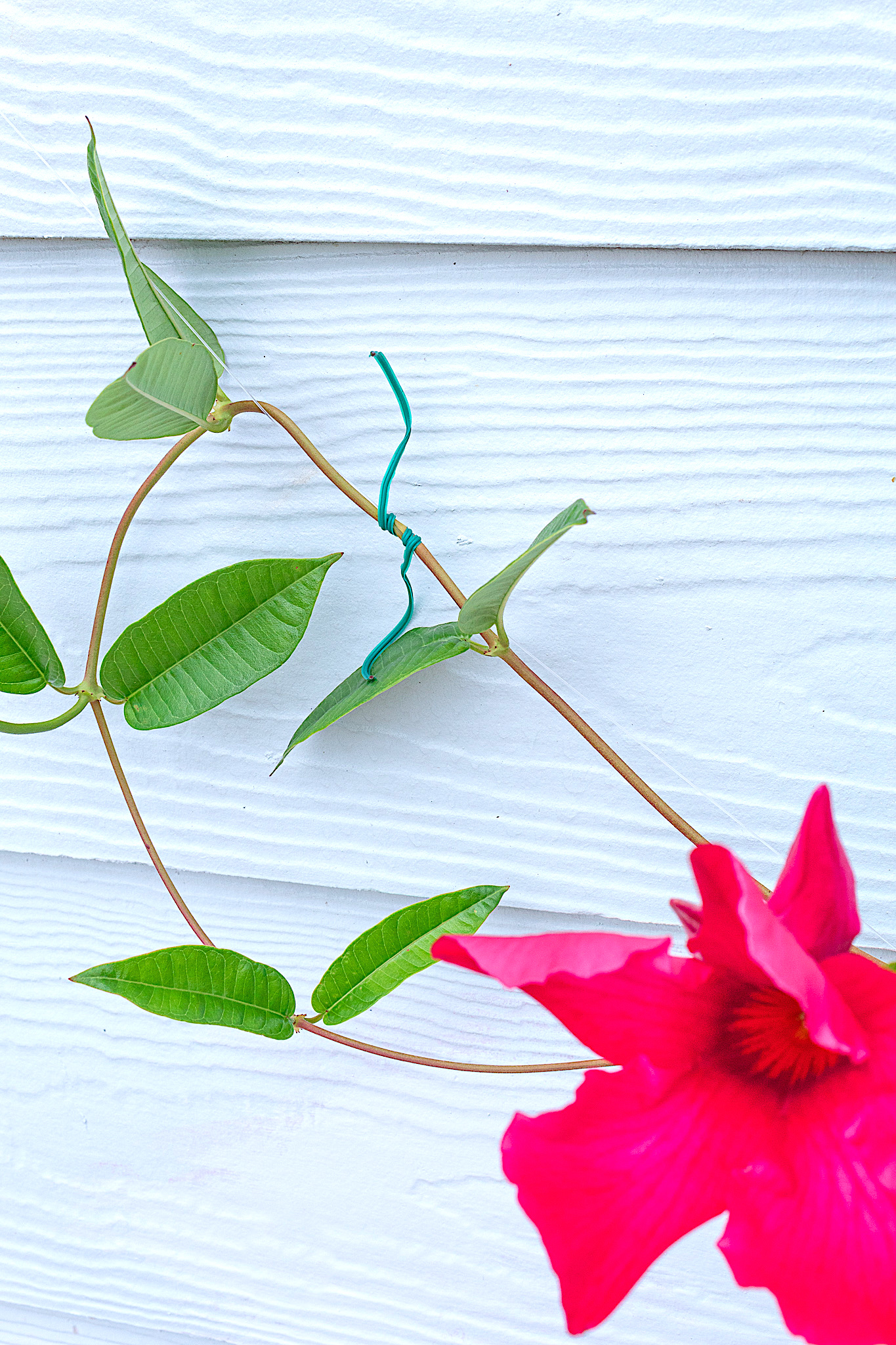 This vine is fast growing. In the next picture you can see what we started with and how the plant began branching out and along the fishing line. It is pretty neat to watch the diamond pattern begin to take shape.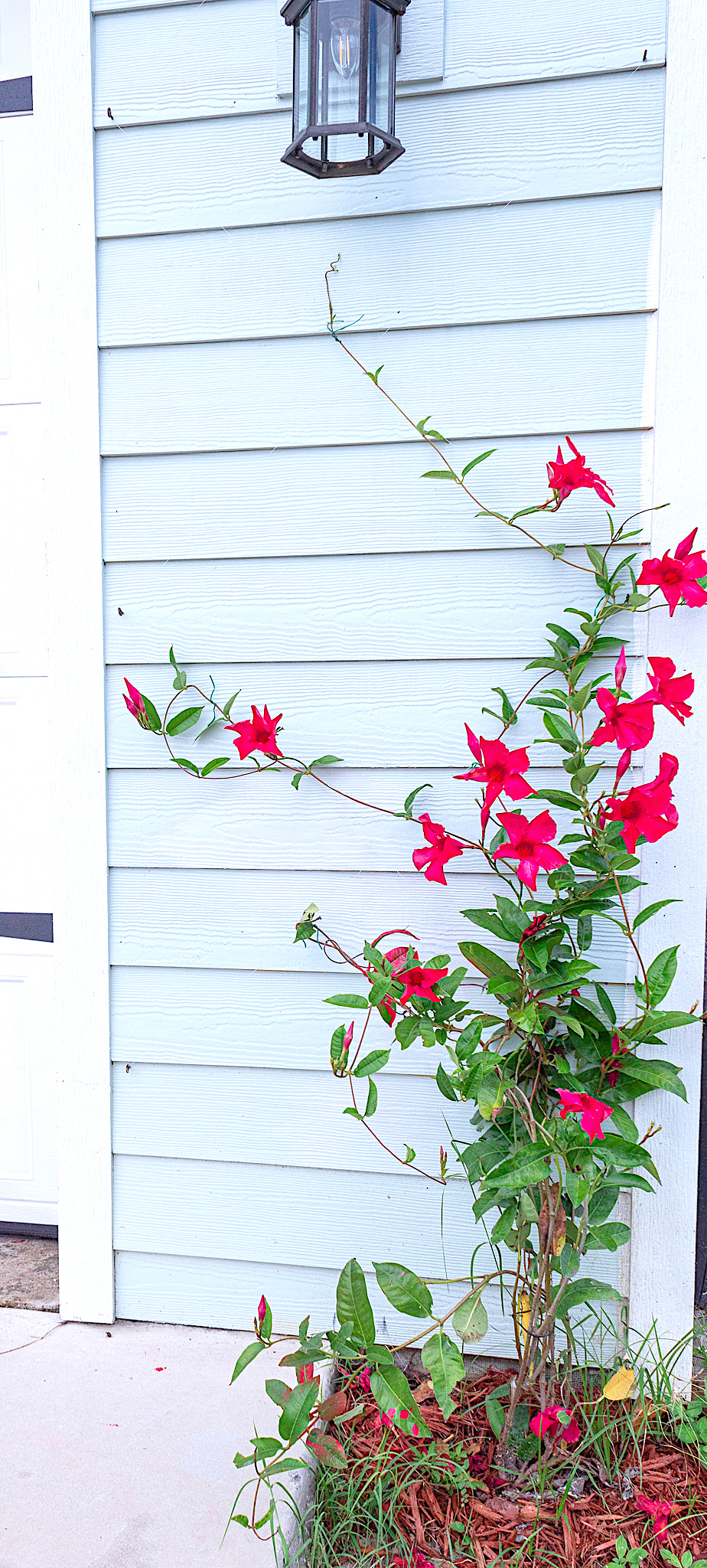 Over the course of approximately 3 months the Mandevillas began to fill in the trellises. Using the plant ties regularly is important to maintain the plant on the the fishing line. I also pruned a little as needed to keep things on the right track.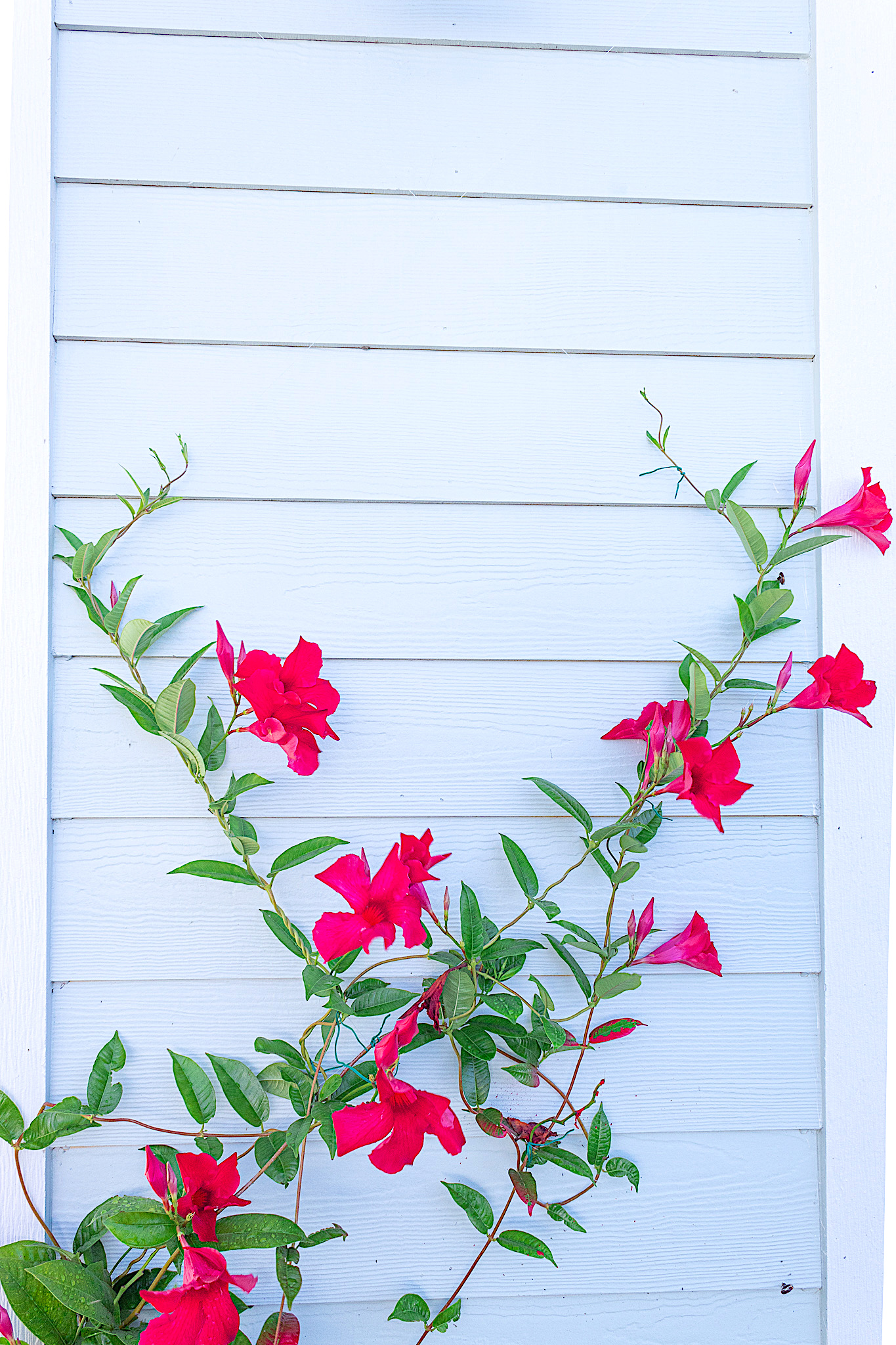 That is all you have to do to create a statement piece on your home exterior. This has been one of my favorite projects and something I get to admire every day.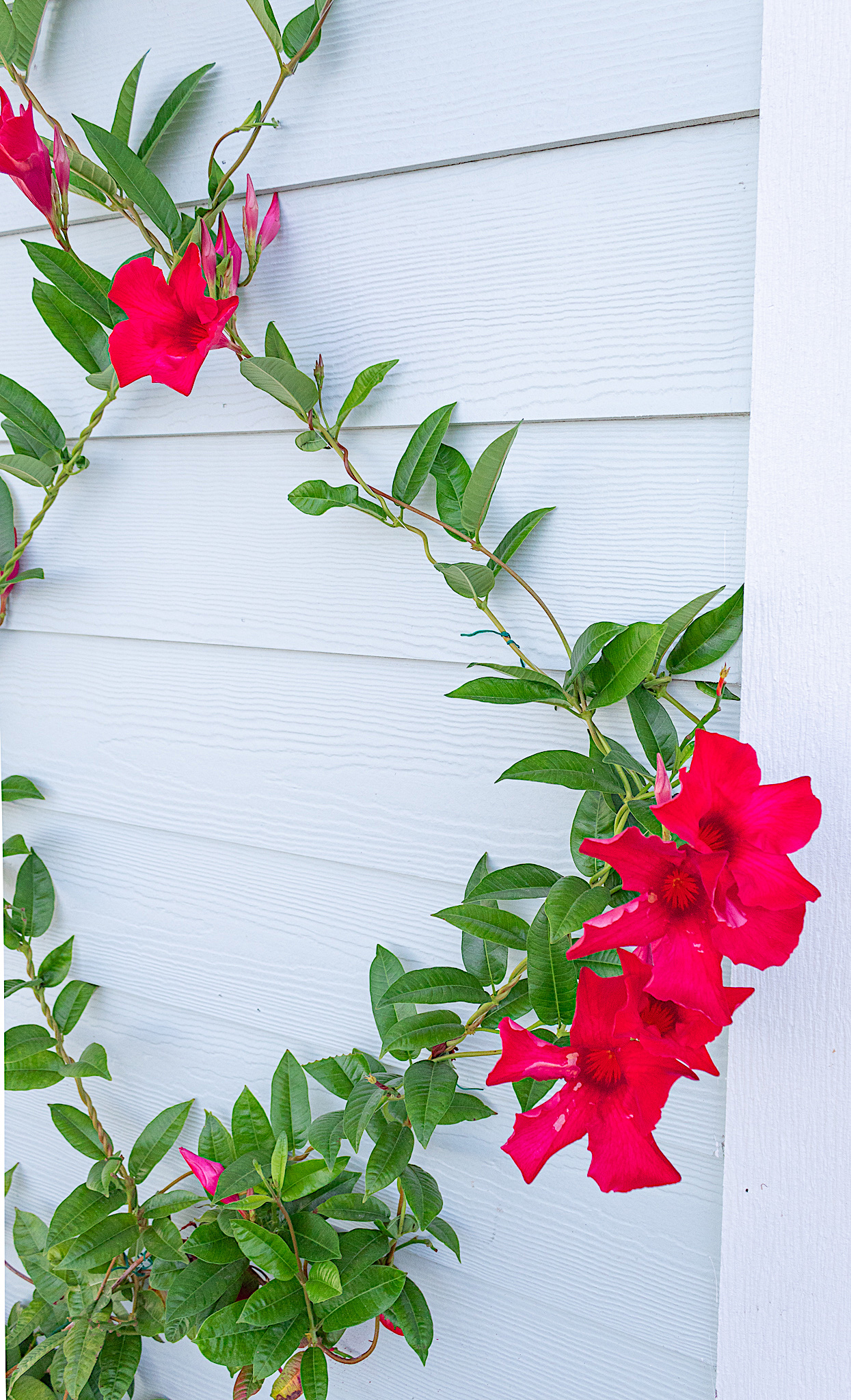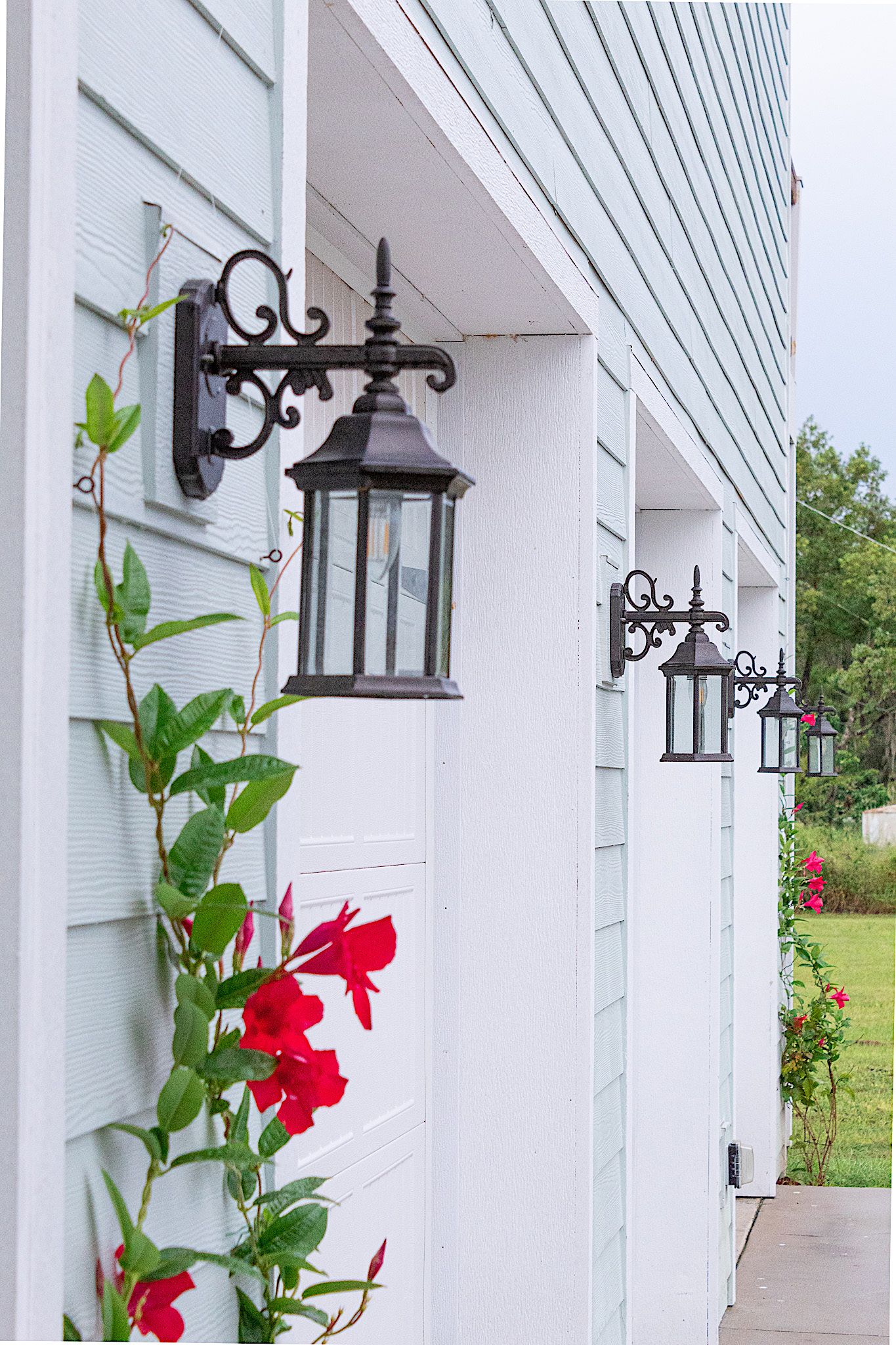 Hi friends! I wanted to give you an update on my diamond trellises a year later. We had a pretty harsh winter for Florida standards and I was afraid I'd lost my beautiful Red Mandevillas.
This Spring, to my relief, I spotted new growth on the vines. I almost cried tears of joy!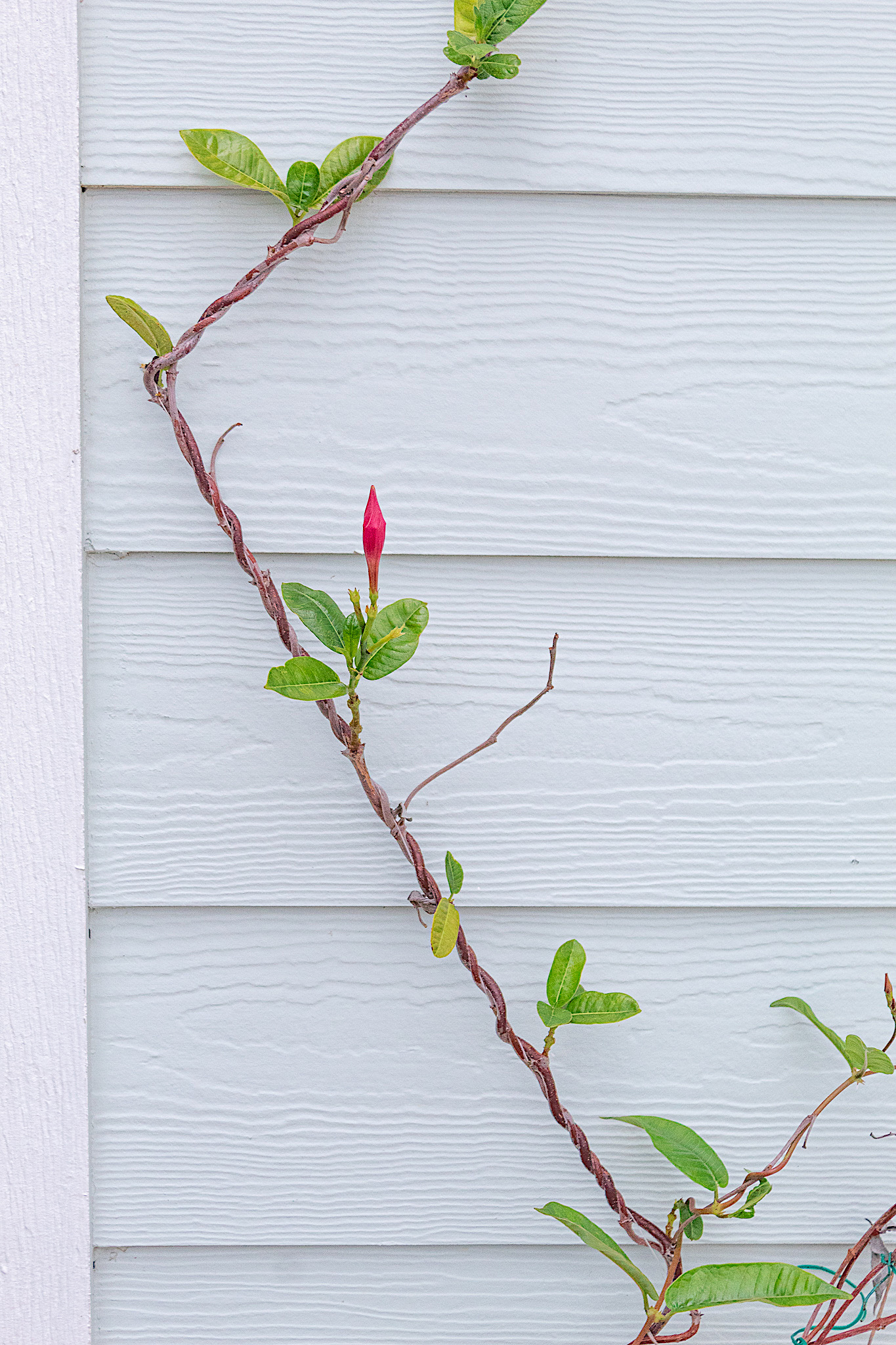 You can see in the next picture how the plant has a good foundation from the diamond pattern it grew into last year. This year the process will be so much quicker with the plant sprouting from its existing vine.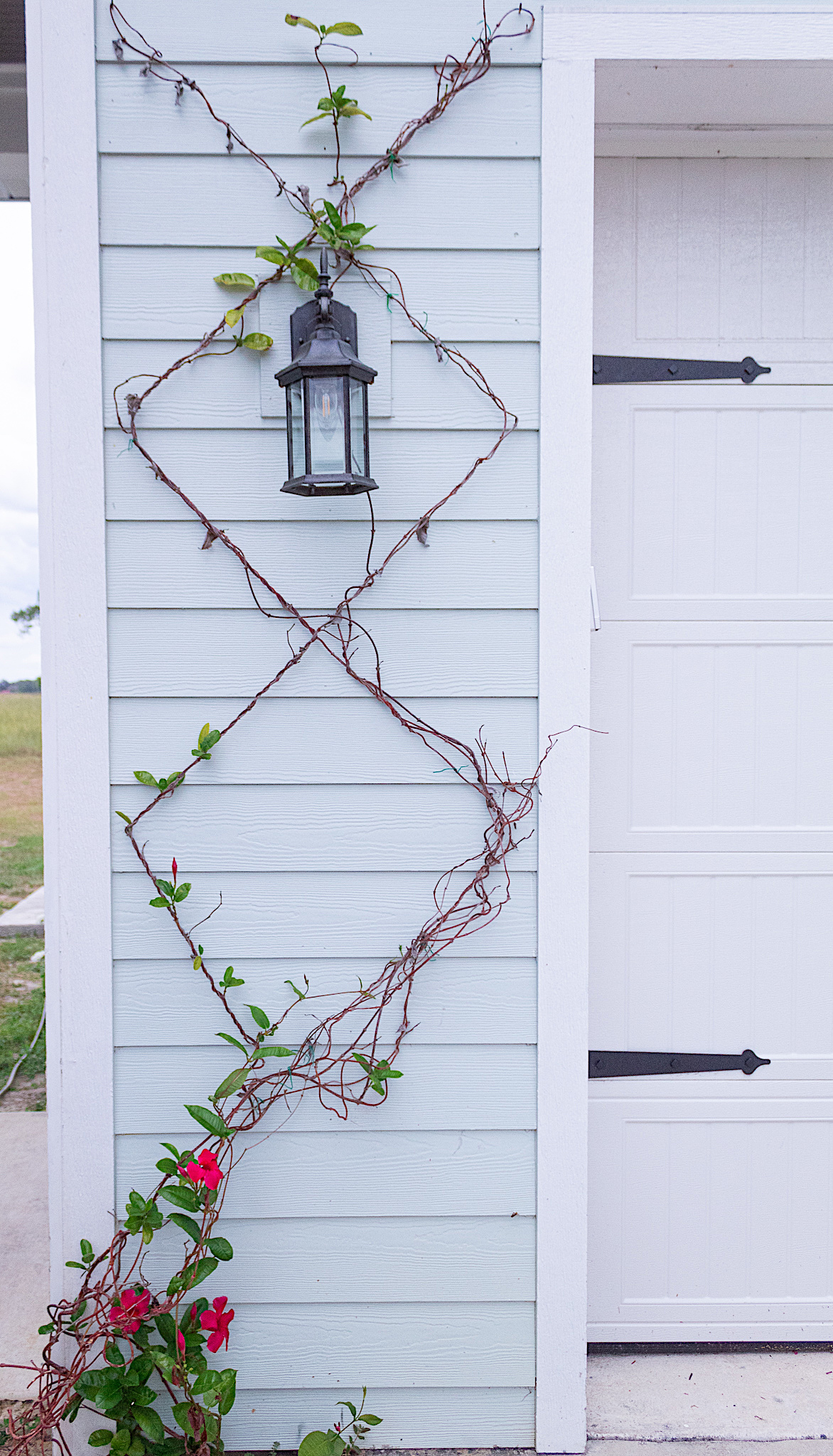 Be sure to follow along here and SUBSCRIBE. I'll be posting more progress on these beauties! And if you'd like to see our latest landscaping transformation, check out our GARDEN OASIS post. We share everything from prepping the soil, to installing irrigation to creating raised garden beds.