Hello beauties. Our front porch is one of the best features of our house, IMHO, however, it has been a bit neglected.  I suppose I've been preoccupied with the interior of our home since we moved in about a year ago. So this week I decided to give our front porch some well-deserved Fall-inspired love.
Fall is the perfect time to play with bold colors—hues of orange, reds and yellows. Or maybe you'd like to decorate in a palette of greens, blues, and browns. Decorating with traditional and non-traditional colors schemes can create wonderful appeal. The trick is balance. A blue planter with a green plant with yellow flowers gives you three colors to play with. Perhaps you can place a throw pillow with a green pattern in the vicinity of the planter. Or a yellow planter next to the blue one. Just try not to overwhelm any one area with a single color. Mix things up for a fun visual.
Although I liked the original color of our front door, I had made the mistake of painting it with interior rather than exterior paint. Within a few months the paint was showing signs of mildewing. Since the door needed repainting this was the perfect occasion to update the color. I decided to go for something fun and bold. I painted the door in Behr's Graphic Charcoal and I just love the new look.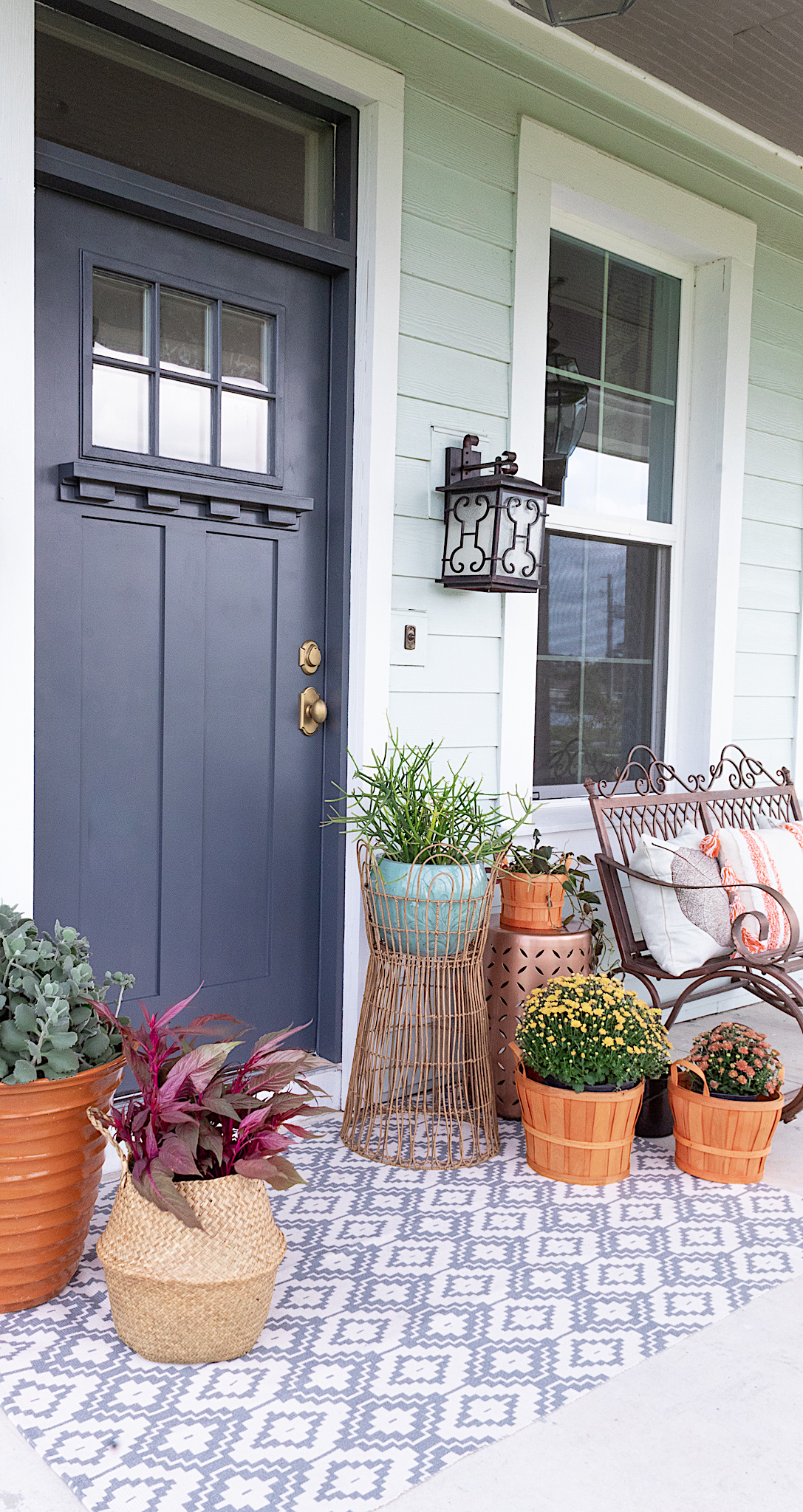 Disclosure: Some of the links provided are affiliate links. By purchasing through these links you are supporting this family blog and the work we do and there is no extra cost to you. If you would like to read our full disclosure, click HERE.
Next came the fun part of putting together a colorful Fall look centered around our newly painted front door. An outdoor area rug is a great way to ground your design and add texture. I found this fabulous geometric pattern rug in gray on Amazon. 3'x 5′ was a good size for laying out my decor.
I love using plants as decor. Bright orange baskets from Hobby Lobby and a woven seagrass basket from Amazon were some of the elements that I chose to use as planters. The punchy colors and natural materials help create an Autumn feel. Pick plants that will give a full effect once in their planters. Create height dimension by using plant stands of varying height. Layer your plants in rows on either side of your door.
Throw pillows are perfect for adding a homey feel to your outdoor area. These leaf design throw pillow covers are so pretty and were quite affordable. I stuffed them with some old pillows I had. I preferred to buy pillow covers instead of pillows. Since they were going outside, I wanted something I could simply take off and throw in the wash when needed. The orange accents in this fun Boho Tribal Throw Pillow Cover by Miulee carries the color theme onto the bench.
And with that my Fall Front Door design is complete. You can choose to infuse bold colors in your fall theme or go with something more muted. I like that I can use all these items and colors year round inside or out. Whatever you go with, I'm sure it will be stunning! If you'd like to see a quick video demo of this design process, take a look below.