Hello beauties! Here in Florida the winter doesn't last long and sometimes I wish the heat would hold off a bit more. But I do enjoy seeing baby buds already sprouting on my plants. As we look ahead to Spring I wanted to share with you just how easy it is to make over your bedroom without having to do anything major—a different bed spread, some pretty pillows, new accessories or simply re-arranging old accessories…and Voila!
Disclosure: Some of the links provided are affiliate links. By purchasing through these links you are supporting this family blog and the work we do and there is no extra cost to you. If you would like to read our full disclosure, click HERE.
When I imagine a dreamy bedroom in a cozy French cottage, I see a linen bedspread draped all t freshe way to the floor. Layers of pillows in neutrals and pastels are puffed up on the bed andh cut flowers brighten charmantthe space. I  found this Shabby Chic Ruffle Bedspread in neutral on Amazon. It was exactly what I was looking for— a soft and light material, perfectly wrinkled and oh so charmant. 
Pillows are a fun and easy way to change the palette and aesthetic of your spaces. They bring color, texture and depth to the party. My favorite color is purple. But I have to be careful when using purple in my decor as it can be over-powering and sometimes I hate to say, even tacky. In my Spring Fling Bedroom a purple knotted pillow anchors the rosy-reddish hued palette. Fresh purple flowers on the night stand play off the purple and celebrate Spring's arrival. The neutral-toned bedspread is a perfect canvas for pops of color.
When I refinished the French Provincial dresser I planned to sell it but as I was staging it for pictures, I realized just how perfectly it fit in our bedroom. Even my husband who never tunes into the slightest modification in our decor, stopped to comment on how "it looked like it was made for our bedroom." And thus I was unable to part with it.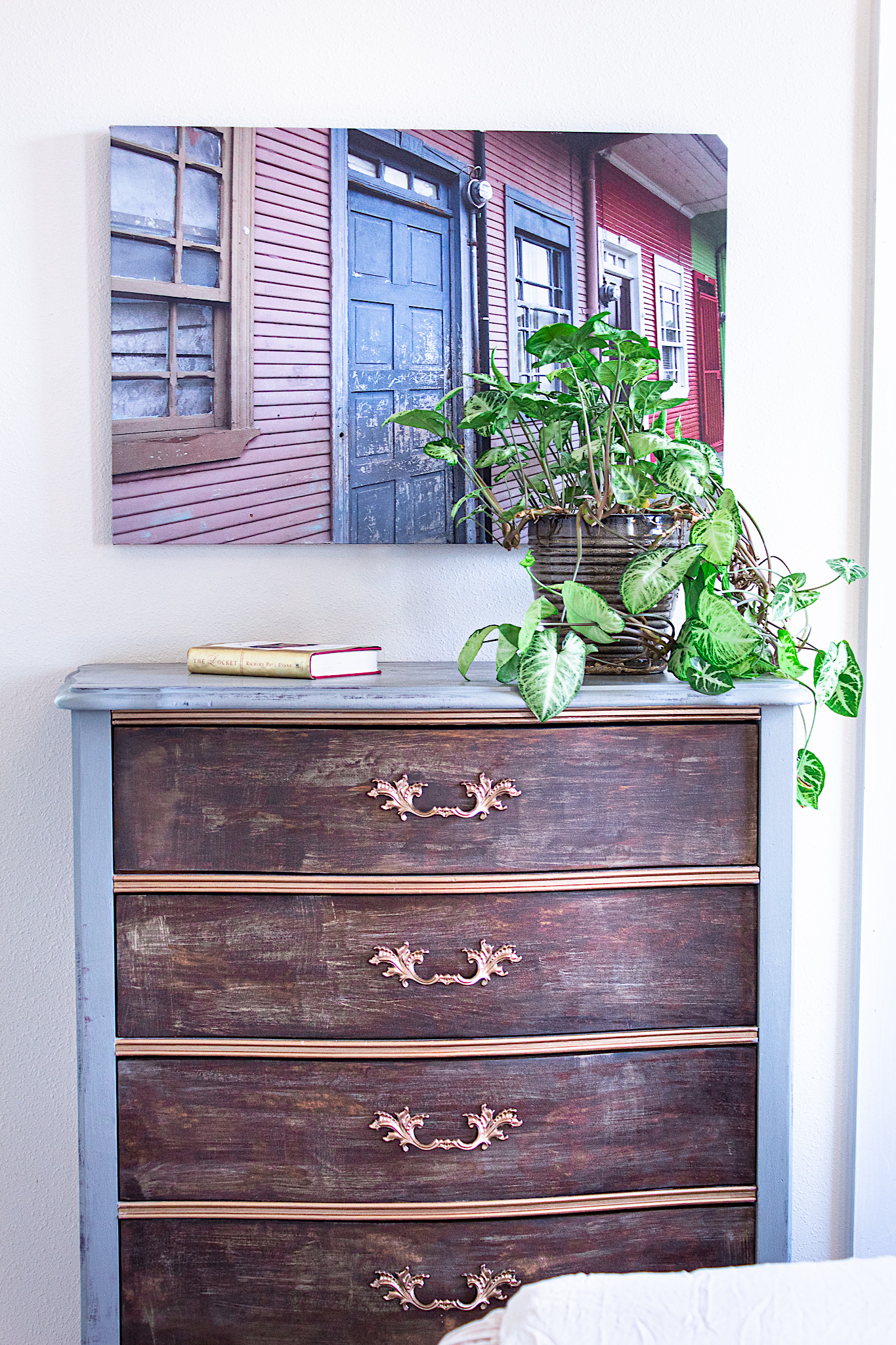 Our night stands had yellowed over time and were begging for a new look.  When I refinished them with three simple steps, I never imagined they would come out so wonderfully. I share the techniques I used to get this "Anne of Greene Gables" look in my Rustic Smoky Look Tutorial. 
My friends, I do hope you enjoyed the Spring Fling Bedroom tour as much as I enjoyed creating it! Although the pretty and clean presentation will be short-lived after my kids come through again, I'm grateful to have captured this moment inspired by my love for French decor.