Oh joy, spring is around the corner and it is the perfect time to freshen up the home! Changing your decor with the seasons can create instant satisfaction. You don't need a big budget to give your spaces a new look. Today I am reviving our upstairs bathroom with a fabulous facelift for $100. Join me as I shop for bargain items and share some fun decorating ideas.
Disclosure: Some of the links provided are affiliate links. By purchasing through these links it supports this blog and the work we do and there is no extra cost to you. If you would like to read our full disclosure, click HERE.
Of course you can always rotate and recycle items around the house to create new moods. I do this often. But sometimes a gal's gotta shop and today I'm heading to T.J. Maxx in search of some unique treasures for our upstairs bathroom.

If you recall from my French Country Bedroom Post I was able to score some fabulous discounted items at Ross to create a beautiful bedroom escape. Let's hope today we scout some good finds!
First Stop, The Clearance Section
When I visit discount home goods stores, I like to scope out any clearance sections first. I figure it's worth a shot to find something you like with an even more slashed price tag.
In this section I'm specifically looking for shower curtain options. When it comes to bathroom renos, a shower curtain change-up is going to make a big impact. When you are shopping on a budget, you'll want to focus on those items that are game changers for the aesthetic.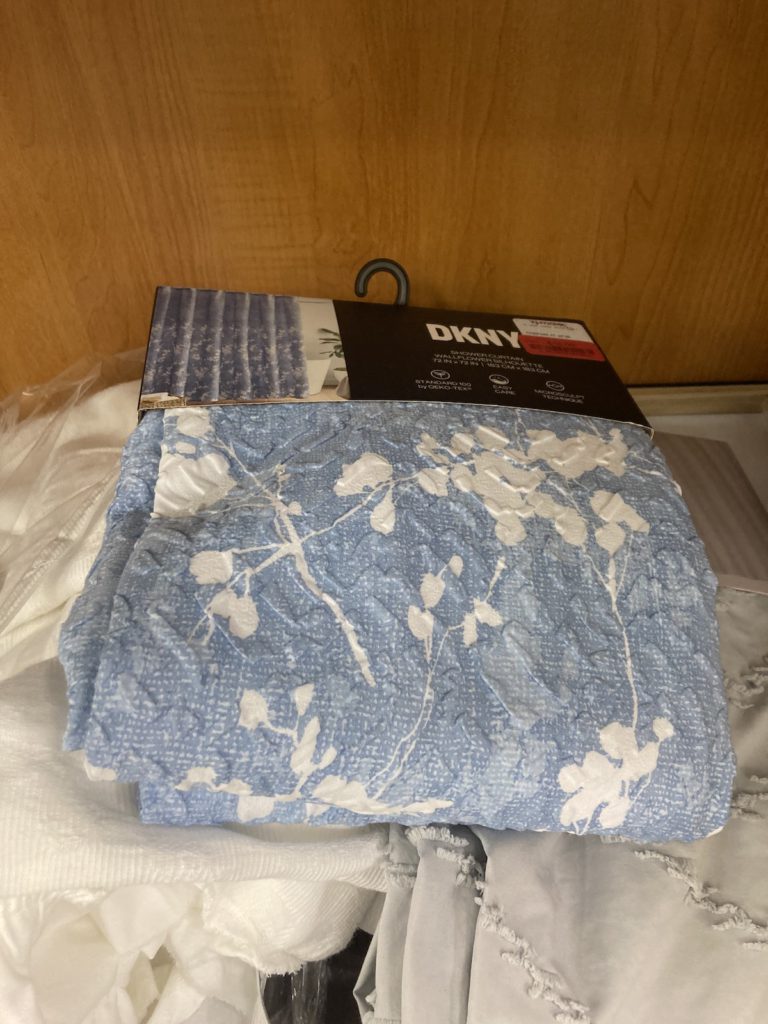 As I rummage through random doodads, I uncover a scarce selection of shower curtains. The blue floral one above catches my eye. But I end up discarding it since the blue will be too much for the small space. Always consider scale when it comes to picking colors and patterns for a small area like a bathroom.
The shower curtain search ends on a positive note— a white curtain with a natural feel fabric lined with a navy blue hem. I think the simple pattern with the two color tones is going to add a casual, yet stylish touch to the bathroom. At $10 I consider this curtain a good find.
For the love of area rugs...
Area rugs in the bathroom? Yes! I often bypass the bathmat isle when it comes to dressing up the floor in the bathroom. I find the choices in area rugs to be more versatile and stylish. You can always place a non-skid mat underneath the area rug for extra protection.
Area rugs are an easy way to add a decorative dimension to any space. In the bathroom, a rug (or bath mat) can warm things up and enhance the look.
As I go through the choices in the rug isle, I compare patterns. I'm constantly thinking of the existing color palette in the bathroom—light sage walls, white doors and white counter top, light blue cabinets. I want to find decor items with colors that tie in with the palette. I also want to find items that will create a contrast.
This blue patterned rug is pretty, but doesn't really speak modern farmhouse or modern cottage to me and it is not very unique for my taste.
Next I spot this rug with more subdued tones, leaning a bit more rustic with a slight distressed appearance. But it's still not quite what I'm looking for. This rug looks more suitable for a bedroom than a bathroom. The search continues…
Finally, I find something I love! The colors, the size, the pattern—this rug captures a fresh cottage feel. It makes a design statement without being overpowering. I can see this pattern working beautifully with the shower curtain. Let's see what else we can find…
It's not often I buy new towels. In our home we use towels until they start looking like a shredded tragedy. But towels are great for both form and function. We need them for every day use and they can be an integral part of the design ambience in the bathroom.

In the store I start browsing and several things catch my eye, like this butterfly hand towel.
I find the butterflies and the colors on this towel to be so pretty and different. However, thinking back to the palette in my bathroom and the theme I'm creating, this pattern is not going to be the right choice. I need to stick to a less whimsical feel for my clean modern farmhouse look.
Although the new look in this space is going to be fresh, clean and simple, I'd like to soften things by bringing in towels with a moody color.
These coral towels are wonderful. I can see them contrasting wonderfully with the sage walls, while adding some color to the muted canvas.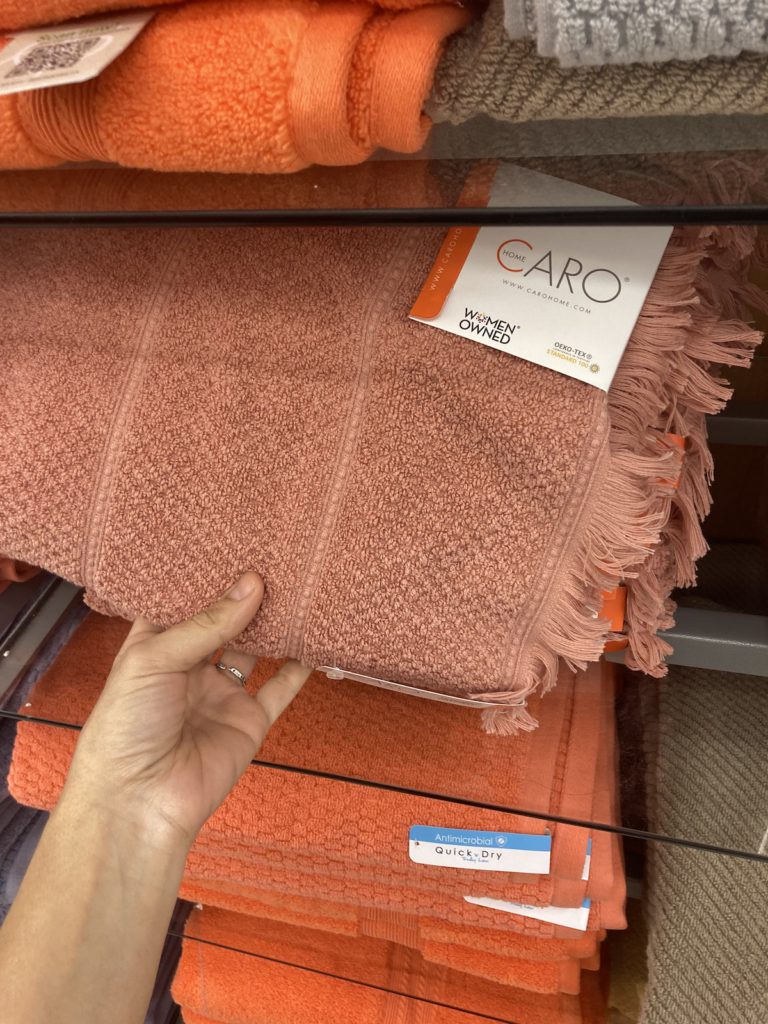 I grab one bath towel at $7.99 and 2 sets of hand towels which run $12.99 a pair. In my house it seems you can never have enough hand towels since my kids put them through the wringer.
You could also mix and match your towel choices, but for today's look, I'm intentionally keeping them the same. The coral is going to be the main color that ties everything together.
Don't Forget To Accessorize
So far we've focused on some of the underpinnings that are going to create our modern farmhouse or modern cottage aesthetic. These initial layers are essential as they add dimension and texture. Without them the room lacks warmth and feels bare.
But now it's time to look for decor items that will evoke style and really shape the look. I like that soap dispensers are functional yet double as decor. Changing these up from time to time is an affordable way to keep things exciting.
I'm a basket fanatic. Anything that provides storage and style and rustic appeal is a must in my home. Today I'm looking for a basket that I can use to display some of my new hand towels—nothing too big since it will simply be a gesture on the vanity. This wooden basket with a cane aestheitc grabs my attention. And at $5.99 it is a keeper!
In the home decor section I find quite a few vases that I love. Because decorating with nature is something I enjoy in every scene in the home, having a vase in the bathroom is a win. Now, choosing the right vase to go with the rest of the items we've picked out is important…
I'm really digging these Mexican style terracotta vases. Bringing in a rustic feature underscores the more relaxed vibe of farmhouse or cottage styles.
The wooden lady has also peaked my interest. If you can only pick a few items because of the budget, think of those that will make an eye-catching design statement.
Finally I decide on my decor items and am ready to make my purchases and head home for the fun part—the decorating!
Let's Transform The Space
To begin styling the bathroom, I'm going to set up the foundation. In my How To Stage Like A Pro post I lay out the basic steps for styling a room.
Hanging the shower curtain and the bath towel and laying down the area rug are going to add an initial layer to the muted canvas.
Notice how even subtle color like the coral bath towel on a wall hook can begin reviving the space.
There is inherent beauty in simplicity when it comes to interior decorating. The soap dispenser I picked up at T. J. Maxx makes a statement on the quartzite counter top. The earthy wooden top combined with its sleek white base adds both modern and farmhouse flare to the vanity. Even as a stand alone, this decor item makes an impact—affirming that sometimes less is more.
And look what happens when I add in a couple more items that harmonize with the soap dispenser. The look is still simple, since we are not cluttering up the counter top, but the shell (I had this around the house) and the basket enhance the fresh and decorative feel of this corner.
I love the look of towels in baskets in bathrooms. Since I knew I wanted to create some moodiness with the coral color, I intentionally doubled up on hand towels. That way I would have extras to roll up and display in the basket.
For the opposite side of the counter, I positioned the wood-carved woman and the white terracotta vase next to each other. Clippings from the Firecracker Plant I have in our garden were a perfect filler for the vase. I kept the branches long so that they would drape out and downwards. The bright red blooms cascading over the wooden lady make both items work together beautifully.
**although it is not a guarantee that you will find the same items at your local T.J. Maxx, here are some items I picked out online that I feel will create a similar, beautiful look. Please know I have not personally purchased or used these items.**
Similarly done in our master bathroom, in the upstairs bathroom we created a picture frame medicine cabinet when we built the house. I'm all for finding decorative ways to store away the home's necessities.
The picture adds bursts of color in the space while the painted girl sets the tone for a cheery theme that is carried on with the hardware. Red owls as knobs for the vanity drawers add a color pop and the doors display the branches where the owls can perch.
Adding unique elements in subtle ways can really spruce up the ambience in a small space.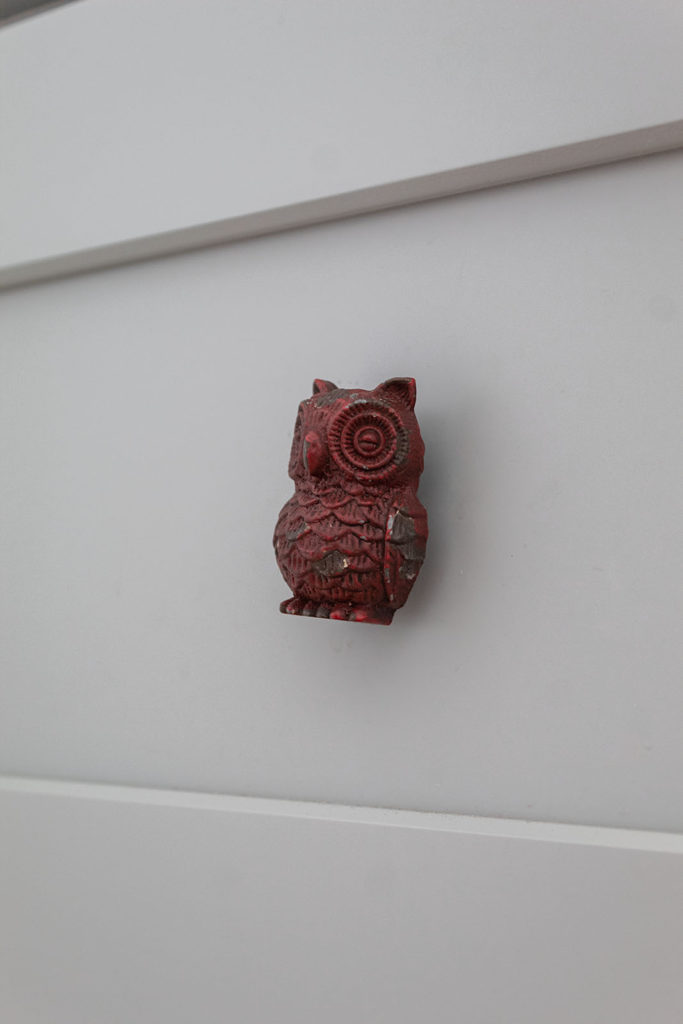 I hope that you have enjoyed this shopping and decorating experience! Let me know what you think in the comments below. In the meantime be sure to subscribe so you don't miss any future post. Thank you so very much for reading!
Enjoy the video of me shopping and decorating