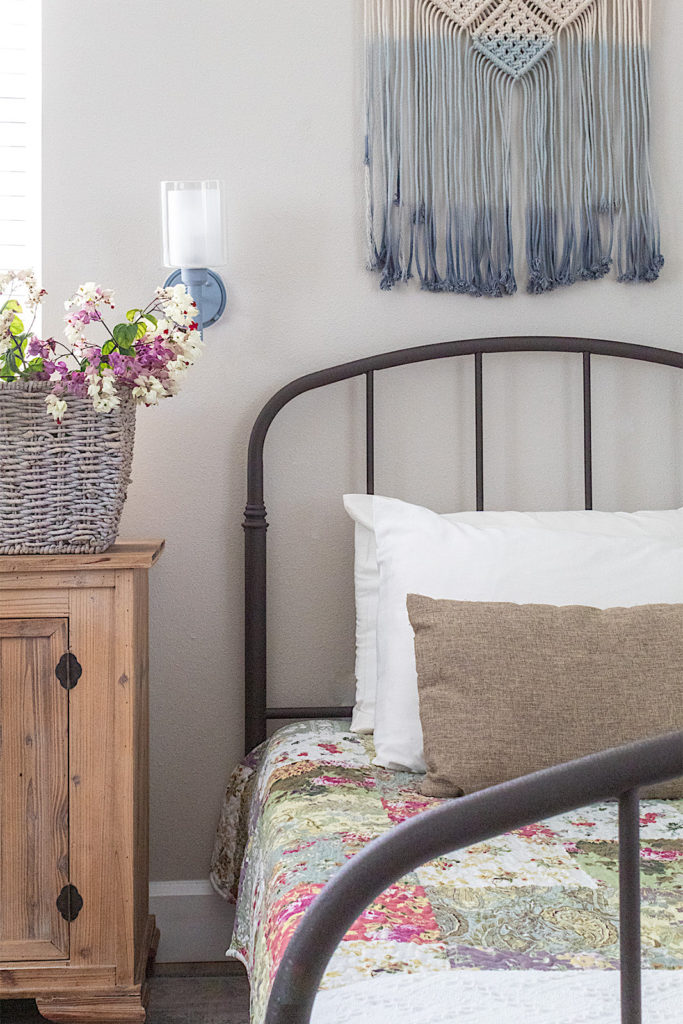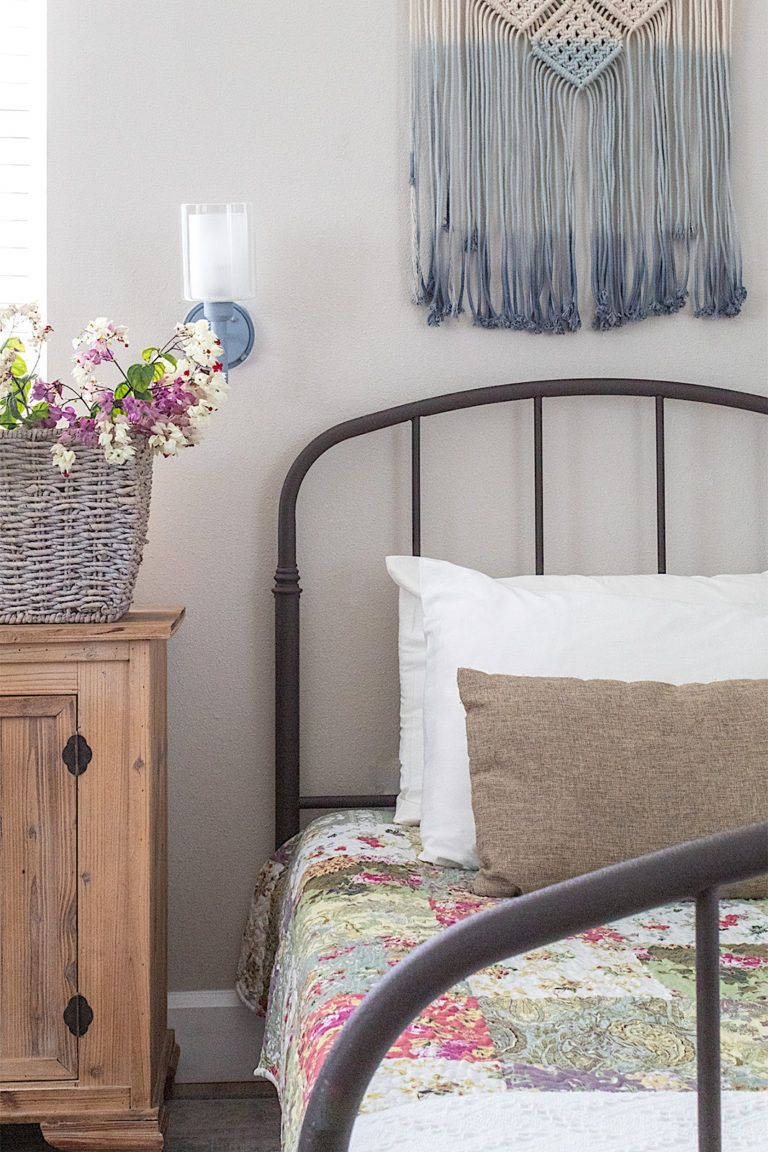 Have you ever strolled through a model home, with every accessory and furnishing perfectly presented, and wanted to just stay there…indefinitely! Staging works. It sells. But you don't need to be a professional to stage your home. And staging is not just for others' appeal. It is a practice you can follow to enjoy beauty and comfort in your day to day.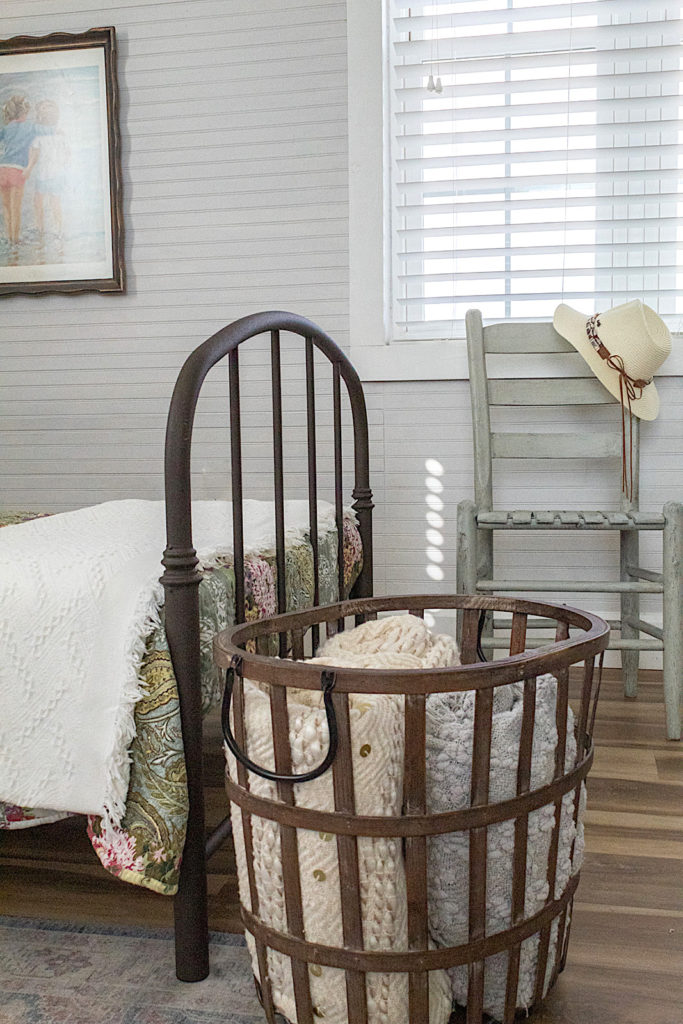 Staging is typically associated with real estate and for the purpose of making the home more attractive to potential buyers. In my furniture renovation business, staging is a key component in getting pieces sold.
The truth is most people gravitate towards a pretty and inviting home over a dirty, neglected, cluttered or chaotic one. The human eye is drawn to beauty and harmony.
There's a reason why we want to pack our bags and move into that bright, clean and impeccably decorated model home or why some of us crave extended stays at nice hotels. Somebody has already done the legwork for us. The cleaning, the color coordinating, the mental and physical labor of interior decorating.
Staging For Personal Indulgence
Today I will share with you my top tips for staging your own home. These suggestions will help take the guesswork out of the design process and hopefully provide some inspo for creating your own snazzy and polished home escape—without having to leave the comfort of your living room.
It goes without saying that having things clean before staging a space is going to make everything feel and look more inviting.
Having a system in place that streamlines the cleaning process is not only time-saving but smart. Here are a few no-fuss filth ridding tips:
√  Focus on one room at a time. Do not set yourself up for burn out by tackling the whole house in one day. Carve out an hour or so for cleaning max.
√  Load all your cleaning supplies in a caddy so you have everything you need within reach and avoid back and forth trips around the house.
√ Don't become neurotic, like I have before, about covering every detail at once. You can always leave secondary tasks like ceiling fans and baseboards for the following week.
√ Make it fun. Blast your favorite tunes and burn calories. Cleaning can also be a therapeutic process.
Tip #2: Pick A Design Style
I talk more in detail about this subject in my Avoid Hodge Podge Post, but basically you'll want to have an idea of the 'theme' you will be staging. Are you going for a farmhouse look? Modern? Mediterranean?
It's perfectly fine to combine elements from different styles, say rustic accents in a modern kitchen, but you'll want to keep things in balance. I'll talk more about finding a balance in tip number five.
Tip #3. Bring In The Area Rugs
Never underestimate the impact a good area rug can have on your aesthetic. Use rugs to anchor your design, add coziness and section off spaces.
In open floor plans, area rugs, along with your furniture can define a designated area. An oversized great room can be partitioned into a family room and a dining area with the help of area rugs tailored to the style and function of each space.
Even a small accent rug can brighten up a space. In my recent Hallway Modern Farmhouse Update, a reproduction Persian style rug from TJ Maxx completes the look.
A trick designers use is layering to create visual depth and dimension. Building a look from bottom to top or from outside in is a good way to begin setting the stage.
I start with my larger items like window and wall treatments and flooring, then I add in my furniture and large floor plants. Once I find a happy placement for everything, which usually involves a lot of moving around, then I get to accessorize with my smaller decor items.
Layering in the smaller details creates a full look without having to clutter a surface.
In this picture I stacked books and topped them with decor pieces. I leaned a thrift store painting against the wall for another pretty layer. You can do this with mirrors too. Try staggering a couple different sized ones for a lovely effect.
Don't forget to layer in the bedroom too for a comfy and exquisite feel. Something as simple as a throw blanket and some stacked pillows creates a stylish and inviting display.
Tip #5. Tuning For Harmony
Home decorating or staging is like composing a song. Whether a loud rock & roll tune or a soothing ballad, the notes and the melody should all work together in harmony. One note off key and it sticks out like a sore thumb.
Ways to capture the rhythm of the room
√ Incorporate accessories that play off other colors around the room. Among a sofa-full of neutral throw pillows, toss in some deep plums to tie in with a nearby bright fuchsia wall painting.
Is the distressed raw wood dining table the star of the room? Add some natural wood picture frames to your coffee table decor or bring in a natural fiber area rug to spread the warmth of the wood elements around.
Create a horizon of varying heights in your decor
Varying heights with both small accessories and larger pieces in a space will create visual dimension and balance.
√ A finely displayed mantel might boast a row of tall candles, a couple stacked books, a pretty vase with tall floral stems, and some vintage tea cups.
√ Mix in taller items like a fiddle leaf fig plant or a floor lamp next to a sofa. Lean a full length mirror against the wall next to a low sideboard or buffet.
√ I like using large throw pillows or baskets as companions next to chairs, bookcases, and beds. Fill a tall basket with throw blankets or faux flowers and they will enhance the aesthetic.
Another way to generate a stylish rhythm in a space is to create contrast through your decor.
Light colored throw pillows on a dark sofa will pop and make a statement. A dark picture frame against a neutral wall will stand out. Tie a bundle of dried red eucalyptus with twine for a burst of color on light colored furniture.
If your color taste is more muted you don't need to bring in strong colors to invoke contrast. You can achieve this through texture also.
Embroidered throw blankets on  linen bedspreads will add a layer of texture and contrast. Doubling up on area rugs with varying weave can also create a lovely, subtle contrast.
Tip #6. Repurpose and Recycle
I've left my favorite staging tip for last. It is one I live by religiously. Changing things up in your home's look typically requires the display and arrangement of new decor. Purchasing new bedding, furniture or decorations every time we want to freshen things up can get pricey.
I am a huge fan of repurposing and reusing existing decor. When I'm in the mood for a new style I often pull items from another room and give them a new role and place in the home. Take my beloved galvanized bucket for example.
I love moving this large bucket around to showcase foliage around the house. In my Tabebuia Tree Center Piece Post I share how pruned branches in a feed store bucket make a gorgeous farmhouse centerpiece.
The same bucket gets moved outside for the season. In my How To Style For The Season Post you can see how filling the bucket with mums helps get the front porch in the Fall mood.
Items like throw pillows and blankets, baskets, vases and books are great for versatility in your styling. They are easy to move around and are the details that can help transform an entire space.
I hope this was an enjoyable and informative post. I'd love to hear about your home staging adventures. Please share in the comments below.

Thanks for stopping by and stay tuned for more home decor fun!