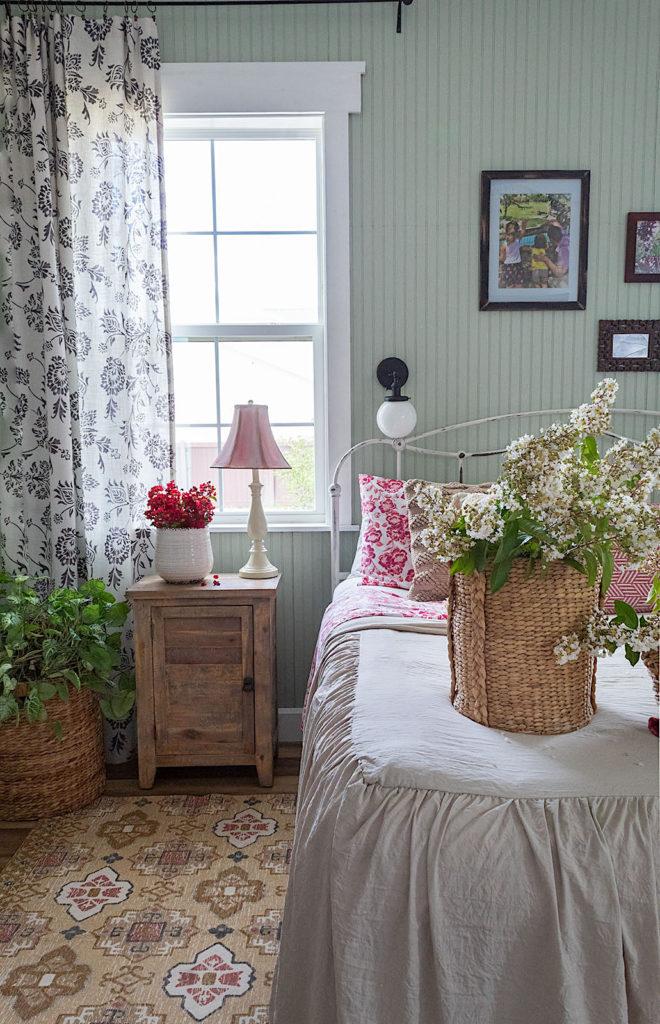 Craving a new look in the bedroom but worried about expensive makeovers? In today's post I'm sharing how I outfitted and accessorized our master bedroom into a French Country escape for a little over $100.
We're going shopping and I'm sharing my best styling tips for beauty meets bargains. Don't miss this gorgeous transformation!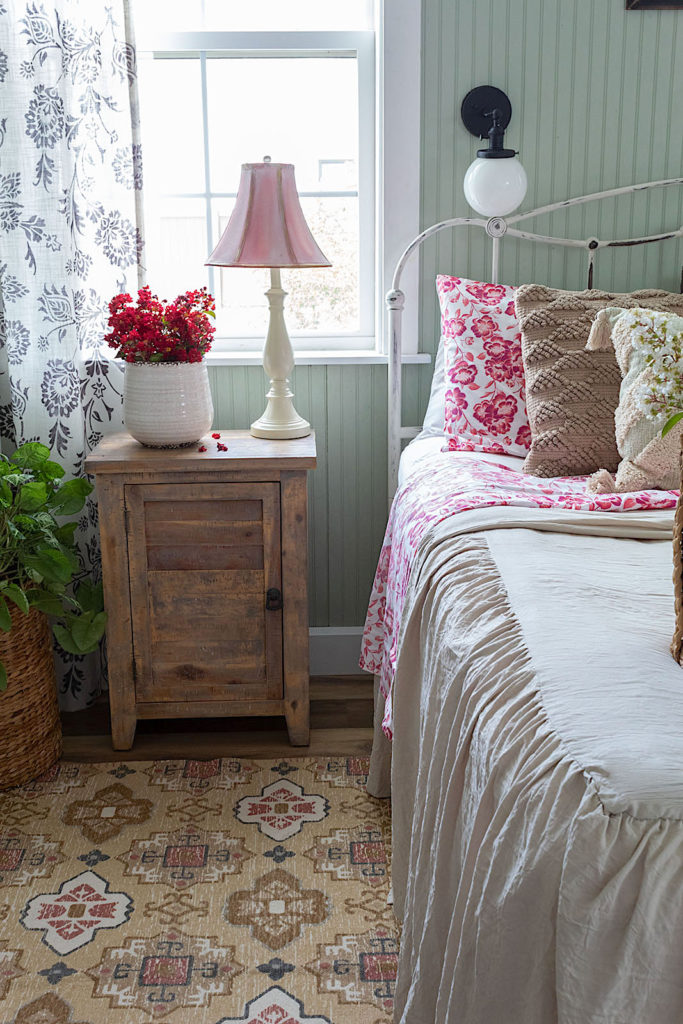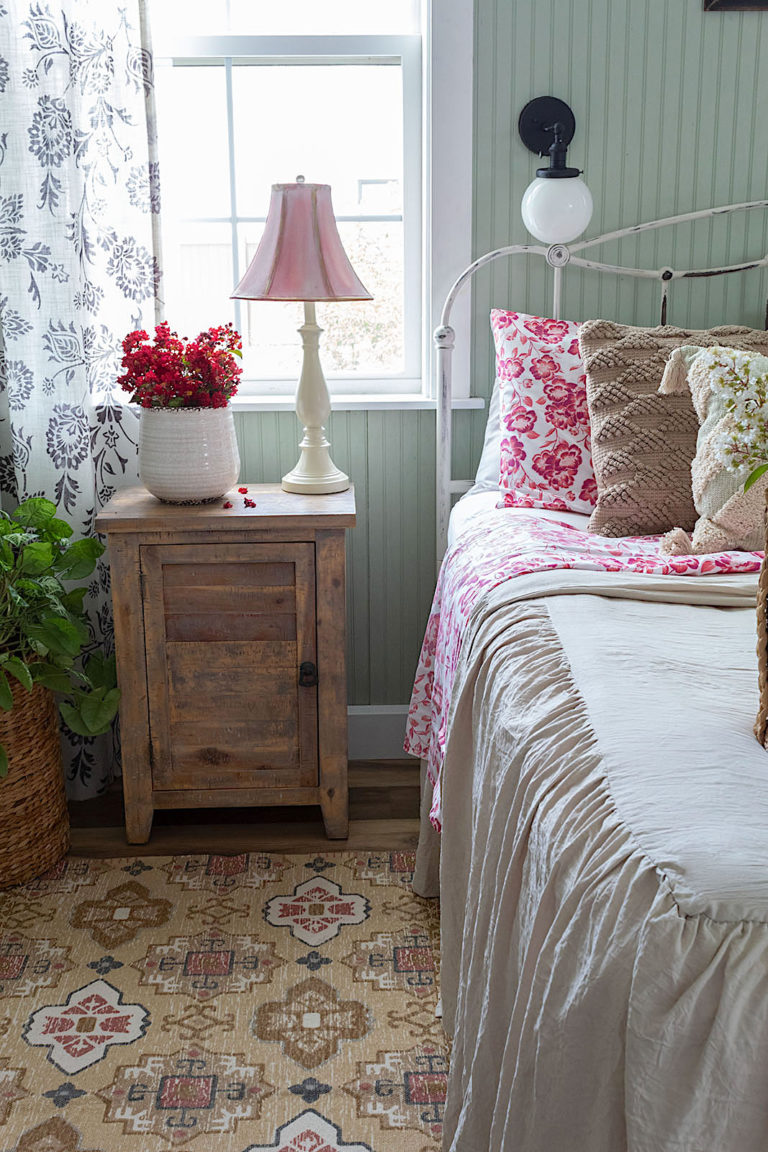 Today I'm styling with a mixture of both new purchases and existing decor. For budget-friendly projects, I love repurposing and relocating decor around the house. Fresh takes on tired decor can do wonders for the aesthetic. 
These candle holders were collecting dust in a barely used part of the house. I brought them into the bedroom and they fit so well with the French Country theme. Coupled with stacked thrift store books on an old chest is all that's needed to make a design statement.
Where To Save On New Decor
There are so many great off-price home goods stores like TJ Maxx, Ross, Tuesday Morning and Bealls Outlet. Sometimes you have to hunt to find those hidden gems but I always end up with a pretty good haul. Today we're heading to Ross Stores where I'll show you how I scored some amazing finds for our bedroom makeover!
Be Intentional With Your Shopping
When shopping for home decor it is easy to get distracted with all the pretty choices. I have to make a conscious effort to stay on task. I make a list in advance of the basic things I need. Once I find these, if there's money left in the budget, I can browse for a couple extra items.
Today we begin in the bedding section where I'll pick the foundational items for the room's new outfit: throw pillows, sheets, and a throw blanket. I will not be needing a comforter since I'm using an existing one.
The Glorious Delight Of Throw Pillows
Throw pillows are versatile tools to have in your decorating arsenal. Favored for both form and function, decorative pillows can complement a look or shine center stage.
When we renovated our teenager's bedroom,  I used throw pillows throughout the room to soften the modern aesthetic. For today's French Country theme, the pillows will anchor the space as a focal point on the bed.
This two-for-one combo of geometric-patterned pillows were the first to catch my eye. The horizontal shape is wonderful for mixing sizes and heights on the bed and the color is bright and feminine for our French Country look. At $9.99 for the pair, these pillows are keepers.
Another fabulous find was an earthy brown pillow with raised woven triangles for $7.99. I couldn't resist all the yummy texture and it's always a good idea to throw in some neutrals when working with patterns and colors.
Design Tip:
Keep A Photo Of Your Space Handy When Shopping
We all know what our rooms look like right? You'd be surprised how much you may need a visual aid when shopping for your space. I like to keep a snapshot on my phone that I can reference as I peruse the decor isles. Having that physical view helps me conceptualize how things will fit in the home.
Don't Be Tempted By Any Pretty Face
There are many alluring choices in home goods stores. I'm constantly reminding myself to pick according to the look at hand and not to veer off course.
When I spotted this vibrant pillow, I quickly snatched it off the shelf. I studied it for a moment and had a mental conversation with myself. I realized, although gorgeous, the aesthetic was more suited for a Southwestern or Boho vibe— not so much for French Country. So, the pretty pillow went back on the shelf as I continued my search.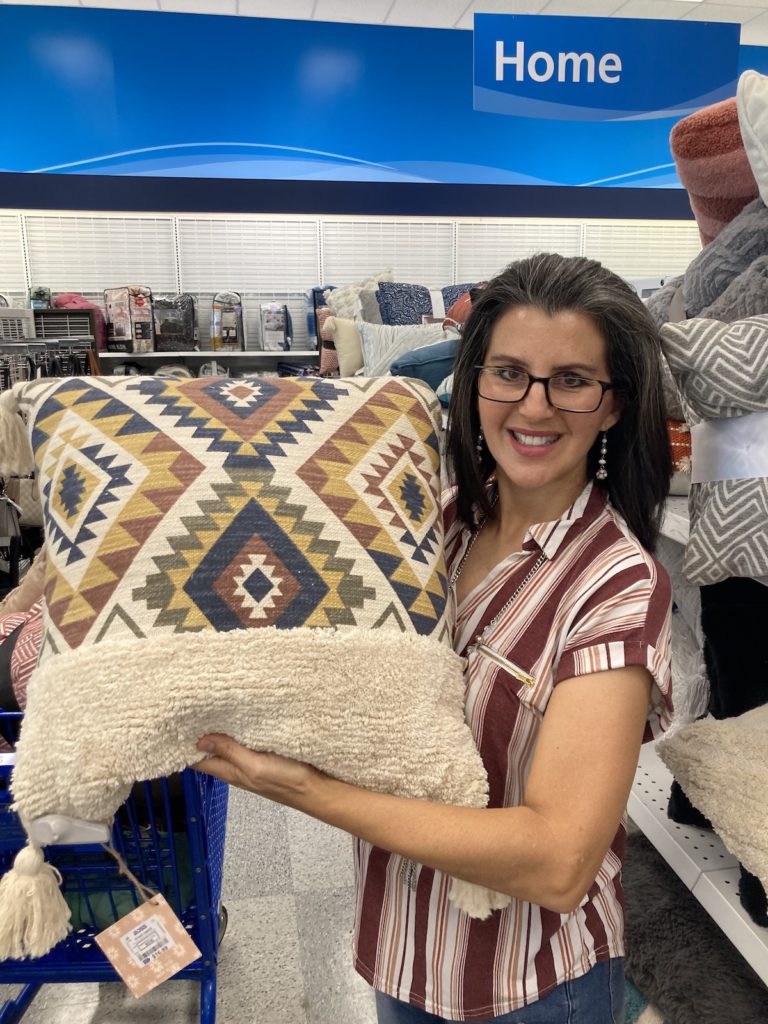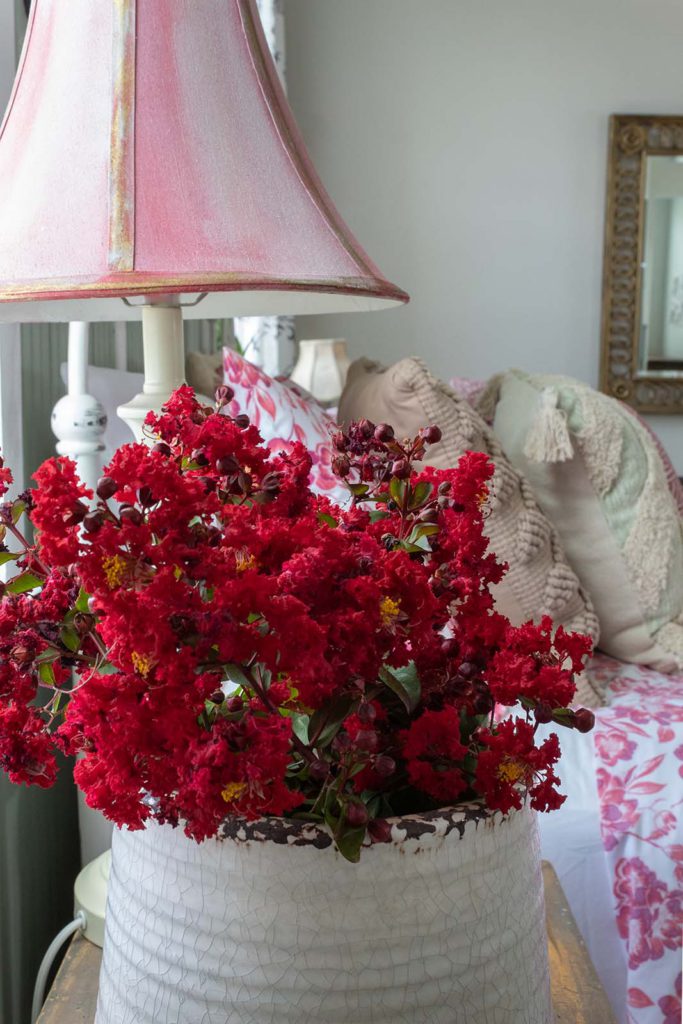 Mixing colors and patterns can truly enhance the visual experience in a space. I like infusing bursts of bolder colors in with more muted tones. If you are using brighter colors, make sure they still tie into the color wheel of the room.
This teal pillow totally caught my eye, but I couldn't make it work with the other throw pillows I had selected. My color choices thus far leaned more feminine and the teal would pull things in another direction. You don't want to have a sore thumb in the mix, as pretty as it might be. You want to maintain a cohesive rhythm. In my avoiding hodge podge post I share my top tips for creating harmony in a space and avoiding chaos.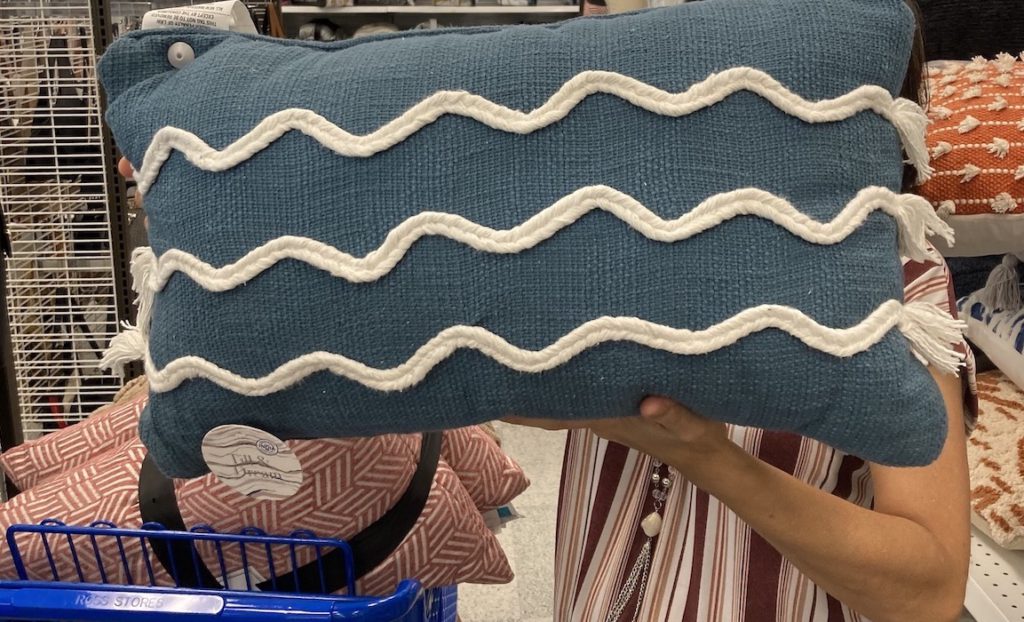 Often times the bedspread or comforter gets all the attention when it comes to bedding displays. It may be the first thing you notice when you walk into the room. The bed sheets tend to hide in the background and not make a fuss about style.
Today I'm changing things around by giving the bed sheets some overdue stardom. They are not only going to make a statement, but they are going to set the mood for the entire room.
Sometimes the selection can be limited at discount home goods stores, especially if you are looking for king size sheets with a French vibe.  I had to get extra creative with my search process, but I actually enjoy such design challenges.
I narrowed down my choices to two very distinct patterns. This artsy modern print was oh so fabulous. I'm a sucker for unique patterns and the colors were feminine and fun.
Match Items Up In The Store For A Visual Cue
Placing the sheets next to the throw pillows while in the store gave me a good visual of how things would mesh together.
As much as I adored these abstract print sheets, I had to go with my other choice, the pink and burgundy floral sheets. The florals embodied the more classic feel for a French Countryside vibe. While the abstract sheets boasted the right colors, the modern print would have thrown off the look.
Picking Accessories That Support Your Theme
One of my favorite parts of decorating is accessorizing. I so enjoy the small details. This marble box at $11 was perfect for my nightstand. With muted colors and a sleek aesthetic, it adds a hint of sophistication to our French theme.
Disclosure: Some of the links provided are affiliate links. By purchasing through these links it supports this blog and the work we do and there is no extra cost to you. If you would like to read our full disclosure, click HERE.
Anytime decor can double as storage, it's a win for me. My nightstand is often covered in random loose items and napkins. Stashing them in the box is a quick way to clean up.
Area Rugs Are Inexpensive Game-Changers
At Ross I also snatched up this stylish area rug for $20. Its earthy appeal added warmth to the aesthetic while keeping the mood casual in the room. I'm always impressed by the design impact of area rugs. Even a small rug like this one can boost the look and feel of the entire space.
For a final detail, I picked a throw blanket with a lively stitched pattern. Throw blankets also play a role in pulling together the look in a space. A fun burst of pink at the foot of the bed keeps the color flowing across the neutral bedspread.
As I previously mentioned, today I'm using a bedspread that I've had for some time and absolutely love. This ruffle skirt bedspread drapes beautifully over the sides of my bed. Its soft fabric and wrinkled aesthetic ooze cottage charm.
As I begin placing the bedspread over my new floral sheets, I can already see how fabulously the floral print combines with the linen-like color of the bedspread.
The essence of French decor is nonchalant in a way—as if things were simply thrown together beautifully. It sometimes takes work to make things look effortless, so I wonder how much really goes on behind the scenes of fabulously chic French Country homes!
To show off the floral prints while adding a wisp of lived in charm, I fold the bed sheets back over the bedspread at an angle. The angle exposes more the of bright color and mimics a turned out bed.
Layering is a true way to achieve a full aesthetic in a space. It is one of my go-to techniques for styling because it takes the visual experience from 2D to 3D.
To begin setting things up on the bed I fill the floral shams with pillows.
On one end of the bed I stack two pillows on top of each other for a casual look. On the other end, I do something different with the pillows by standing them up and resting them against the headboard. This mismatching of styling adds to the breezy mood of our French escape.
Tugging up on the corners helps perk things up.
Next comes adding a row of throw pillows. I experiment with various placements until I like the flow of texture and color.
I use other decorative pillows around the house as fillers for any gaps. Open spaces between the headboard and pillows can occur when you're layering. You can simply add in more pillows. They don't have to be perfect since they are going to be mostly hidden.
Picturesque Plants For Final Touches
Decorating with nature is affordable and few things compare to the impact plants have on the aesthetic. I'm constantly bringing yard clippings indoors to brighten things up. You don't have to have an elaborate garden to decorate with plants. A few cuttings from trees or even weeds can look pretty in the right vessel and location.
I took a few white blooms from my Crape Myrtle bushes and placed them in baskets at the edge of the bed. Nothing screams countryside cottage like baskets filled with flowers. To preserve your blooms, place them in water-filled vessels that you can hide inside larger baskets.
If you've been following me for a while you may recognize this vase. It was a thrift store find that needed some serious updating. You can see how I transformed the vase to look like aged stone in this post. It came out so beautiful that I love using it in different scenes around the house.  
For our French Country bedroom scene, I placed a few branches from my St. Luke's tree in the vase. The burgundy leaves looked uber stylish in the tall vase.
So my friends, what do you think of the new look in the bedroom? Isn't it très belle! Let me know in the comments below. I always love hearing from you.
Come Shopping With Me In This Video
Here are some of my online picks that would also help capture that romantic French Country look in your bedroom.