One of my most favorite design styles is French decor. I love the use of natural materials, worn finishes and the relaxed feel that seems so effortless.
Today I'm freshening up our living room with a French-country aesthetic. I'm sharing some easy ideas on how you can incorporate this style into your home decor. 
Light Colors, Distressed Furniture
Distressed furniture in muted colors is a staple of French decor. I decided to give the coffee table wooden boxes we have in our living room a new look to match my French inspired vibe. They were pretty rustic before but a little too dark. Just take a look…
For a quick reno I dry brushed them using mint green paint in random spots. Next I distressed the paint with my candle distressing technique. Then I added white paint and again distressed.  For a final softening touch I added some cerusing wax all over. Just look at how lovely they came out…
Disclosure: Some of the links provided are affiliate links. By purchasing through these links you are supporting this family blog and the work we do and there is no extra cost to you. If you would like to read our full disclosure, click HERE.
There is something so j'ai ne quois about fruit and French decor. Especially pears—French pears to be precise with their characteristic teardrop shape. They can often be spotted in French settings and in French paintings.
Dropping some fruit in vintage bowls or muted colored ceramics adds effortless French charm. Edibles are an affordable accessory that you can also enjoy later.
Just placing one of some thrift store chairs I renovated in the living room helped to transform the entire feel of the space. I love how small tweaks can make huge design impact.
The chairs were simply too dark and outdated before.
Natural fiber rugs, woven baskets, and light wood furniture pieces are some ways to draw in those earthy elements that give French decor its beautiful, laid back aesthetic. French-country decor mixes rustic with elegance to achieve that perfect balance of casual and sophistication.
Fill a basket with throw blankets for a simple way to add texture and coziness.
Whether fresh, dried or faux, flowers are a staple of French living. When I've traveled to France I'm always in awe of how the French incorporate flowers and plants in both the exterior and interior of the home's aesthetic.
Allow me to digress and reminisce with a few photos from my last trip to France so you can see for yourselves the laissez-faire beauty I'm referring to…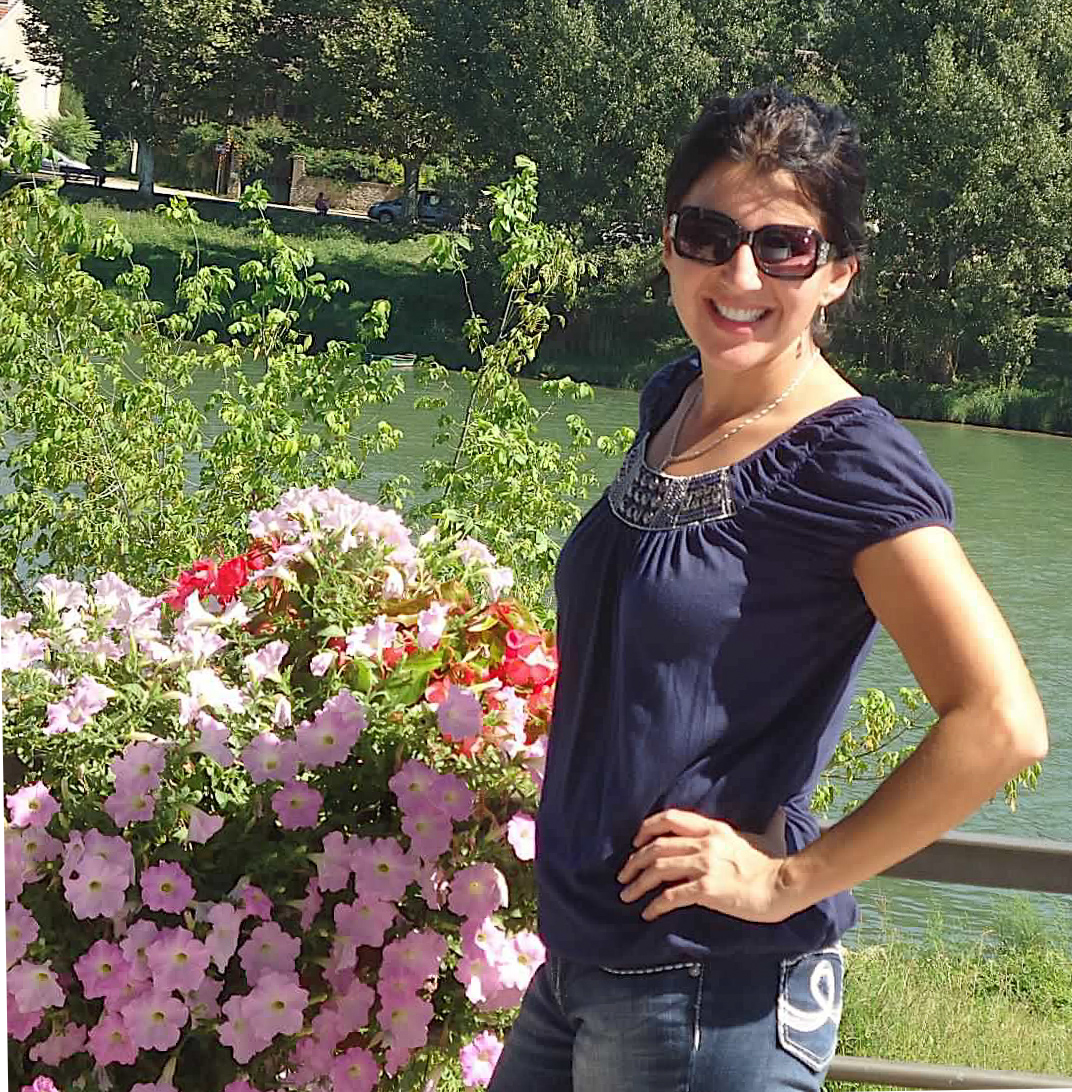 Yes friends, a street bouquet! They are everywhere in France.
Plants grow uninhibited on buildings, in luscious window boxes and around entry doors.
The allure of French design often lies in the simplicity of the decor. It is almost as if you try too hard you ruin it. This view from my stay at Maison de Roses says it all. Two potted Shamrock plants on a window sill…that's all you need to make things picture perfect.
You can do this at home too. In my living room French updo I used flowers in baskets, lavender sprigs tied with hemp twine, and grocery store roses in a pretty vase to capture that French-country essence.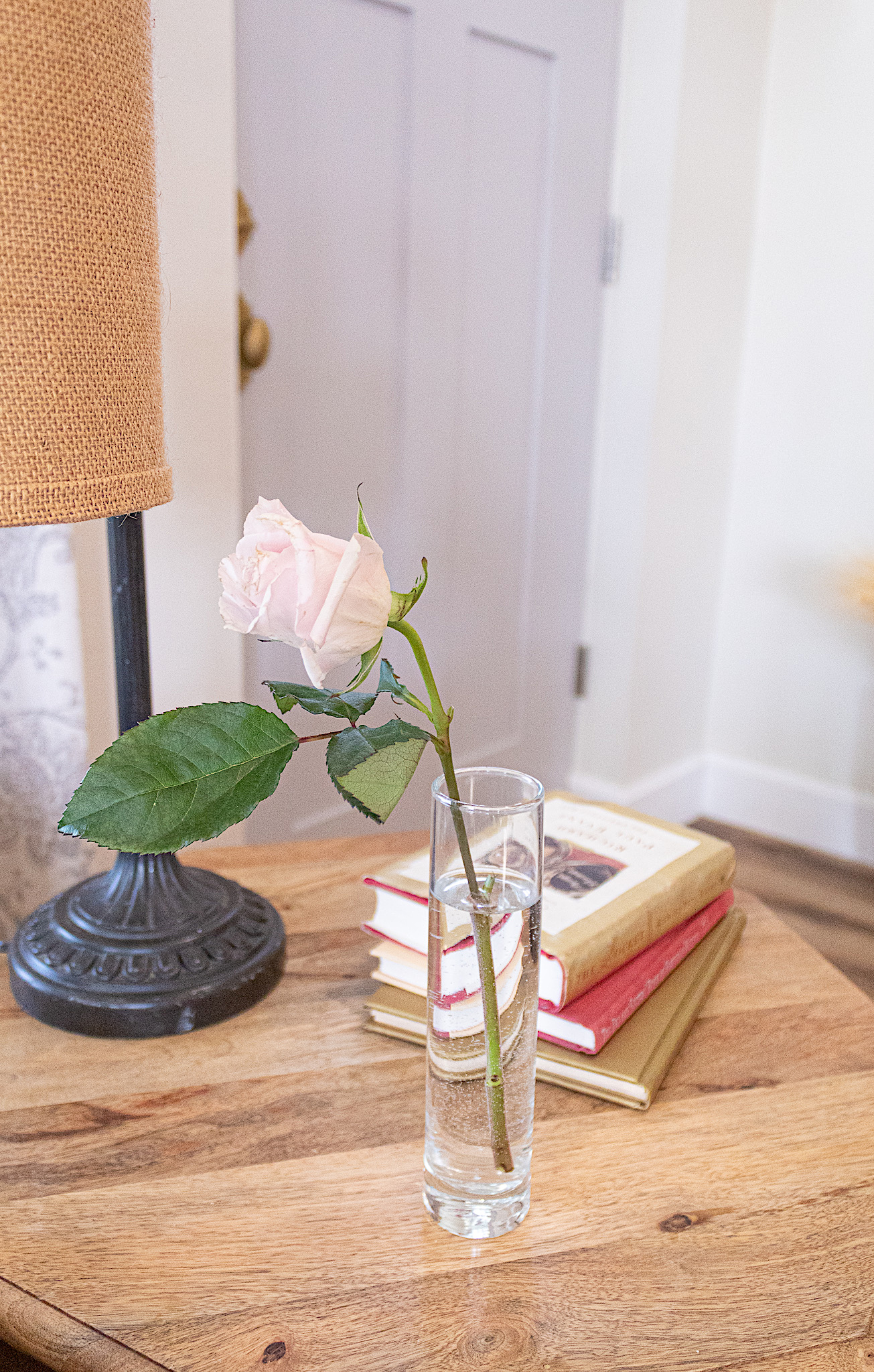 You can also save your roses by hanging them upside down to dry and enjoy as long-lasting foliage. I have reused these florals for decor and photo opts so many times as in my Master Bedroom post. They look so beautifully vintage when dried.
Friends, I hope that you liked this French-inspired stroll through our living room. Giving your spaces a change in scenery does not have to be a stressful or expensive endeavor. Incorporating the right accessories and some fun diy's can make all the difference!
If you'd like to see more decor tips, be sure to SUBSCRIBE at the bottom of this page.