Year-round I can find something blooming in the garden, one of the pluses of living in a warmer climate. But I've also made strategic choices in plant varieties to ensure a lovely succession of color throughout the year.

Today I'm sharing some photo inspo from our garden and thoughts behind some of my landscape choices. I hope you enjoy my attempt to bring you some pretty pictures.
Pretty & Pollinator-Friendly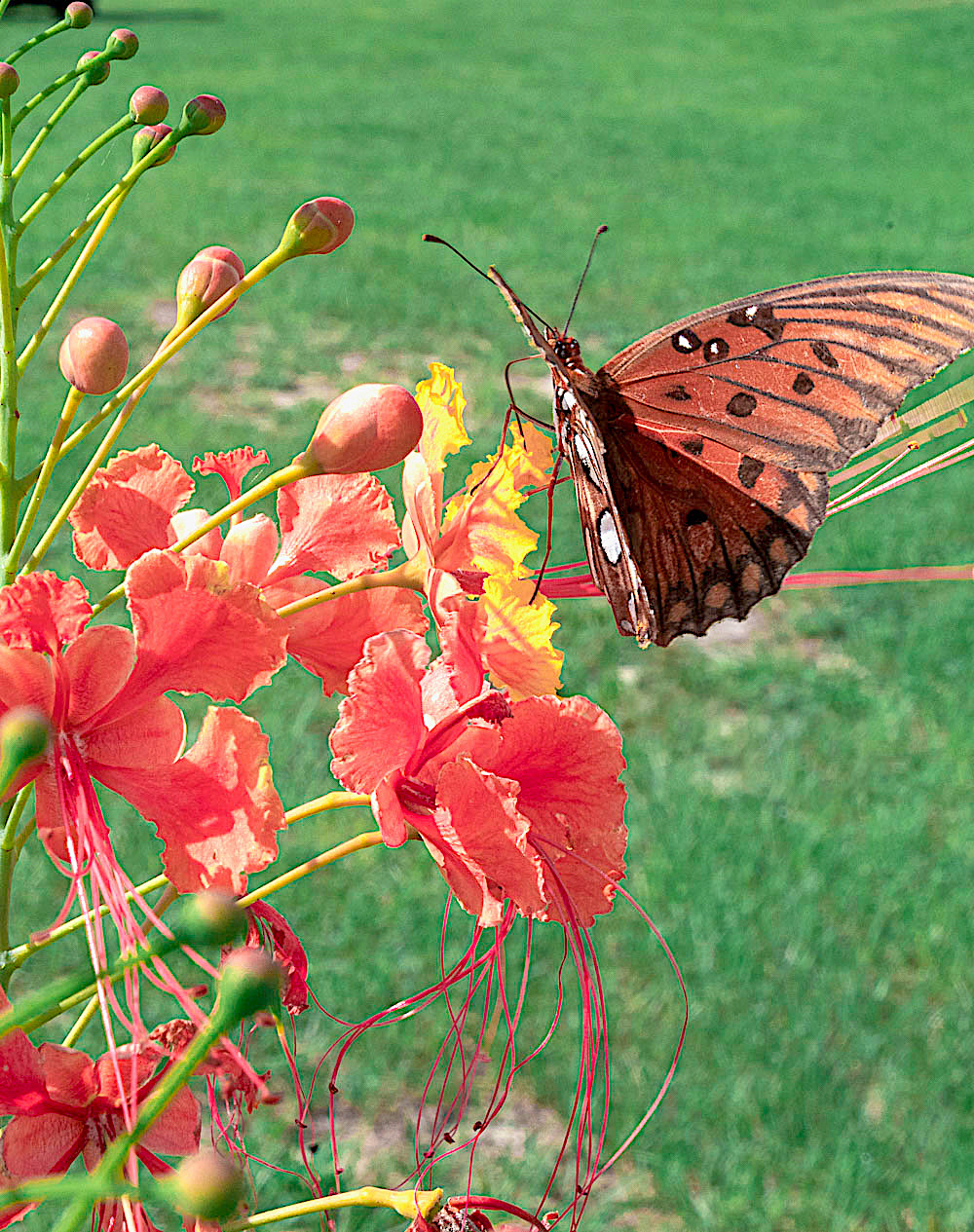 As inside the home, outside the home I design with both form and function in mind. Filling my landscape with aesthetically pleasing plants is just as important as the role they play in the garden. Having plants that attract pollinators like butterflies, bees, and birds promotes healthy edibles and showy blooms.
The smaller version of the Royal Poinciana tree, the Dwarf Poinciana is an absolute show-stopper in the garden. I had no idea when I bought it how much joy it would bring me. So much that I'm growing several seedlings from pods of the mother plant. I plan to create a picturesque lining of these radiant blooming plants along our home's drive.
Blooming in both Spring and Fall, the Dwarf Poinciana maintains an attractive display of orange and yellow blossoms that resemble butterflies for several months out of the year.
I originally planted my Moringa Tree, also known as the Miracle Tree, for its health and medicinal benefits. I was later surprised with its whimsical beauty and  clusters of silky white blossoms showing up several times a year. It also attracts pollinators like this honey bee I was able to snap with my camera.
The Moringa tree is a wonderful addition to our food forest concept on our land. Check out some of its nutritional value:
According to a US manufacturer of moringa health food supplements, gram for gram moringa leaves contain: Twice the protein of yoghurt; four times the vitamin A of carrots; three times the potassium of bananas; four times the calcium of milk and seven times the vitamin C of oranges.
A favorite of mine, Crape Myrtles only bloom once a year, but here in Florida the radiant colors last all summer long. My Dynamite Myrtles are young and small but already produce generous clusters of ruffled, fiery red flowers.
Crape Myrtles come in so many beautiful colors that it is hard to choose just one. We lined our backyard with Dynamite (Red) myrtles and two rows of Natchez (white) myrtles decorate either side of our front driveway.
Plants that nurture and soothe the soul
We recently sectioned off a neglected part of our yard to create our very own garden oasis. Albeit only 600 square feet, we filled this space with plants that spoke to us. Whether through color, texture or nutritional value, each day I walk through our garden and am relaxed and revived.
With two garden beds I can rotate edibles or ornamentals throughout the year to keep things fresh and vibrant. You can read the Garden Oasis Post to learn how we made and designed this captivating garden on a budget.
Major Wheeler Honeysuckle
One of these days I hope to snap a photo of the hummingbirds that come to visit the non-stop blooming showy clusters of orange-red flowers.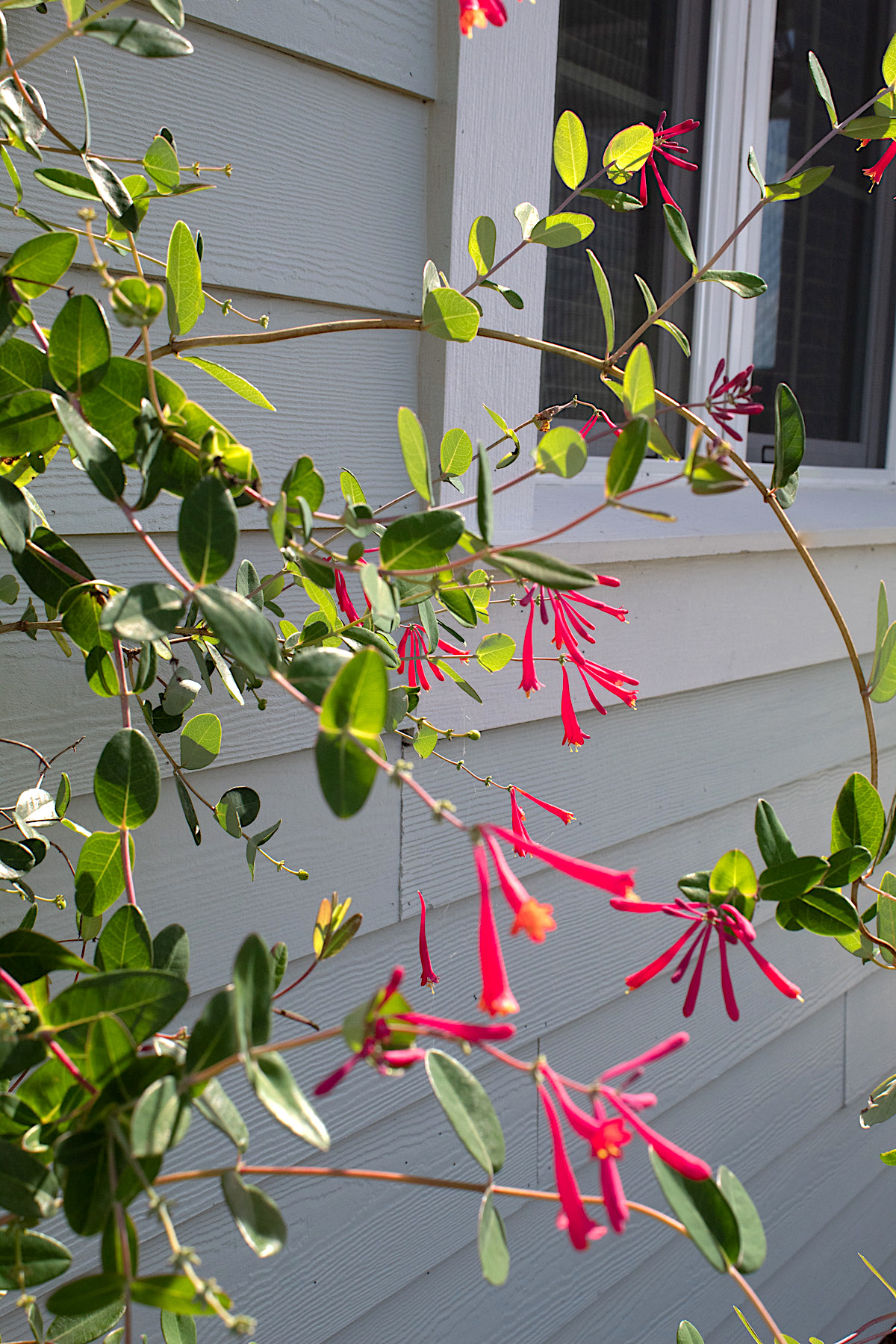 The Cassia Bush is a treasure of a plant to have in your yard. There is a large tree version and the bush version, which we have, reaching a height of 8 to 10 feet. Bright yellow flowers appear at a time of year when little else is in bloom. For us it's in the Fall around November.

I've tried to capture the magnificence of these blooms through a camera lense, but this plant is something to see in real life.
Right before the end of its bloom I like to bring clippings inside the home to decorate and amdire.
Having color year-round through your foliage is a wonderful way to enjoy the outdoor experience of your home. A little research and thought on what each plant has to offer prior to placement in your landscape goes a long way in creating aesthetic and added value to your home.
The Bleeding Heart Vine is a lovely plant to have in the landscape for year-round color. It has magnificent puffy white blooms decorated with deep red flowers. Contrasting with the dark glossy green leaves, this is a spectacular vine.
Thank you for stopping by my friends. I hope this garden tour was enjoyable. Be sure to SUBSCRIBE at the bottom of this page for more home and garden posts and I will see you soon!