It's that time of the year again friends. Do you love Fall as much as I do?
As the heat begins to die down here in Florida and delectable weather sets in, you can't help but feel a little more light hearted. A little more cheerful.
Today I'm sharing a no fuss Seasons-Inspired Tablescape using items and foliage from around the house.
Like a good family recipe I love mixing and matching all those wonderful ingredients that you already have in the home—from heirloom pieces to thrift store finds to colorful clippings from the yard.
With A Pinch Of Creativity, Decor On Hand Can Make For A Marvelous Display
I wanted to give my tablescape a vintage, somewhat rustic base. The table runners I own were not the right colors for my seasonal look. So I decided to create a runner concept using a tablecloth.
Use Place Mats, Table Cloths, or Runners To Anchor Your Table Setting
A favorite hand-embroidered tablecloth I inherited from my grandmother was perfect for adding a delicate detail and vintage appeal. I folded the edges inward to overlap in the middle and flipped the table cloth over so the seams would face down.
Begin With A Center Focal Point
When putting together a table presentation, I like to start from the middle and work outwards. For me the centerpiece is the main attraction and the individual  place settings are its shining stars.
You can use one large item as a centerpiece or several smaller items working together to make a statement. For this look my center piece will consist of three side-by-side items.
If you've followed my blog for some time you may have noticed that I frequently use plants as decor. In fact I can't seem to be able to decorate without them!
Whether real or faux, plants and florals bring in color, texture and an earthy vibe to any design. For our Seasons-Inspired Centerpiece I begin by placing a green house plant in a rustic basket smack in the middle of the table.
Whether you have plants growing in the yard or potted plants on the patio, a few clippings can truly enhance your interior decor. I've even used weeds from my yard to create beautiful wall features as I share in my DIY Yard Foliage Wall Decor Post.
In Today's Yard Shopping Bag— Zinnia's, Poinciana Flowers and St. Luke's Plum Tree Clippings.
You don't need to strip your yard of all its blooms and greenery. Just a few cuttings is all you need to make a decor statement.
Disclosure: Some of the links provided are affiliate links. By purchasing through these links you are supporting this family blog and the work we do and there is NEVER any extra cost to you. If you would like to read our full disclosure, click HERE.
I have two large glass vases that I once scored for $6 each at a thrift store. I repurpose and reuse them all the time for different decor scenes around the house. Today they will hold floral arrangements as part of our centerpiece. 
I begin by dropping in some long purple stems from my St. Luke's Plum tree.
Because my Dwarf Poinciana Tree gets so many blooms I did not feel so bad in taking a couple of these magnificent flowers. This is one of my most admired plants in our yard. I share more about it in my Ideas For Year Round Color In The Garden Post.
The vibrant orange and yellow hues are perfect for a festive look in our table setting. To complete my floral arrangement, a few zinnias from our garden and some dried wheat stems.
I never would've have expected zinnia seeds from the dollar store would have grown into the showiest part of our garden. They have bloomed abundantly and beautifully all summer.
To reduce crowding in the vases, I trim a few leaves of the lower parts of stems.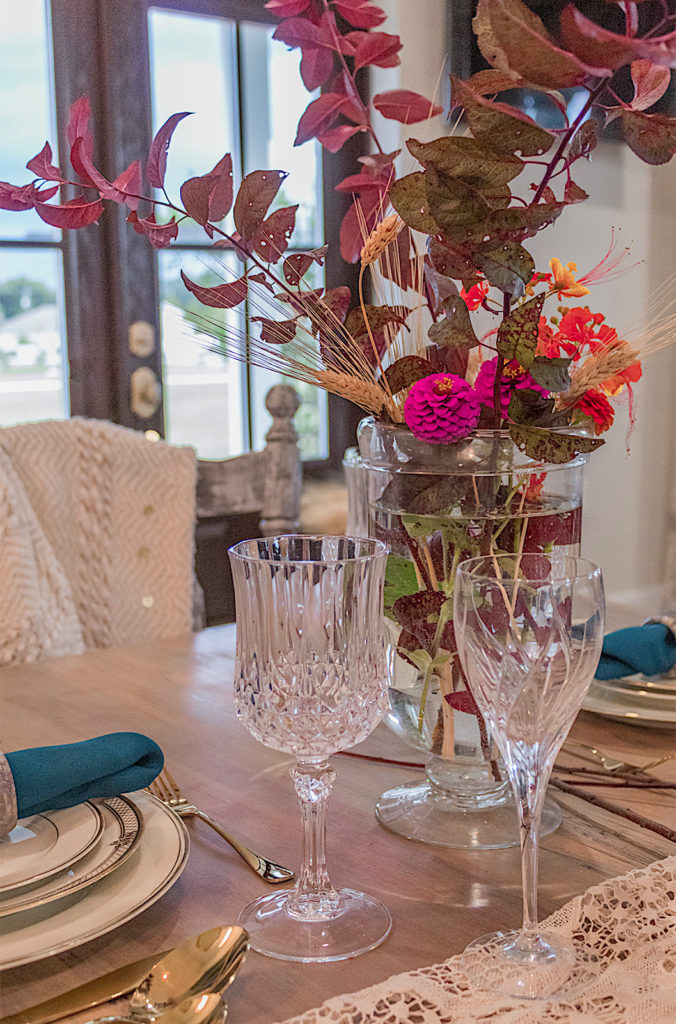 Now that my arrangements are ready I position my vases on either side of my plant in a basket.
For a pretty rustic detail I place some of the St. Luke's Plum tree twigs on the table.
I'm not a huge follower of table setting etiquette. I just try to set it up in a way that looks pretty without getting too fussy about placement.

Find dishware you love and don't be afraid to mix and match. I try to harmonize colors, but other than that, the design process is open to creativity.
I don't use my wedding china enough. It's one of those things in your cabinet that looks pretty but falls short when it comes to utility.
I think with COVID I've learned to better appreciate and look forward to hosting and gathering with friends. I will be pulling out the fancy china without hesitation in the future!
I only bought two items to create this tablescape—teal linen napkins and gold silverware. Everything else I shopped from around the house.
I spent less than $40 for both the napkins and the silverware and they made a stunning impact.
I wanted to infuse some non-traditional Fall colors into this scene. When it comes to holiday decorating don't feel obligated to follow a traditional color palette.
Create your own new holiday look or if that doesn't appeal to you, maintain a traditional base while adding in some bursts of non-traditional.
I was going to do a fancy napkin fold with my new teal napkins but then I remembered I my marble napkin rings and knew they would be stunning with this look. So instead I decided to skip the napkin fold.

For a nice full and even look, I first hold my napkin up by the top middle point. Then I gently thread the napkin through the ring.
If you've washed your napkins, I recommend ironing them for a wrinkle-free presentation.
I absolutely love my new silverware from Amazon. I've always wanted gold silverware. I can't wait to try them out with different looks. I can imagine they would pop against black accents of a Halloween tablescape or be the perfect addition to a vintage setting.
Changing up throw blankets and pillows is an easy way to decorate for any season. Here I added some color and texture to our banquette with oversized pillows.
I'm so glad I refinished our dining room thrift store chairs in a distressed look. They match delightfully with the Seasons-Inspired Tablescape. If you'd like to see how I renovated these chairs, visit my Distressed Look Chair Renovation Tutorial.
So friends, what did you think of this Seasons-Inspired Look? How do you prepare for Fall and beyond? I'd love to hear what you do around your home! Let me know in the comments below and stay tuned for more decor inspo.