As the season turns to Autumn I find myself craving those warm and festive colors around the home. I love how bouquets of flowers look when they're hung and dried upside down and such was my inspiration  for this year's hanging arrangement for our front door.
In this post I am going to show you how I made this Farmhouse style wreath for under $50 and in less than 10 minutes! I will also share some tips for styling your spaces with an inviting Fall aesthetic that can be enjoyed year round.
Hobby Lobby is my go-to spot for any type of floral arrangement. I like to take advantage of their regular sales. The selection can get overwhelming so I try to keep it simple—remember to stick to your desired color palette and aesthetic.
As I strolled through the aisles I played with combinations of texture and color. I held up paired florals trying to visualize them as an upside down hanging arrangement.
I was aiming for muted fall colors like blush and faded orange in lieu of bright reds and yellows. I liked the pink hues of these leaves but they were a little too shiny for the vintage look I wanted.
Oh how I could get lost in the ribbons aisle. So many choices! Although I was tempted with all pretty colors and materials, I remembered my farmhouse vision for this arrangement. I honed in on ribbons with natural fiber like linen, jute and burlap.
Once I decided on my choice of flowers, I held up different ribbons next to them to see how the colors and patterns looked together. For example this vibrant orange ribbon, although pretty and festive, was too stark for my soft farmhouse look. This exercise helps to visualize your decor before you purchase it.
The winner was a wide burlap ribbon with a gray chevron pattern. I loved how the colors and texture of this ribbon added a vintage look to the rustic colors of the flowers. And the bonus was it was marked down to just under $3!
Only three floral stems were needed for this arrangement (1 bouquet and 2 pampas leaves). Ribbon on sale and some craft twine and we've got ourselves everything we need to put together a show-stopping door wreath with a Vintage Farmhouse feel. Now let's get started!
For this step I recommend a heavy duty wire cutter or some large shears—something that will be able to clip the metal of the floral stems. Often times the faux flowers found in stores have very long stems. For this arrangement, I didn't want long sticks poking out the top. So I just trimmed them by clipping each stem with my large cutter.
I suggest going in steps when cutting so you don't make the stems too short. Cut a piece and then hold up the bouquet to see how things look before cutting more off.
I tied all my stems together with craft twine. I first tried using fishing line but found it difficult to get everything to hold together. The craft string had more friction against the plastic and worked better.
Don't worry about the visibility of the string. The bow will cover it up.
I cut 8 feet of ribbon and laid it across my counter pattern facing down.  I positioned my bouquet in the center of the ribbon. You can tie your bouquet with the craft twine before or after this step.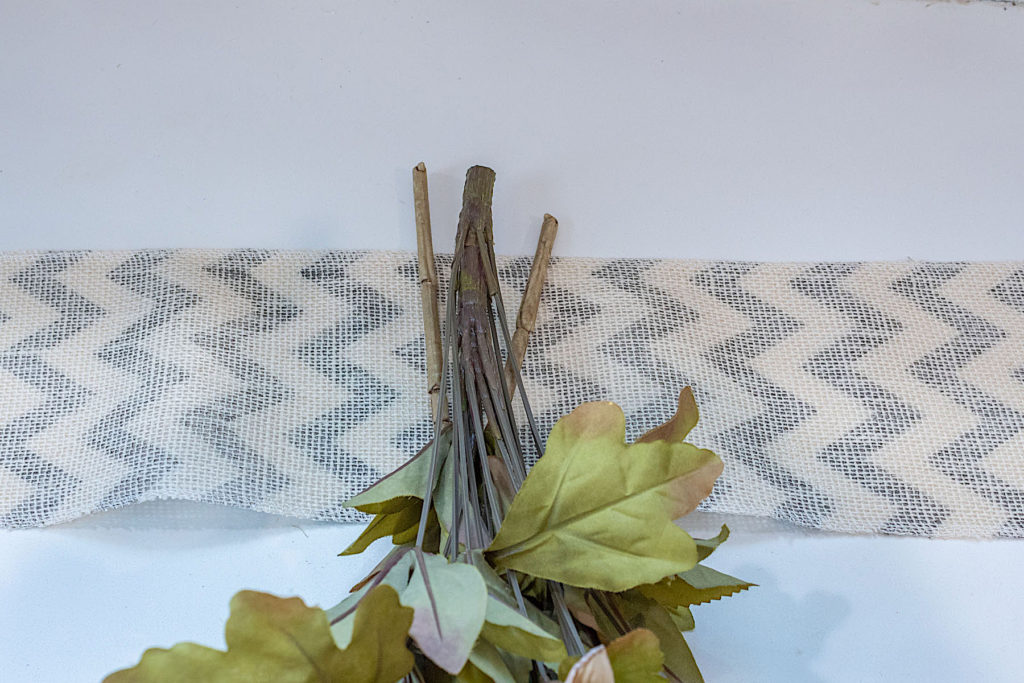 Next I tied a bow with the burlap ribbon as I would tie a shoe lace. It may take a couple of tries to get it like you want it. Take your time as working with burlap is not as easy as it would be using a silky ribbon.
The bow is going to make a statement so the goal is to make it big and robust with long tails hanging down.
I made sure the pattern of the ribbon faced towards me as I twisted and turned the ribbon forming the bow. I positioned the knot of the bow just at the base of the flowers, leaving about two inches of the stem sticking out on top.
The final step is to trim the tails of the bow. For a pretty detail I cut each end at an angle with my scissors.
Now for the fun part, decorating!
Any time I bring in new decor into a space I get excited about making everything in the vicinity coordinate and shine. Whether that means tidying up a little or rearranging items to accommodate a new piece.
Since this arrangement was going on our front door, it was a good time to clean up the front porch. That meant sweeping, trimming dead branches off of potted plants,  tossing the throw pillows in the washer and giving the windows and door a good cleaning. I even did a little weeding in a nearby flower bed.
Of course you don't have to embark on a deep cleaning rampage as I did when you hang a door wreath, but as the hot days of summer give way to cooler Florida breezes, I found myself inspired to set the stage for autumn's arrival.
I'm a gardener at heart. Whenever I can incorporate plants in my decor I am a happy clam. Plants are a healthy element in the home and I love their ever-growing beauty. You can recycle plants by changing up their look in new planters or placing them in new locations.
Try Non-Traditional Fall Colors
Incorporating bursts of non-traditional fall colors like deep blues and lime greens is a fun way to welcome the season. It's also a palette that can be shown off year-round.
Using existing decor and greenery around the house to create a new look is something I find resourceful and enjoyable. Why accumulate more things when a lot of what you have can play a new role in different scenes.
Think Ahead About Your Presentation
Before heading to the store, I took mental inventory of the existing palette on my front porch—heavy in vibrant colors. Doing this helped me define a muted tone for my new wreath. I look to create healthy contrast in colors rather than competition.
The vintage feel of the hanging bouquet with its soft colors creates a welcoming statement against the dark, clean lines of the door.
The outdoor Rustic Farmhouse Leaves pillow covers I bought are still looking fabulous after a year out on the porch. One cycle in the washing machine and they are refreshed and ready for a new season.
An easy decor guideline is to create layers. Whether you are stacking an heirloom piece on a couple of books, displaying rows of throw pillows on a sofa or staggering mirrors on a mantel, layering activates rich dimension in your decor and in your space. Without layers a space can look flat and skimpy.
In this front porch scene, I layered with plants of varying height and color to surround and draw attention to the front door.
So what did you think of the front door hanging bouquet and seasonal decor? Let me know in the comments below. I always love hearing from you!
If you appreciate this content and would like to see more, please follow along by SUBSCRIBING at the bottom of the page. Hope to see you again real soon!