When my oldest son became a teenager we rolled up our sleeves and did some serious DIY'ing to give his room an updated, more grown up feel.
We used color and texture to create a rich blend of modern and farmhouse styles.
Catch all the DIY projects we did in this room at the bottom of this post.
My first macrame project and I'm in love with how it came out. Its simple aesthetic adds a beautiful layer of texture in the room. I bought this macrame cord and wove it onto a branch I found on a walk. I was saving it for just the right project. I followed this video to learn how to do this easy wall hanging macrame.
One of my quickest furniture renovations proved to be one of the coolest. I preserved the red of my son's desk, his favorite color, but made things a little edgier, a little more masculine.
I stepped out of my muted palette comfort zone using Behr's Tsunami paint, a deep teal color I mimicked throughout the room. And I'm so glad I did. The bold color bursts add sleek modern flair that is fresh and inviting.
I'm all about creating stylish spaces affordably. Buying pillow covers versus stocking up on expensive throw pillows is one way to keep costs down and reduce clutter. Plus, they are an easy way to change up the decor for the season.
These abstract oil painting pillow cases took the bed aesthetic to a whole new level and you can't beat the price at $10 for a 2 pack.
I even found these faux linen covers for my 22 inch cushions for under $20. I was impressed with the quality of the fabric and their cool earthy aesthetic fits so many styles.
Disclosure: Some of the links provided are affiliate links. By purchasing through these links it supports this blog and the work we do and there is no extra cost to you. If you would like to read our full disclosure, click HERE.
Creating layers of comfy helps to soften the stronger features in the room. Propping large cushions on the floor is one way to add a homey feel to the space.
I kept the bedding neutral with this quilted comforter by Uozzi. I purchased the white with the reversible gray color and it is simply lovely.
Creating an appropriate base when styling a room is one of the 5 tips I talk about in my Avoid Creating Hodge Podge Post. I share simple ways to make everything work together in a space.
This window seat was overdue for a refresh. Take a look at how this nook looked before.
A 30 minute stencil project created instant wall art.
I love playing with pattern combinations when I decorate. I try to stay in the same color wheel to keep things in rhythm. The pinstripes of the new fabric I used to re-upholster the seat cushion add a fun contrast to the stenciled wall.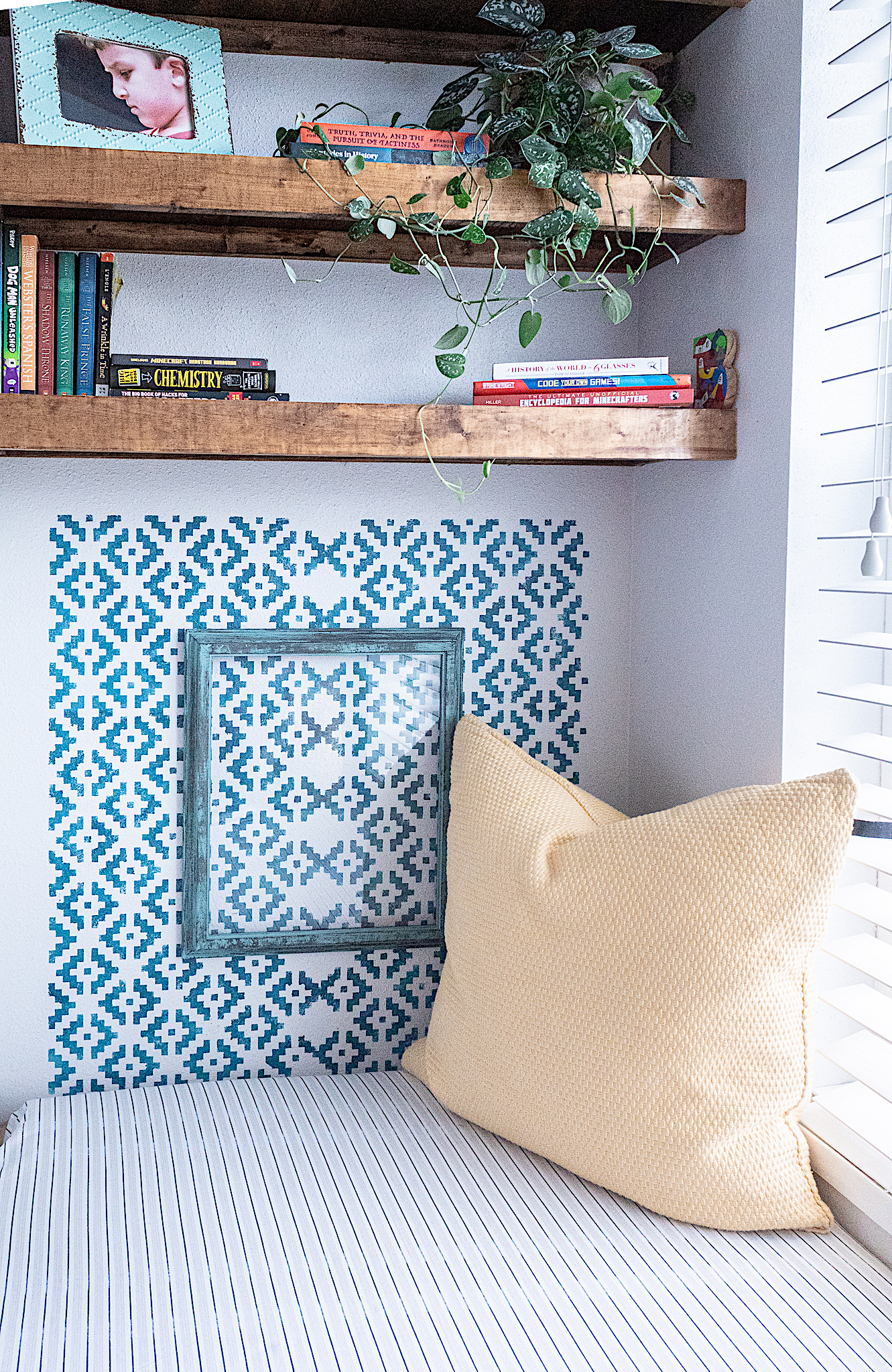 For the window seat base, a funky trim pattern using scrap wood added a modern detail on this side of the room.
I painted it the same Tsunami paint color as the feature wall and I love how it ties into the rest of the room's decor.
When it comes to decorating, the details can make the design. Even the smallest object can be significant in the proper place.
Creating visual layers is important when you are decorating. Hanging the plants slightly in front of the paintings my kids made using alcohol ink amplifies the design impact.
Self-made art is a wonderful way to accessorize a room. It is budget-friendly and each piece is personal. After all your home should be a personal endeavor—a haven of stories, your stories.
I took a stab at alcohol ink painting for the first time, even making my own paint. What resulted was better than I imagined.
The abstract painting is a striking contrast on the dark teal backdrop. It draws you in from all the way down the hall.
Showcase Your Young Picassos
Framed artwork from my son's childhood makes a statement on the opposite side of the window.
Area rugs can be game changers when you are looking to remodel a space. Picking the right rug can completely upgrade the aesthetic.
This Modern Geometric Area Rug was the final detail I added when I styled the room and it anchored the design beautifully. I like that it's both a little modern and a little boho.
What do you think of the new look and feel of this bedroom? I love how fresh and vibrant it is while providing a soothing effect. Check below for all the projects we did to complete this renovation.
Get The Look With These DIY Projects