Hello beauties! Summer is almost here and that means no school and days full of kids at home. Before things in the house get topsy-turvy,  I couldn't resist putting together one more post on creating a pretty farmhouse bedroom. Today I'm sharing what I picked up at the thrift store, as well as some key decorating tips for creating this fabulous look on a budget!
On the decorating menu today!—a cozy farmhouse kids' bedroom. When it comes to the littles' space, I like to keep things timeless. Infusing age appealing decor in a setting that grows with the child, is a fun and practical way to modify the space as tastes change.
At the local thrift store I had to get extra creative with my choices. There were loads of random knick knacks, but few items I felt I could really use.
When you're scouting the thrift stores be intentional with your purchases. It's easy to succumb to a bargain shopping spree. Avoid getting things and wondering if you can make them work somewhere. Instead, find something that will truly add decorative value.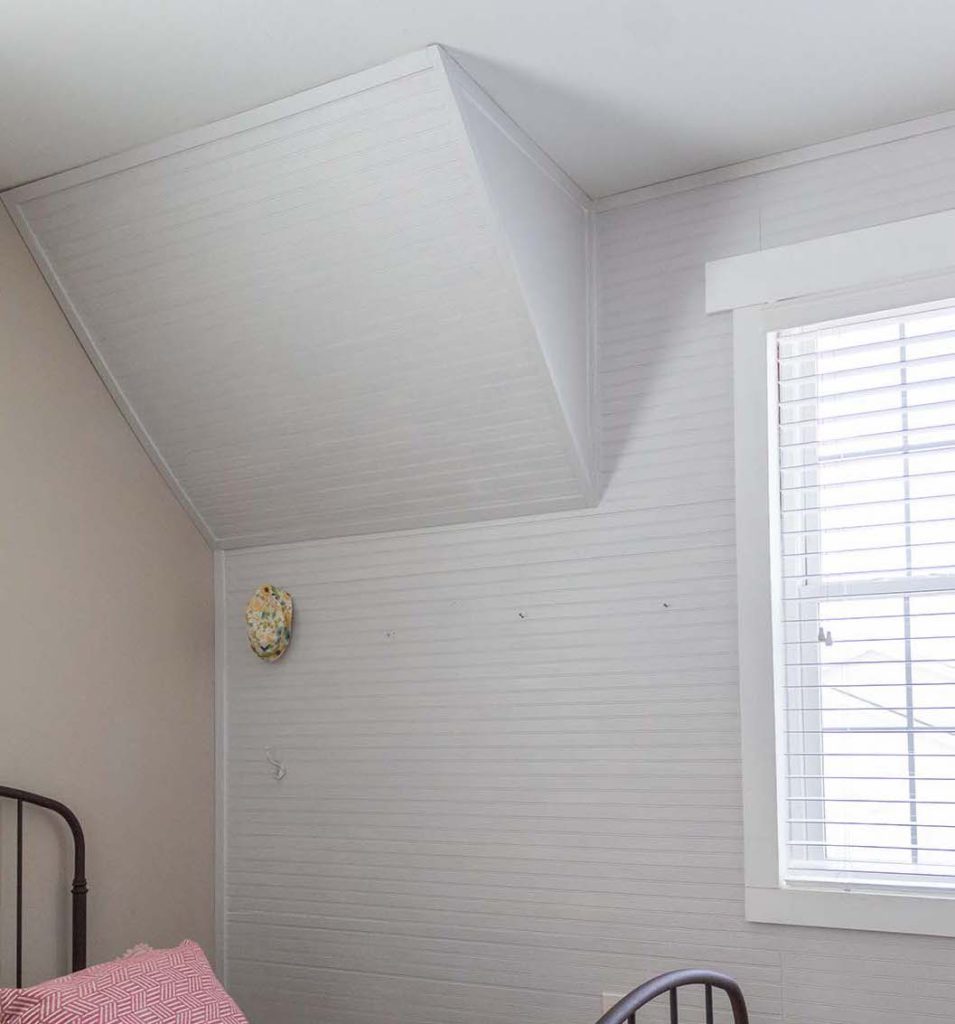 When I go shopping for home decor, I think ahead of the physical space and the existing color palette. I imagine where I will place an item and how it will combine with other colors in the room.
In my kids' bedroom there is a pale blue bead board wall I had previously made that I wanted to dress up. At the thrift store I found a $4 oval mirror and a $2 accordion wall hanger that, with a little refreshing, would make perfect farmhouse-inspired decor for this wall.
I used Walrus Furniture Butter to revive the wood of the mirror. This stuff is ahh-mazing! As it glides over the surface, you will see old and tired wood come back to life beautifully.
I first gave the surface of the wood a quick sanding with 400 grit sand paper. If the wood you're wanting to revive has a clear coat or top coat on it, I would suggest first sanding it off. That way the wood can easily absorb the furniture butter.
Next, using paper towels, I rubbed furniture butter all around the mirror's frame. In seconds the mirror looked like new.
The accordion wall hanger needed a good cleaning. It had been painted black and I decided to slightly warm up the look by rubbing on some Briarsmoke Gel Stain. This is my favorite stain color to work with. It is a grayish brown and really brings in that modern farmhouse feel to a space.
Disclosure: Some of the links provided are affiliate links. By purchasing through these links it supports this blog and the work we do and there is no extra cost to you. If you would like to read our full disclosure, click HERE.
With gloved hands, I rubbed the gel stain with paper towels onto the surface of the wall hanger. The stain dries quickly so I was able to apply two coats in no time. The finish is so silky and pretty.
Now that two of the three thrifted accessories I purchased are ready for decorating, I'm going to begin setting up the room. In addition to the thrifted purchases, I'm using existing decor items from around the house. This keeps costs down and I can relocate decor to a new room for a fresh new take.
I begin by setting up my canvas and then gradually weaving in the accessories. When styling a bedroom, your bed(s) is going to be a main focal point. So I like to start by making up the beds. I begin with a standard white sheet set on one of the beds. The color doesn't really matter at this point since it will be covered by more bedding.
I'm styling with my favorite quilts today. I love the myriad of fun farmhousey colors and the floral patterns. I drape the quilt evenly over the bed. I take my hand and bump it around the pillow, carving out a space to support the throw pillows.
Next, I fold and drop a throw blanket at the end of the bed. I use these blankets often in different scenes around the house. Their neutral color goes nicely with the busyness of the quilts. The texture and tassles bring in another layer of dimension to the bed.
When creating your "roomscape," layering is the trick. You're building on the canvas with color, texture, and varying heights. I bring in the pink pillows I bought from Ross and used in my French Country Bedroom post—because a girl can never go wrong with some hints of pink! Doubling up on throw pillows on a twin size bed gives the right amount of fullness. Any more rows of pillows may be a bit a much for this look.
Now that the beds are made and looking oh so inviting, I'm going to decorate the wall. I first hang the accordion wall hanger.
Always test different positions with mirrors and picture frames, before hanging them on the wall. If symmetry is important to you, you may want to measure everything out evenly before making a nail hole. But if you're more like me and prefer to have a natural flow on the wall, try to have someone hold up the decor items while you step back and see how they look in each placement.
Walls can act as wonderful functional art in the room. They can display shelves full of your favorite books or collectibles. You can frame your kids' drawings and create a gallery. Wall decor is a great way to add color on your vertical spaces that will tie into the rest of the room's aesthetic. Hanging colorful purses, hats or backpacks in the kids' bedroom keeps things cheery and fun and off of the floor!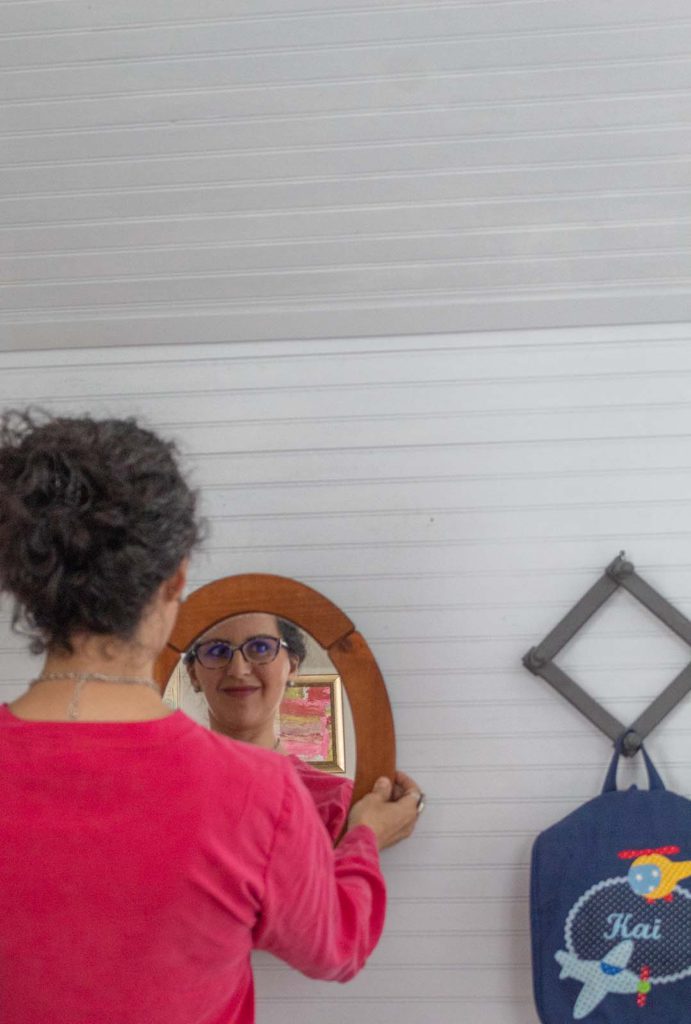 Next, I hang the oval mirror that I refinished. The natural wood and the quaintness of the mirror against the bead board wall reminds me of farmhouses of old.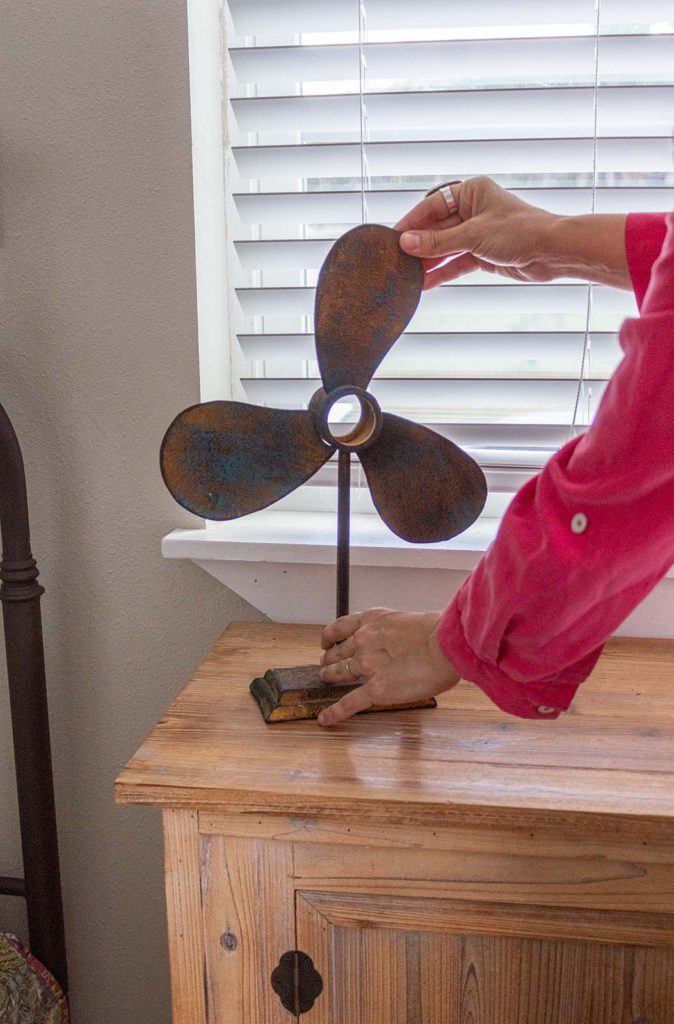 To finish off the new look in the bedroom, I turn my attention to  the furniture piece in between the beds. This small wooden chest is a perfect focal point in the room which I can enhance with a few simple decor items.
I place the final item I got at the thrift store, a decorative propeller with a patina look, on one end of the top of the furniture. The patina finish of the propeller goes so nicely with the raw wood aesthetic of the chest playing into the farmhouse theme.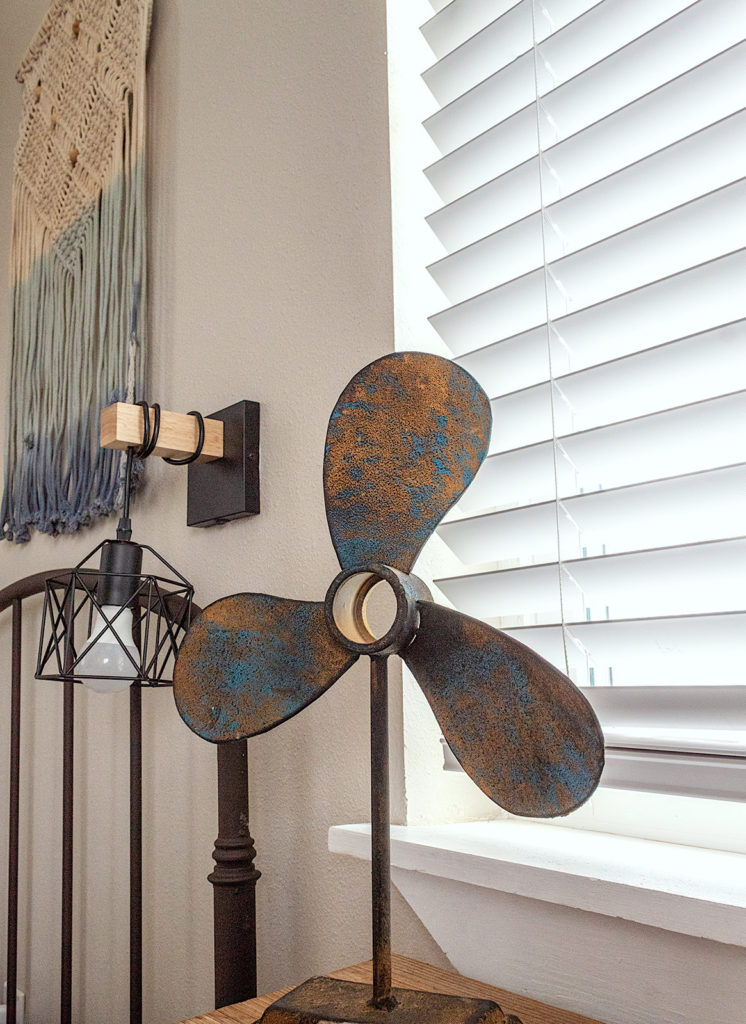 A fallen tree branch I picked up on a walk some time ago, is another wonderful element to feature on the furniture. Notice the pattern of earthy colors and textures. 
When thinking ahead of what your space will look like, try to tie in colors and finishes in your decor that mimic the design style. If I were styling the space with a modern theme in mind, I may be working with sleek finishes (like elegant stone materials and metals) and dark, deep colors, for example. When it comes to more traditional or cozy looks, I reach for warm textiles, calming paint colors, and texture and natural materials I may find in baskets, wood, wicker, rustic stone or brick, and the like.
If you've been following me for a while, you know how I love incorporating plants and nature into the home's decor. In fact, I did an entire post on the do's and don'ts of decorating with plants. For today's look, a snake plant in a simple white pot makes a nature statement to finish off the look on the furniture.
Something you can do for fun or when you have guests visiting, is to drop a plant or flowers in a basket and place it on a bed. The greenery softens the feel of the space and adds romantic charm on the bed.
And that pretty much completes the new look for the kids' farmhouse bedroom. Whether you're ready to re-imagine a room or just want to freshen things up for a relative's visit, this is a look that can be crafted to your personal comfort.  With a little creativity, you can rethink the placement of decor you may have in other parts of the home and make a cozy farmhouse feel in any bedroom.
I had bought this area rug online a while back and its versatile pattern adapts to various design styles. In today's farmhouse bedroom the area rug adds style and character. Don't shy away from mixing patterns. These can work together and add great energy to the space.
Another fabulous and easy update was changing out the wall sconces. The ones I had up originally were pretty lopsided from my kids pulling on them. Take a look…
So my friends, let me know what you think of this farmhouse bedroom look! Is this something you would try out in your home. Leave a comment or any questions you may have below. I always love hearing from you!
Watch The Video Of This Room Redo