Baskets brimming with flowers. Yard cuttings for an organically decorative centerpiece. Mood-setting house plants. Bringing nature indoors can be a powerful design tool for creating happy and healthy spaces.
I'm a gardener at heart and am captivated by the endless choices of beauty in nature.  Plants can be a vital component to your home's decor. And they also have other benefits such as improving the health of the home by removing mycotoxins and mold.
If you're on a budget, house plants are an inexpensive and sustainable investment in the home's aesthetic. They grow and keep on giving with their beauty and most are easy to propagate if you want to create more. It's also easy to move plants around throughout the home to change up the scenery.
Our Fiddle Leaf Fig has been with us since our last home. It is thriving in the corner of our living room so much that it has become a decorative anchor in the space.

One day we moved it to a new location and the living room just wasn't the same. It felt bare and plain. Nothing could replicate the color and height of this magnificent plant. Needless to say, the Fiddle Leaf Fig quickly reclaimed its post in the living room.
Even a small plant can add dramatic impact to a space. Place a potted vine on a shelf and as it grows it will add charm and color.
As the leaves of my philodendron micans plant grow and gingerly drape over our kitchen shelves they create a lovely French countryside mood. I prune it occasionally to keep it from overtaking the space.
For a few dollars a house plant can revive a dreary corner or dress up a furniture piece. There really is no wrong way to decorate with house plants. They look good just about anywhere!
Although my Fiddle Leaf Fig has found its permanent location in our home, there are other plants that I like to rotate to change up the mood in a room.
Plants can help me create a style I may be craving in a particular space. The Dracaena Marginata plant is one of my faves in the home. I love its versatility as a decor piece. From French country to earthy boho, this radiant plant brings in style and beauty. 
My Dracaena has grown tall over the years with clusters of grass-like leaves that fountain off of thick woody stems. I love coordinating and contrasting the pinkish-red hues of the leaves with furnishings for enhanced appeal.
I'm drawn to indoor plants with whimsical charm. Ivies, vining and climbing plants and fairy-like bushy plants like maidenhair ferns are perfect for creating a vintage or French country ambience. Plants with ribbon-like leaves like the ponytail palm, dracaena and ornamental grasses like pampas grass are also wonderful for adding an organically casual and decorative feel to the home.
Skip The Florist, Shop Your Yard
In my yard selection I lean towards flowering plants with purple, pink and yellow hues. Since I love bringing the outside in, I try to think of colors that will brighten and complement my decor.
Keeping in mind your design style when investing in greenery will allow you to create different scenes that fit your personal comfort. Our cassia bush is a spectacular plant in our yard. It blooms in the Fall when most things are preparing for winter.
The bright yellow butterfly-like flowers are simply breathtaking. Close to the end of the bloom time I take some cuttings and bring them in for continued enjoyment. You may have seen these featured in my DIY Faux Stonewall post.
Plumbago plants bloom abundantly year-round. They are a favorite of mine for showing off in various vessels throughout the home. If you have a regularly flowering shrub or bush, this is a great way to keep decorative blooms in the home without having to purchase expensive flowers.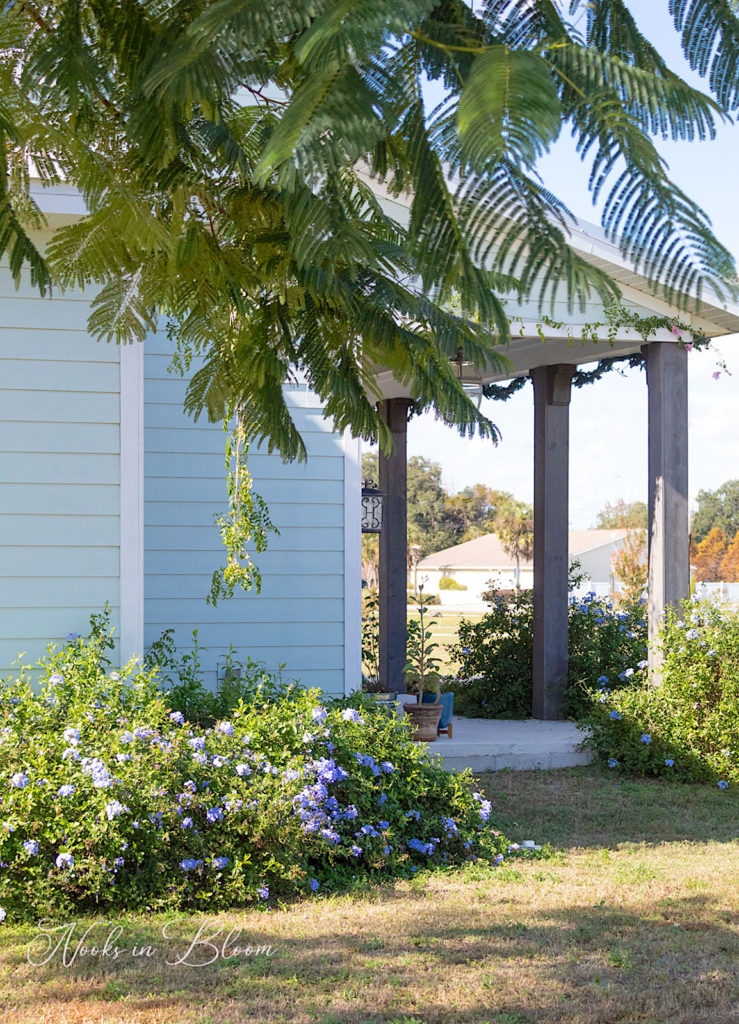 I love having plumbago in the yard because it is very low-maintenance. In fact, it doesn't even like to be watered much. Once or twice a year I may trim the bushes back. This plant will thrive on its own and reward you with beautiful blue-lavender flowers.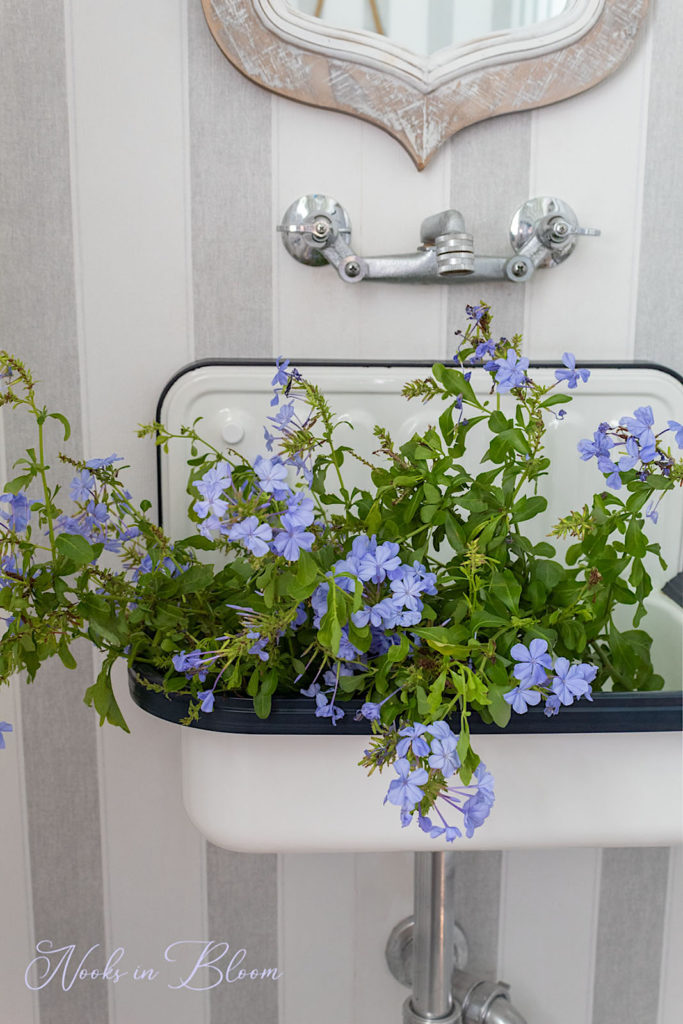 Get Creative With Your Vessels
On the Nooks In Bloom blog you'll see lots of flowers in baskets. I'm a little obsessed… The combination of nature (stems, flowers, grassy plants and weeds) with the texture of woven earthy baskets adds instant charm to a space.
Large and tall baskets help hide bare stems and pots. If you want fresh cuttings or flowers to keep, simply put them in a spill-proof pot, (make sure the pot is smaller than your basket), and place the pot inside the basket.
Get creative with baskets. Try layering containers for a farmhouse look. Or pair up baskets of different height and color next to each other.
In the past when we've had guests coming over, I'm typically running behind and the house decor is the last thing that gets tended to after cooking and cleaning.
For a quick fix I run out to the yard and clip whatever may have some height to it. Even some dried up weeds in a tall basket can create a rustic and stylish statement like the ones I used here before a dinner party.
Use plants to bring out the color of your room's palette or as color accents. Whether you play off the color of your plants' leaves or flowers or the color of the vase or both, utilizing plants to enhance your color palette creates beautiful dimension and harmony.
I placed my potted mistletoe cactus in a round ceramic mint green vessel and sat it atop a chest of drawers with hues of green. The lime green of the mistletoe cactus in the minty container magnificently brought out the green of this furniture piece without overdoing it. This is the power of incorporating a single plant as decor in just the right way.
These feathery stems I picked from our yard make a statement on the desk. I refinished the desk with undertones of reds and browns. The rust-color of the stems coordinate beautifully with the subtle reds of the desk.
Years ago I was anti fake florals. My only experience with them was in the home of a family member—tacky, dust-covered ivies and silk plants everywhere. I vowed never to commit this decor faux pas in my home!
But over time as I witnessed others brilliantly using faux foliage in their decor and as the quality of fake flowers and stems improved to levels of incredible look-a-likes of the real thing, I began to soften in my conviction.
One day while visiting Hobby Lobby I fell in love. Rows and rows of flowers and stems in every color and texture. Although there are still glittery and unrealistic options available, I was impressed by the overwhelming selection of life-like beauties.
Today I love incorporating faux florals and dried foliage in my home's aesthetic. I am careful to keep things in proportion and that the presentation is of course, in good taste.
Faux plants have many advantages including being zero-maintenance and versatile. They are a one-time investment as you will never have to worry if they will die. You can change up their look by placing them in different containers and locations.
Thank you my friends for reading this post. I hope you enjoyed it. Let me know what you think in the comments below. I always love hearing from you!