Joy to the world! And to YOU. Christmas is such a special time. I enjoy the coziness and warmth of the home, decorations, baking cookies, the joyful spirit wherever you go, and eggnog of course! Today I'm excited to share with you our home, lovingly nicknamed Santabrisa, all decked out for the season. Pictures include scenes from last year as well as this year.
This year we did something a little different. We put up two trees in our living room instead of one. I just love the look of pencil trees. Each one claims its sparkly post at a front door window. Although the house may be a hot mess inside, from the outside the pretty trees make everything seem perfectly merry and bright…
Disclosure: Some of the links provided are affiliate links. By purchasing through these links you are supporting this family blog and the work we do and there is NEVER any extra cost to you. If you would like to read our full disclosure, click HERE.
Last year we kept one of the pencil trees on the porch. It looked so decorative, but it was constantly being blown over by the wind!
When I do Christmas, rather than overwhelm, I prefer to sprinkle touches of cheer—a little garland here, some mistletoe there, or maybe some decorative ribbon in unexpected places. I hot glued  this colorful burlap ribbon to our front porch planters and they instantly became bright and festive
I always have to have some garland even if just a whisper of it. I love the feeling of evergreen it brings to your Christmas decor.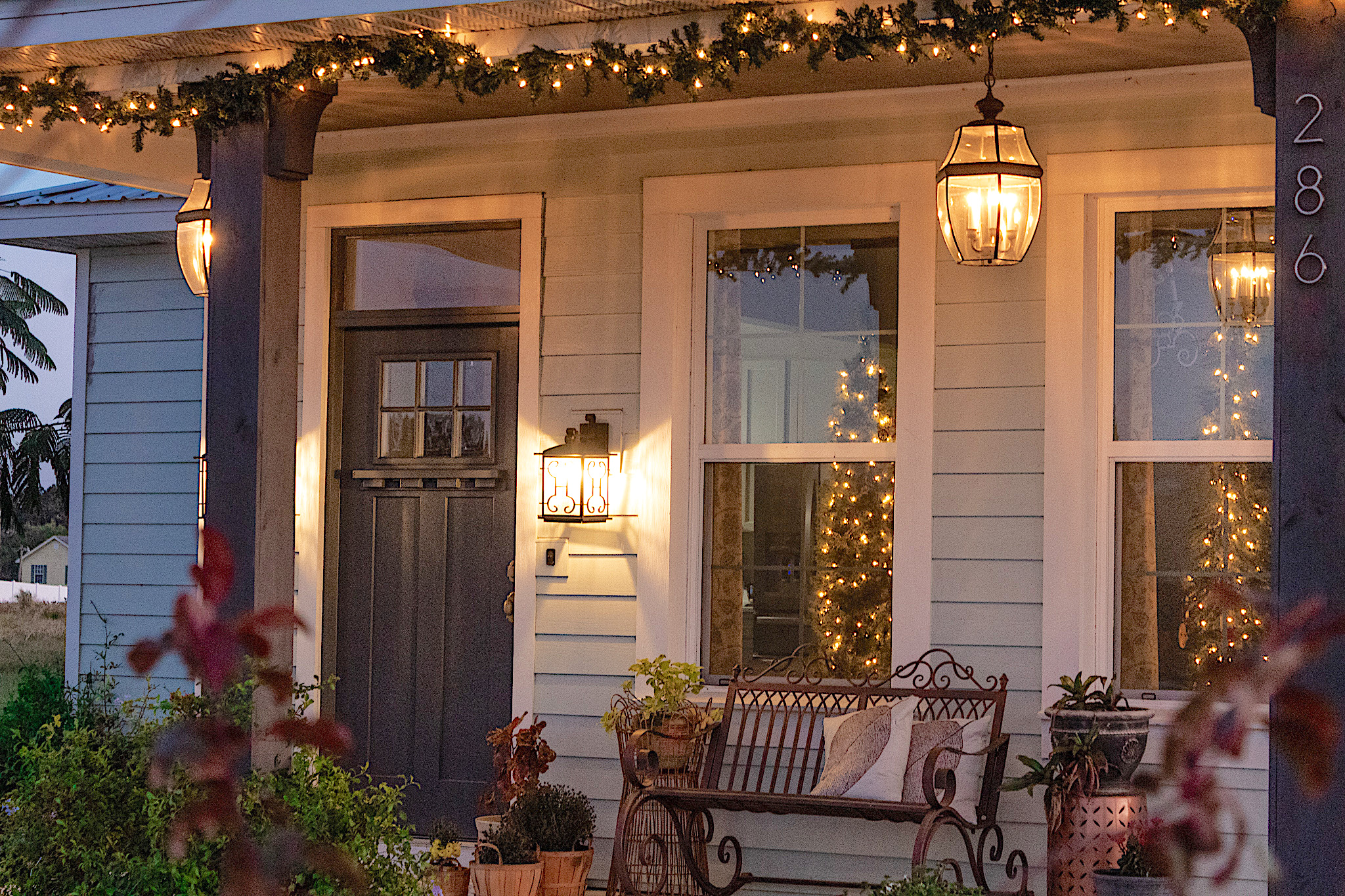 My poor husband. The things I ask him to do. It was no easy feat to get our 48″ Mhagnificent Christmas Wreath up to the top of the roofline. The original plan was for my dad to get on the roof with him to assist. Well, somehow my dad forgot about he roof part and showed up with the wrong type of shoes. Enter new role for Dad— the "looker outer."
Nevertheless after all was said and done and the magnificent wreath hung like a beacon at the tippy top of our house, we realized it was all worth it. If you'd like to see how I made this Mauve & Gold Christmas Wreath, click HERE.
"Merry Christmas To All And To All A Good Night."