I knew iron bed frames would be perfect for the farmhouse feel of our Sugarberry Cottage, the house plan from Southern Living we picked for our home.
I find the simplicity and tall arches of iron style beds beautifully nostalgic. These Lafayette twin beds in bronze from Amazon capture that vintage farmhouse essence without breaking the bank. 3 years later and they are still holding up wonderfully.
In this post I'll share a couple of looks and styles I've tried out to capture a cozy vibe in this bedroom.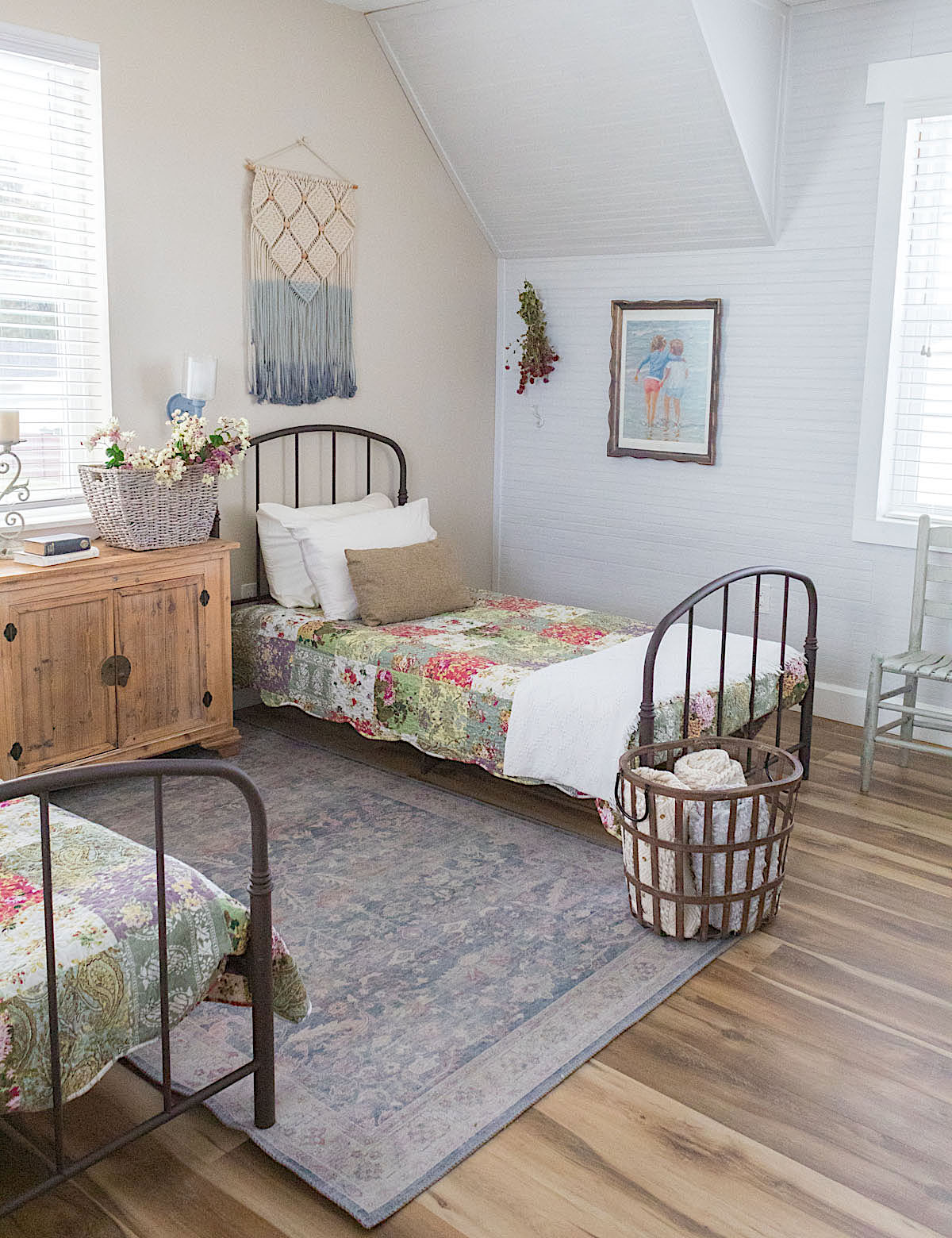 We recently redid one of the walls by adding a beadboard accent wall.  Although we loved the llamas wallpaper that was up before, it seen better days—one of the downsides to having wallpaper in a kids' room. To see the tutorial on hanging beadboard, click HERE.
I am loving the new wall. It adds a cozy farmhouse feel to the room.

To spruce up a thrift store picture that that I couldn't pass up, I applied some rose gold gilding wax to the frame. Once hung the picture added a bit of storybook charm.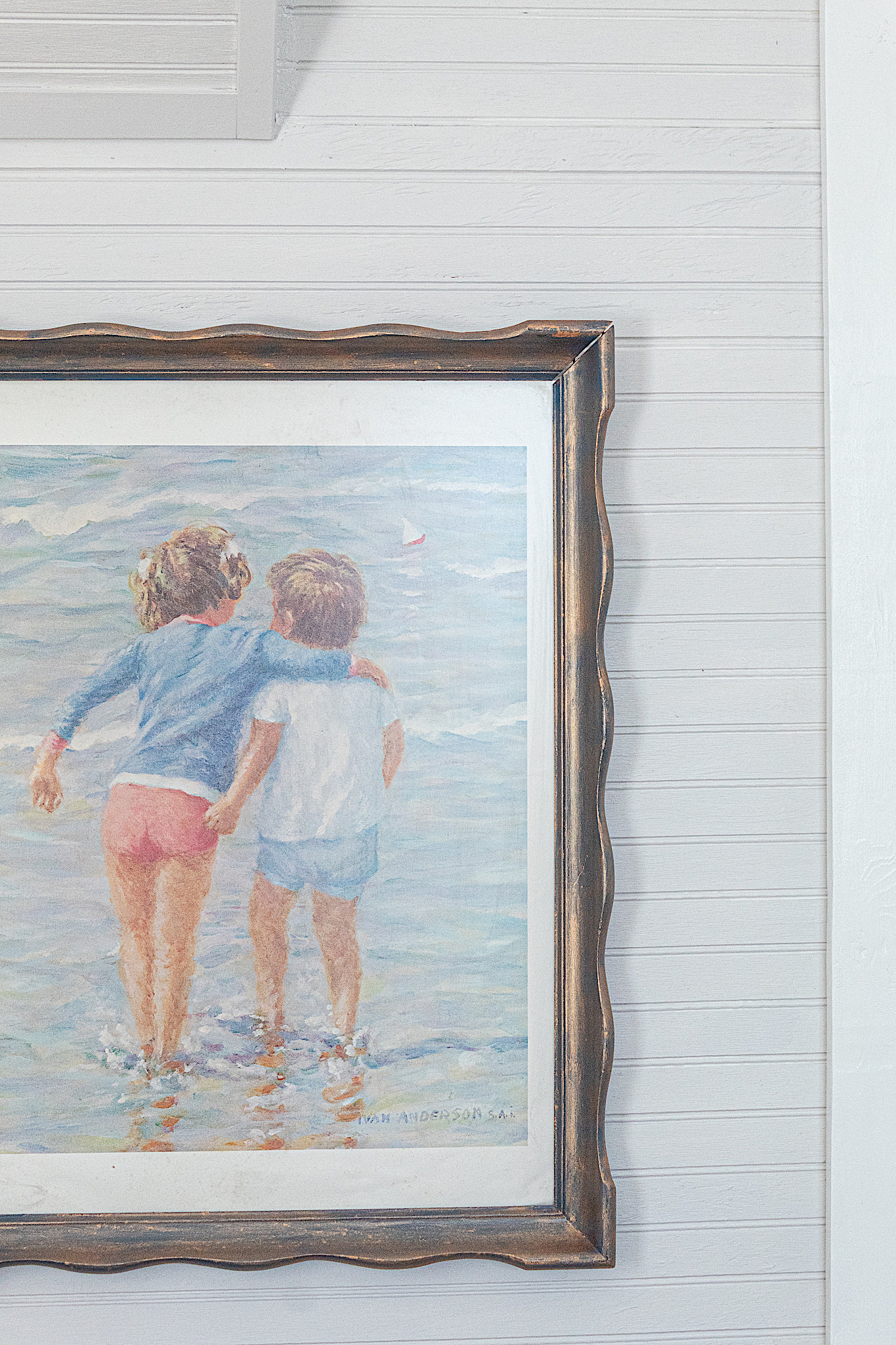 Disclosure: Some of the links provided are affiliate links. By purchasing through these links you are supporting this family blog and the work we do and there is no extra cost to you. If you would like to read our full disclosure, click HERE.
Earthy items like the raw wood chest, macrame wall decor, and a distressed area rug ground the space with their rustic appeal and texture.
These hanging macrame tapestries were one of the first purchases I made well before breaking ground on our house. I saw them and fell in love with the pattern their ombre style blues. I had them in my closet for months. I was so excited when I was finally able to hang them up. For me, adding texture in just the right doses can really accentuate your design and create moments of visual depth.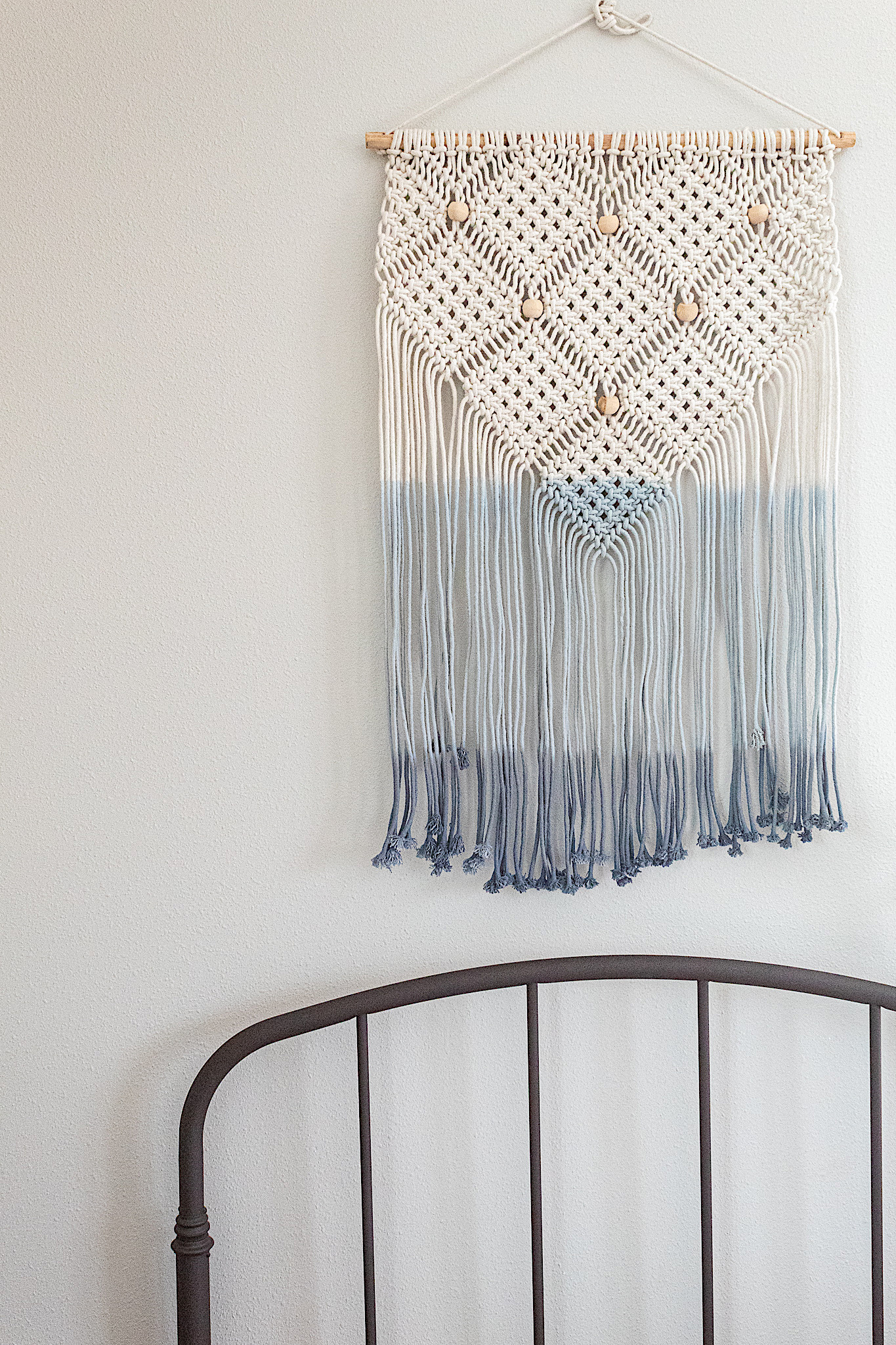 The doors were painted in Sherwin Williams Oyster Bay for another layer of color in the room.
To keep things open and less cluttered I opted not to bring in dressers or heavy furniture. Instead ample shelving recessed into the walls store toys and books without taking up additional space.
Get creative to decorate with impact and within budget. I love scouting thrift stores for unique finds.
When I saw these wooden dutch shoes I knew they would be a fun feature in the kids' room. I stuck them on a narrow wall with adhesive strips and I love the cheery detail.
Thank you for stopping by friends! I do hope you enjoyed the pictures from our little ones' bedroom and be sure to subscribe at the bottom of this page for more home decor posts!