This post features a compilation of photos from our living room and dining nook. Since I'm often changing things around I'd thought I'd share some of the various looks I've tried out in this space!
I am loving our new nuLoom Vintage Floral Area Rug. Distressed prints are so chic and versatile—fitting in different design themes from Farmhouse to Boho to Contemporary. 
When choosing an area rug I consider whether the pattern will complement or clash with its surroundings and I look for colors which will mix well with my decor.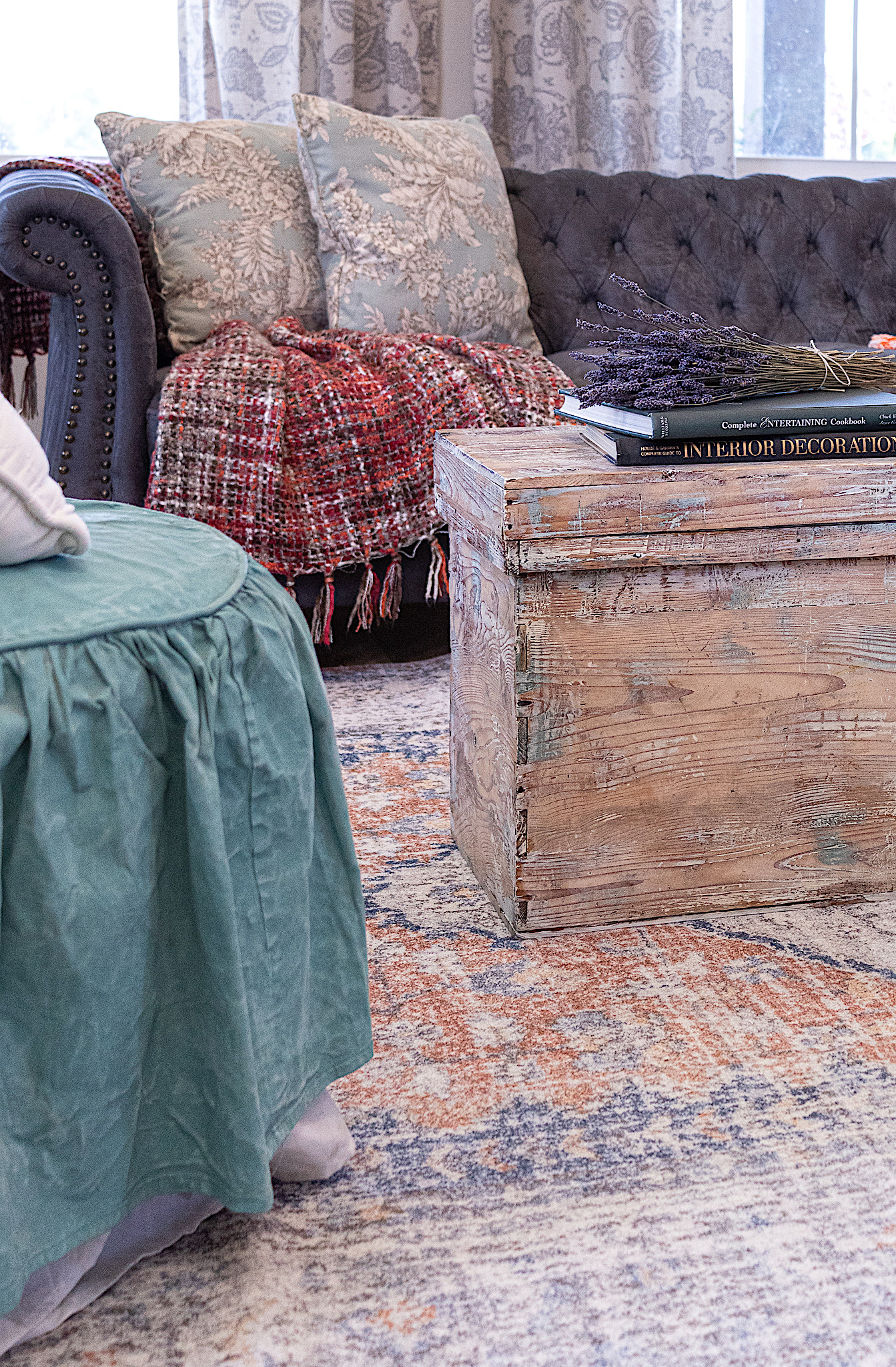 In our home the living room is the most lived in space. It's where the day's chaos unfolds and where we gather round with friends and family. 
Some of my priorities when we designed our living were:
√ flow (Line of sight from the kitchen • proximity to an eating space • breathability)
√ natural light
√ storage options
√ budget friendly
√ versatility (playroom by day, dinner party by night)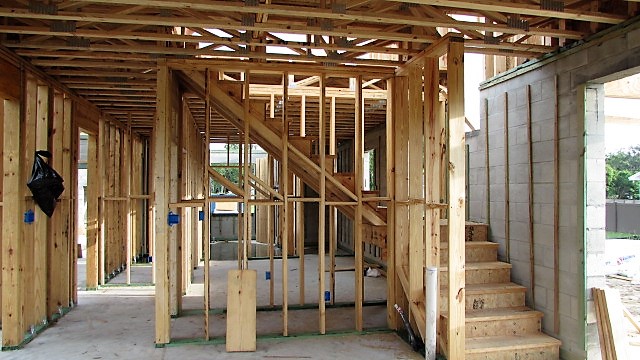 The banquette in our dining nook made by my husband Ronny is a busy spot. We eat, craft, and do both school and office work here. In my Banquette Updo post I share how I gave this gathering place a much deserved facelift.
We sourced a local woodworker who captured the character we were looking for in wood elements throughout the home. To save money, he provided us pre-cut wood in raw form. I stained, oiled and sealed as needed to achieve the look I wanted for each area. The stairs and ceiling beams were all stained in my absolute favorite stain, Briarsmoke—a beautiful smoky brown.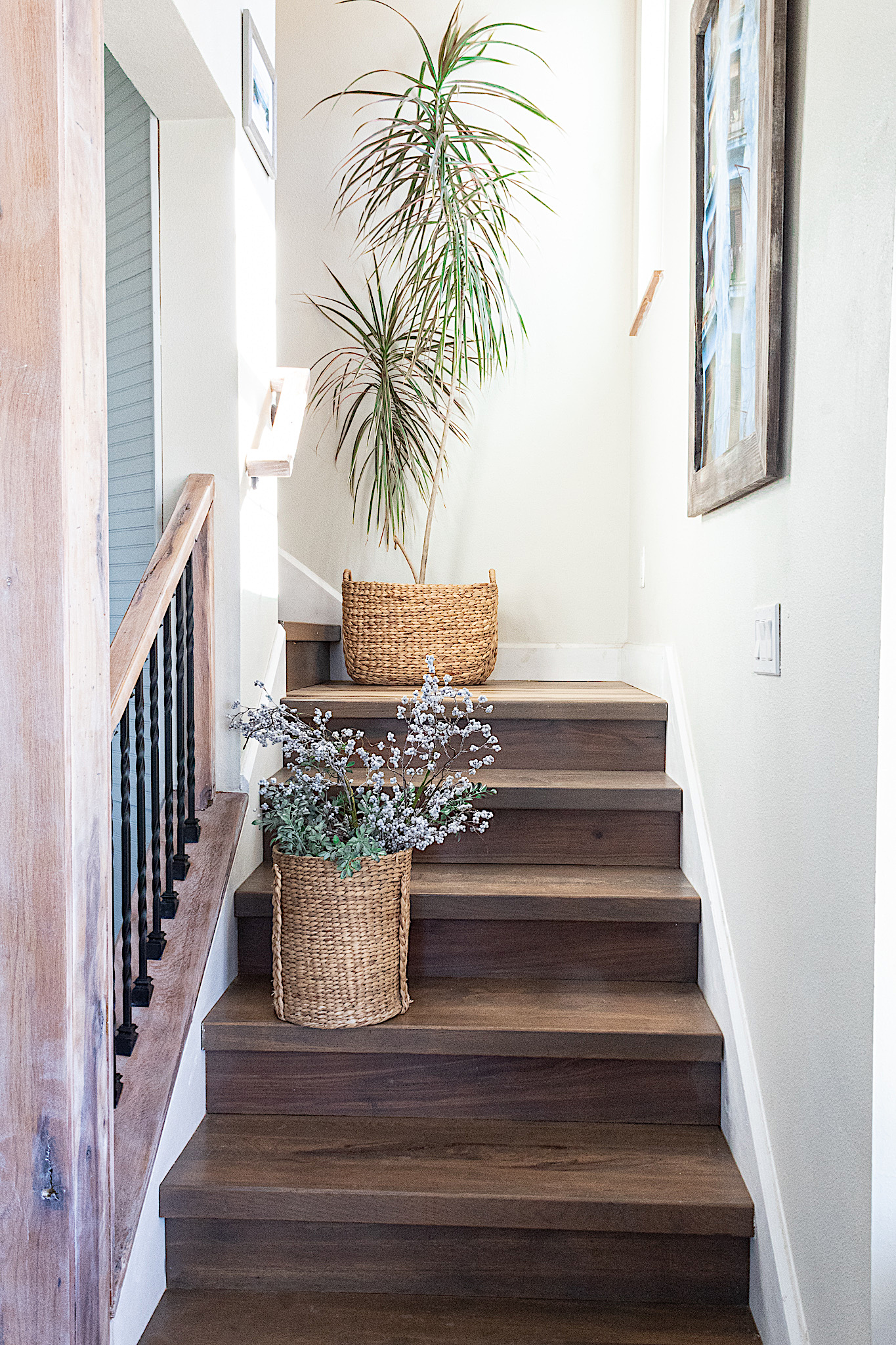 A subtle cream color (Glidden's Meeting House White) on the living room walls sets a neutral canvas. The first thing I did in regards to design was to define my color palette. Choosing 2 or 3 base colors for your decor is helpful for keeping things in balance.

Throw pillows, blankets and accessories are great for pops of fun color. 
It's no secret I am obsessed with light fixtures. Lucky for me but not for him, my husband did all the electric in our home when we built it. He sure earned the best hubby of the year award with the amount of sconces, ceiling pendants and outdoor lights I had the poor guy put up.

One of my favorites is the Sigrid Antique Gold-Bronze Lamp that hangs over our dining table. It has a beautiful vintage simplicity about it.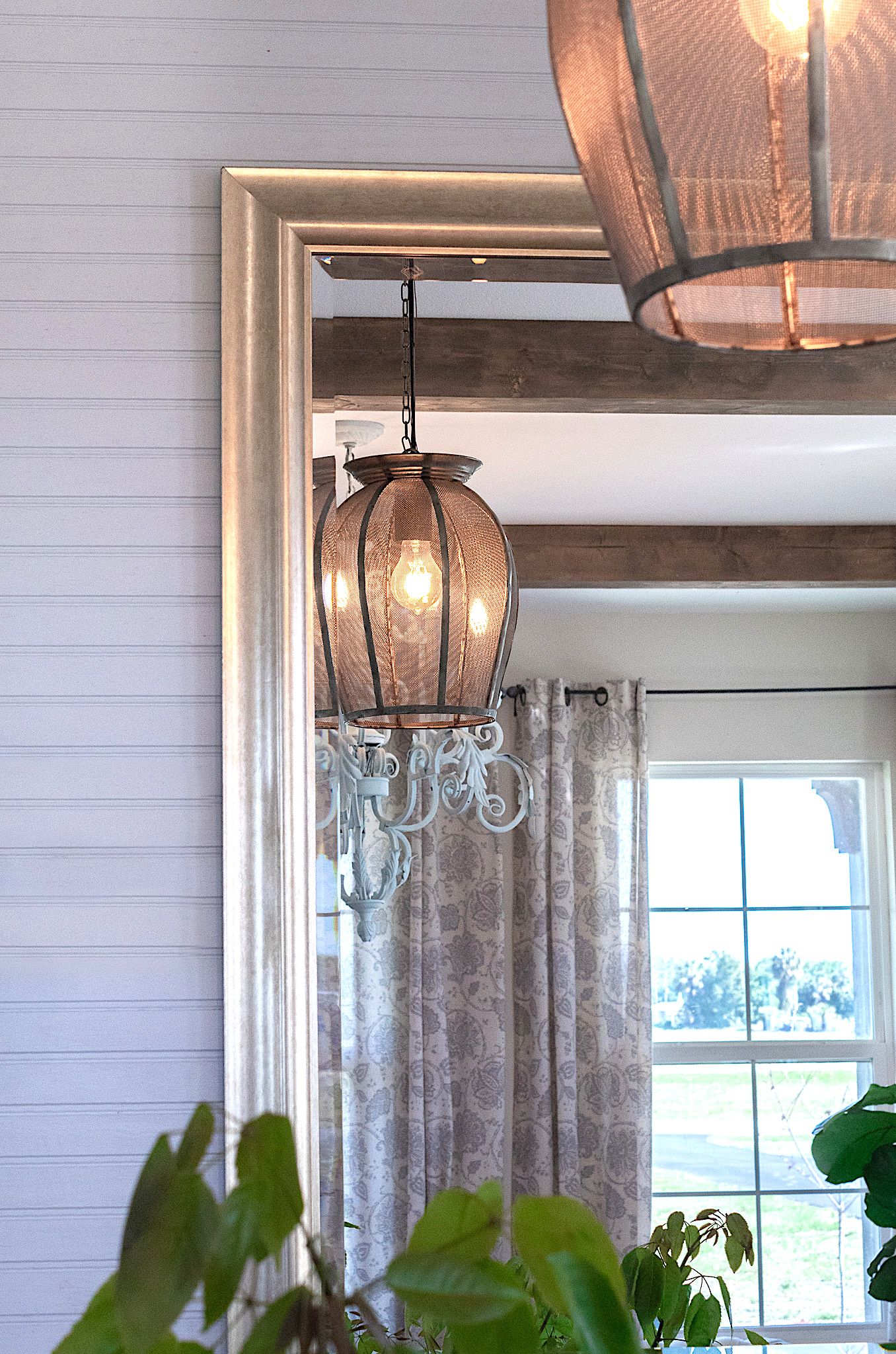 Our Chesterfield Sofa made of microfiber holds up remarkably well to spills and wear. Buying a sofa online was a first for me and I have to admit I was nervous! But when it arrived I was impressed by how beautiful it was. Rich in texture, the slate-colored fabric gives off a sophisticated suede-like look.
Wanting to make a bold statement at the bottom of our stairwell, I framed a picturesque poster using scrap wood I had in my garage. I share how easy it was to make this farmhouse style picture frame in my Weathered Picture Frame Tutorial.
Disclosure: Some of the links provided are affiliate links. By purchasing through these links you are supporting this family blog and the work we do and there is no extra cost to you. If you would like to read our full disclosure, click HERE.
A beautiful painting by artist Ana Hine at the end of the hallway helps draw the eye in from the moment you walk through the front door. To add some farmhouse charm, I cut and nailed a few 1″ x 2″ wood pieces to create a board and batten look. I just love this cozy, yet elegant nook. 
My decorating desire is a restless thing. I don't know if it's a curse or a gift, but I truly enjoy changing things up from time to time. This hallway nook recently received a fresh, modern update.
I gave our pink Mumnk Nordic Wall Sconce and the picture frame of my favorite painting by Costa Rican artist Ana Hine a  sleek refresh using black chalk paint. Changing out accessories with some funky budget-friendly items gave this space a fun, modern farmhouse vibe.
The beauty of home decorating is that it graces us through the passages of life.  What you create today need not be cemented into any one moment in time. My taste is constantly evolving and often morphs into something unexpected.  Being open to change in your design style is a wonderful thing. It allows you to venture into new realms. I'm always watching what others are doing. I love being inspired. But things aren't always picture perfect. Here's a "real life" view of our living room on "making houses with blankets day".
I hope you enjoyed visiting today! Be sure to subscribe so you never miss a decor or renovation post. I'm working on a few exciting projects!