Hello lovelies and welcome to the upstairs bathroom of our home. Three, sometimes four kids (when our oldest visits) share this bathroom. I wanted the theme to be clean and bright with pops of color and fun details. Additionally, low-maintenance and durability were factors incorporated into the design of a busy bathroom.
Disclosure: Some of the links provided are affiliate links. By purchasing through these links you are supporting this blog and the work we do and there is no extra cost to you. If you would like to read our full disclosure, click HERE.
There is no window in this bathroom. So to avoid a cave-like effect it was important to create a light backdrop. I painted the walls in Glidden's Mint Shadow which I had the paint store lighten by 25%. I love the color. It is a minty-sage and it lends itself wonderfully to bright color accents. I found this beautiful quartzite remnant slab for the vanity top. It is pure white with grayish-blue veins. It looks so lovely against the mint walls.
I always try to be a creative shopper which allows me to achieve more on my budget. I found all our bathroom faucets on ebay which offers an abundant selection at every price point. Be sure to check with your plumber before purchasing to make sure what you buy will be compatible with your plumbing. I loved this single handle stainless steel faucet. Simple, with a nod to vintage.
Tiling almost to the ceiling with these large white tiles made the space look bigger and brighter. They have small pin-stripe gray lines that I found so pretty. 
There is a store in our area called Old Time Pottery. I find the neatest mirrors there at great prices. The minimal pattern of this mirror and its white with hints of blue color made it a perfect complement to the vanity top. 
I love the functional aspect of medicine cabinets, but I'm not a fan of bulky mirrored boxes on the wall.  If you saw the picture frame medicine cabinets in our master bath, I used the same concept here. I found this framed art of girl at Hobby Lobby and knew it would be perfect for the medicine cabinet. It is a fun detail for a kids' bath, but soft and versatile for guests also.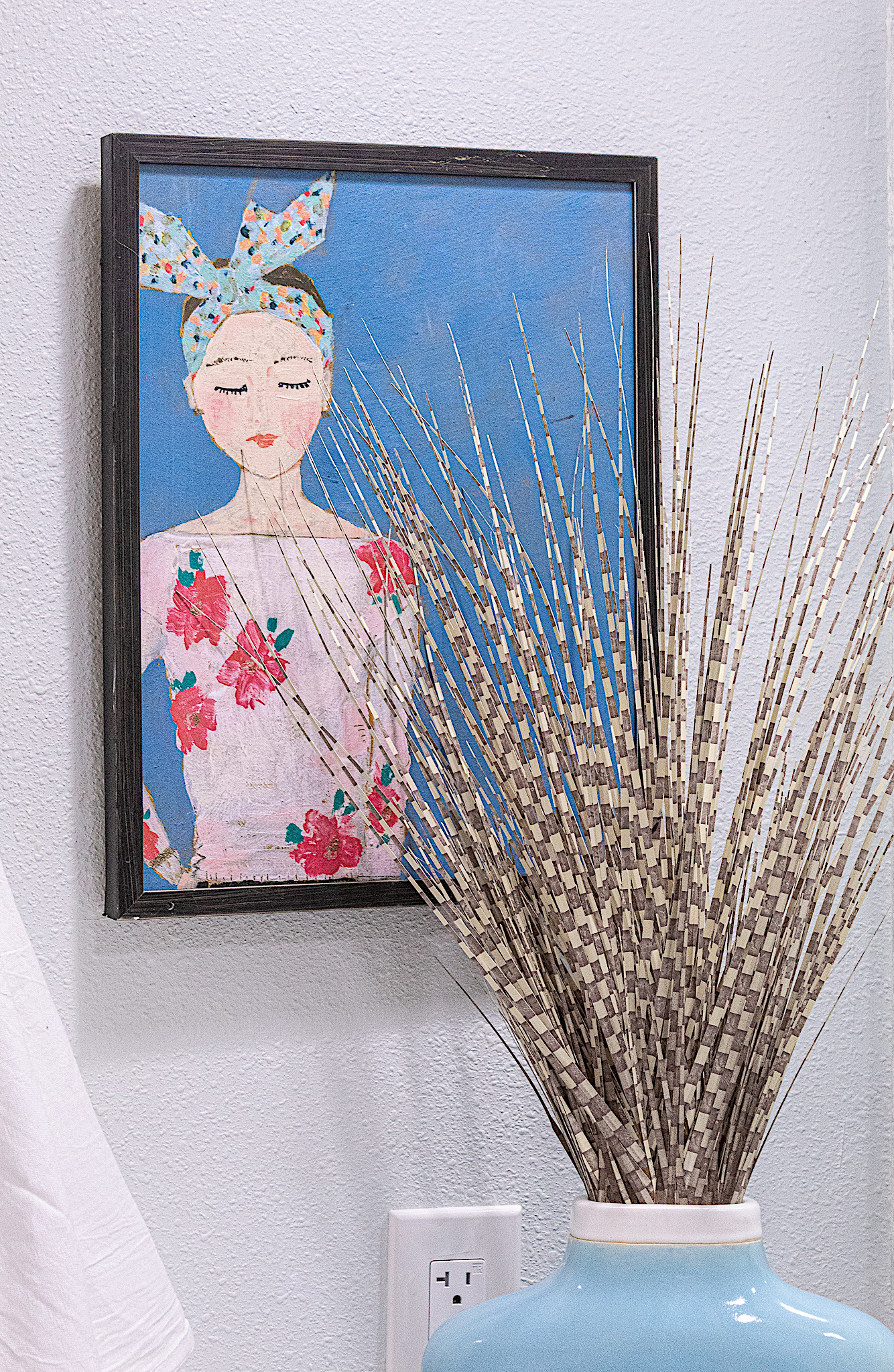 While building I made a frame out of wood in the studs before our drywall was up. I then built a wood box the size of the picture frame and painted the face white and sprayed a stencil with copper spray paint. I connected the picture frame to the box using small concealed hinges. Then I nailed the entire box into the frame I had built in the wall. A small magnet keeps the door closed.  This project can also be done after the fact. It's just a little more tedious since you will need to cut into the drywall.
Allow yourself to have fun with your decor. Although this is a children's bathroom I made sure that the aesthetic would be pleasing for adult guests also. You can choose your balance.
I love Hobby Lobby's large and affordable selection of pulls and knobs. Don't laugh but I can spend well over an hour picking out one set of hardware! I found these owls and used them for the drawers and perching branch pulls for the cabinets for a fun detail.
I found these Art Deco pendant lights on Amazon and had to have them for this bathroom. I loved their rain drop shape and the candy red was a perfect burst of color in the space—like two gum drops falling from the sky.
Hope you liked the kids' bathroom tour. It is always a treat to share with you! Would love to hear how you're making your spaces fun these days.