My client loved her table so much that she asked me to replicate the look on a dresser she had.  She wanted to create a bedroom set in her Airbnb. Take a look at the dresser before. It was in serious need of some brightening up!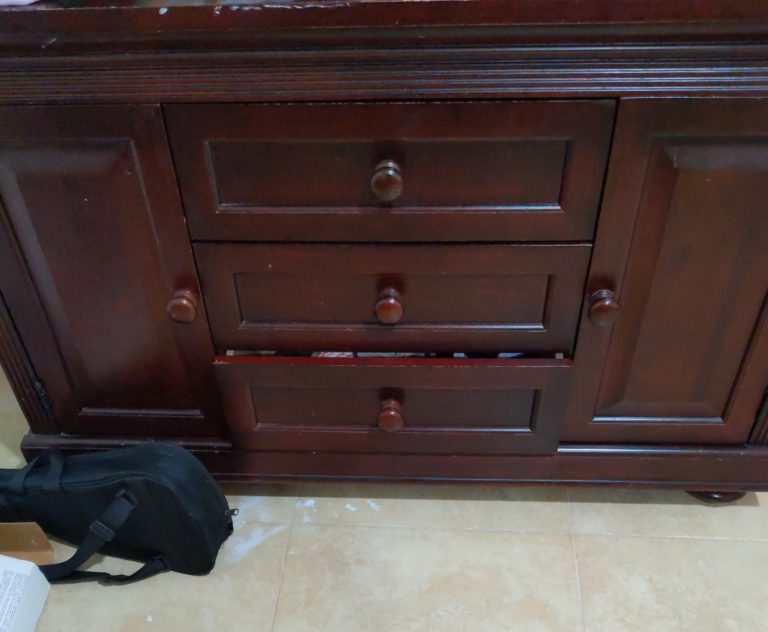 It takes time to create this old world look.  You have to apply several layers of paint and give each one time to dry. Our family was going on vacation and I wanted to finish the dresser for my client before we left on our trip. I did this piece in record time, working every day for several hours and at night after the kids went to sleep.
The beautiful Ruby Rose Transfer by Redesign With Prima was applied sparingly as my client did not want to overwhelm the piece with flowers. I cut the transfer and applied two bouquets on the top, replicating the look of the matching nightstand's top. And for the front, just a few pretty flowers for a light detail.
I found some hardware at Hobby Lobby which coordinated with the hardware of the nightstand. Then I took a small artist brush and painted them with my Denim Metallique Wax. I can't tell you how much I LOVE using Art Alchemy Metallique waxes. For starters, they smell so nice! They are affordable and long lasting. Plus the coverage is magnificent. Even after one coat, you can see the hardware is completely transformed.
To see a step-by-step tutorial of how I created this look, you can watch the video below. It demonstrates how I created this finish on the matching night stand.
This paint layering technique, although it takes some patience and time is fool proof. You can create beautiful art without having to have worry about perfect lines or patterns. You can "mess up" and it becomes part of the design! I hope you enjoyed seeing the refinished dresser and be sure to SUBSCRIBE so you never miss a post!