I found this lovely vintage Baumritter desk sitting quietly in a thrift store. For a few days I thought about what her new look would be. I kept coming back to the idea of a soft blue or green perhaps. It seemed fitting for her delicate lines. What resulted was spectacular if I do say so myself.
1. Making Raised Stencils
Raised or textured stencils add beautiful detail to your pieces. And it's SO easy:
1. Place a stencil on your piece.
2. Using your putty knife  apply your paste carefully, holding your stencil in place. You can use texture paste or my favorite is Plaster Tex from Faux Store. It is pricey but a gallon lasts me forever. Use your fingers to help press down along details of the stencil as you go.
3. Once you have coated your entire stencil, go back and skim it down almost flush with your stencil.
4. Carefully pull off your stencil. 
5. You can use an exacto knife to carefully go around and touch up smudged parts.
5. Once dry you can paint
Disclosure: Some of the links provided are affiliate links. By purchasing through these links you are supporting this family blog and the work we do and there is NEVER any extra cost to you. If you would like to read our full disclosure, click HERE.
2. Prep and Start Painting
I first gave the desk a quick sanding. I typically do this to add some grit to my painting surfaces. It also helps to remove scuffs, welts and any gunk.  The top of the desk had veneer with chipped edges. Rather than taking the whole layer off, I used my putty knife, gently tapping it under the veneer with a hammer and went all around the perimeter chipping off the edge—creating a carved look. Next I applied two rough coats of Museum (brown) paint. After it dried, I randomly slopped on the Cherry Cola paint. Don't worry about even coverage at this point. These are just the underlying colors.
3. Creating The Seaside Washed Look
I'm calling this painting technique the seaside-washed look— as something that's been sitting out by the sea, sun-beaten and weathered beautifully. The water mister is essential creating this look.  Working in sections, I first gave the piece a good spraying. Then I sprayed some more water. This creates a wonderful dripping effect.
Then I applied the Reflective Pool (aqua) color in random motions over the section I just misted. I circled around red parts to leave some of the red exposed.
I waited a couple of minutes before coming back over the drip marks with a paper towel. I rubbed over the paint with my paper towel. As you rub, you will see the drip marks come through. You don't wipe or rub immediately after applying the aqua colored paint because the it will just wash away your drip marks. Chalk paint dries relatively fast so even waiting a couple minutes is enough time to be able to create this look. You can play with this technique by spraying, adding painting and rubbing in various sections until you like the look.
Gravity is your friend for this technique as you want those drip marks to run down. I even sat the whole desk forward on the ground so I could create the same effect on the table top! As everything dried, I came back over with more of the aqua paint. I painted in areas I felt needed more aqua and with my gloved hand I blended the paint in using circular motions.
4. Accenting With Metallic Wax
With my aged brass wax and a hard bristle or stencil brush I accented details all over the desk. I dabbed just the tip of my brush in the wax and tapped up and down on the painted surface. How much of the brass accents you want is up to you. I added these in random part just enough to create a slight patina appearance. I also used my gloved finger to go over details.
For the final step I sealed the desk with a satin clear coat, giving the top three coats for extra protection. And there you have it friends, the Seaside Cottage Desk. The perfect place for writing your letters to far away friends or for gazing through a window of your cozy cottage at the crashing waves of a wondrous seaside!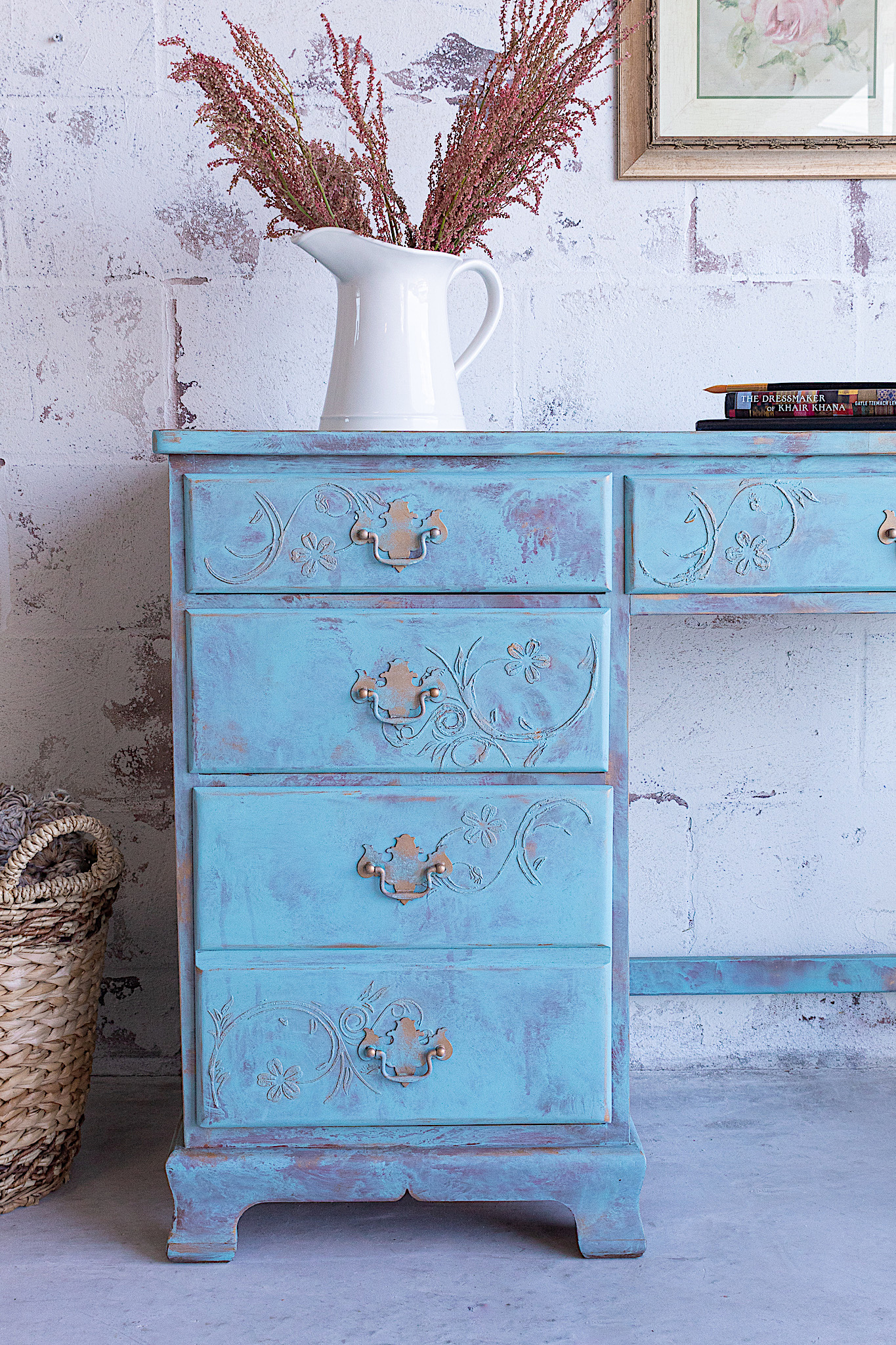 I will definitely be using this technique on other pieces. I really love the unique and multidimensional look. You can use other colors to create your own aesthetic. I would love to hear your thoughts on this tutorial! Please let me know if you have any questions.
And here's a final look at the before and after.
The Seaside Cottage Desk is now available at the Nooks in Bloom Etsy Shop