Happy summer NIB Family! I hope you are making the best of it in spite of the tough times we are facing in 2020. It has been quite the unexpected year with this unprecedented COVID-19 running rampant leaving the human race with so many question marks and unfortunate losses. Here at our home, Santabrisa, we are trying to make the best of it. I know it sounds crazy, but I thrive with multiple projects on my plate. And not just a manageable amount, but usually it's an overwhelming "how am I going to get this done in a week" situation!
Creativity is an important outlet for me. I also like to foster creativity in our children. During quarantine we are coming up with fun ways to do arts and crafts and science projects. Although the heat in Florida can be brutal in the summer, we do try and spend some time outdoors each day.  We're also practicing some homeschooling activities at every day, hoping to better prepare and transition for virtual learning once school resumes.
What are some of the ways in which you're making it through these uncertain times? I'd love to hear! In the meantime, I am excited to share with you one of my latest projects. The latest and greatest, the SECOND updo to our dining banquette.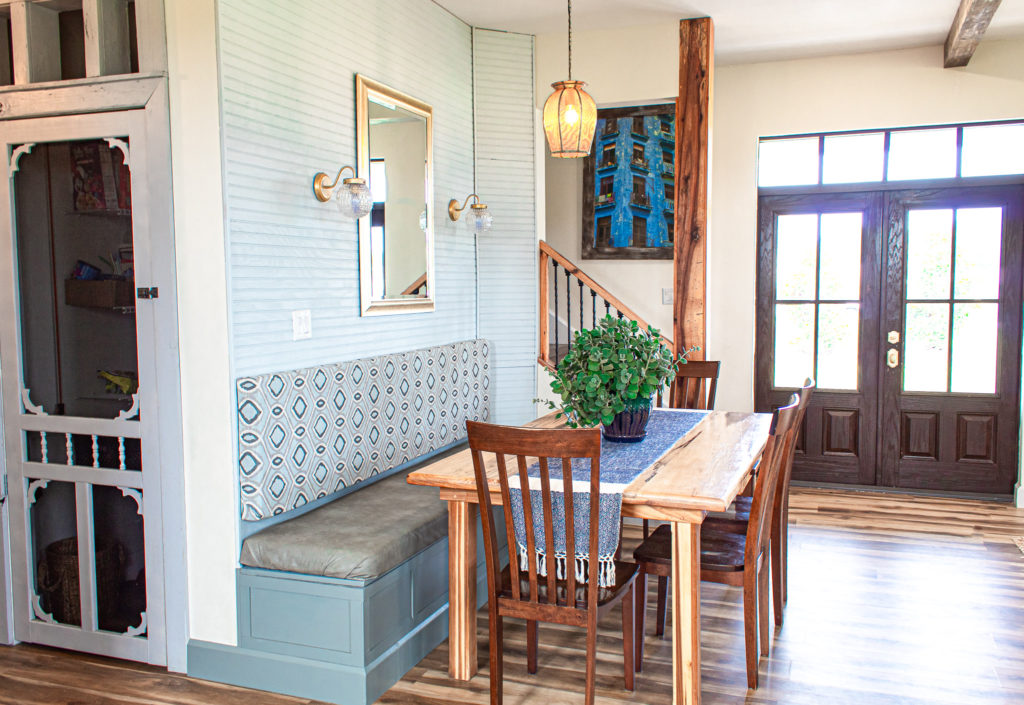 A while back I shared the post of the original Banquette Back Cushion redo. It was very nice when we finished this, pepping up the space with a pretty floral print. But with kids and messy fingers at the dinner table, the fabric had gotten pretty grimy. I had also been wanting for some time to trim out the base of the seat to give it a more professional and decorative finish. I REALLY love the new look.  Another downside to the white painted base was that it constantly showed dirty spots from my toddlers kicking their feet on it. I found myself cleaning and wiping constantly.
Disclosure: Some of the links provided are affiliate links. By purchasing through these links you are supporting this family blog and the work we do and there is no extra cost to you. If you would like to read our full disclosure, click HERE.
As you can see in this picture. Things were looking pretty drab. I had tightened the fabric around the foam cushion too much when I was stapling it and that caused an uneven bottom edge. It also always bothered me that my husband had cut two pieces of the baseboard, instead of one long piece running along the front of the bottom part of the banquette. The proper way to hide the seam between the two wood pieces would have been to wood fill it and sand everything flush and to paint back over it. Obviously I never got around to doing that!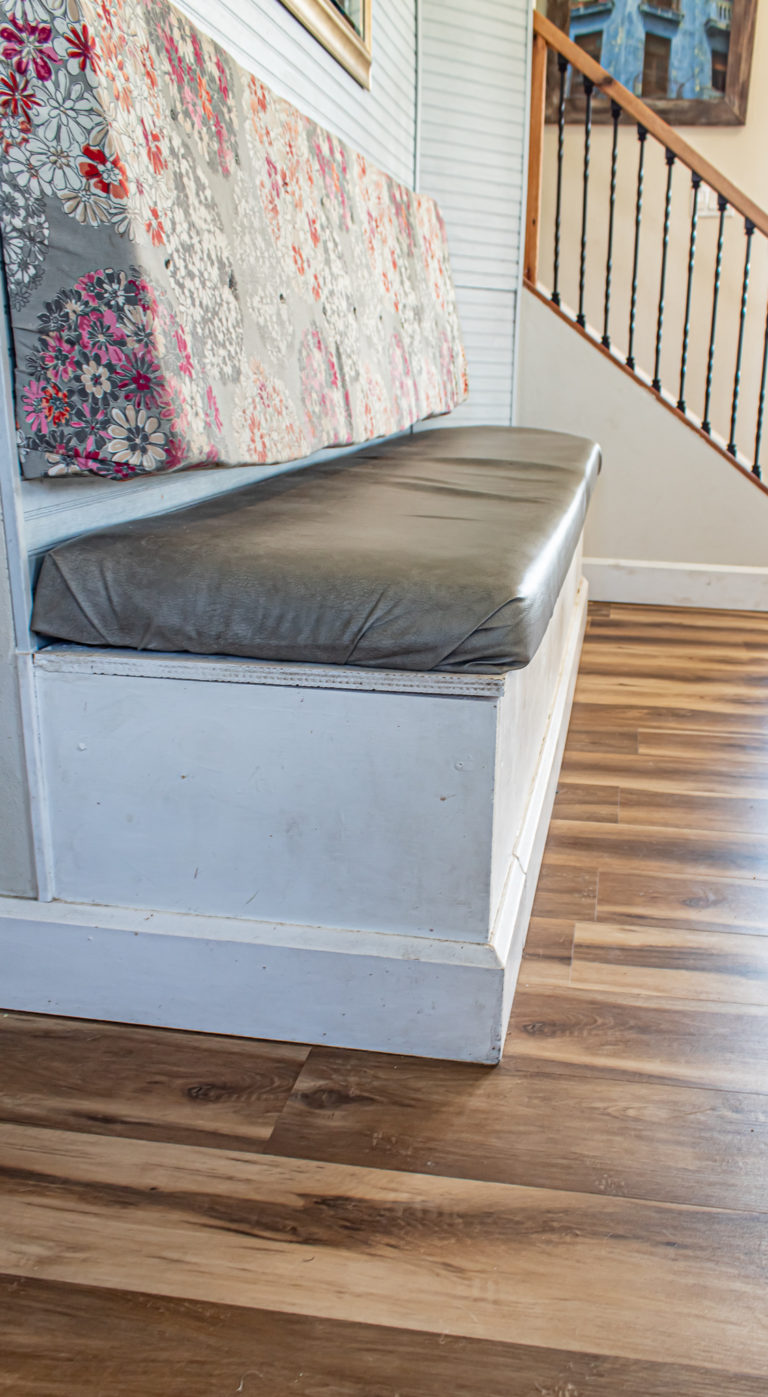 And since I'm confessing all my woes with the original redo, I must add that I wanted to get rid of the inclined back that we had created using some wood pieces under the fabric. We had thought this would be the most comfortable way to sit. But it didn't really make much difference. For my new look the thick incline was going bye-bye. I wanted a more lean look, flush to the wall. And the twist cushions used to created a tufted pattern were also going bye-bye.

Allow me to elaborate a little…my design taste can change on a whim sometimes. It may drive others crazy, like my poor husband, who has to succumb to shifting heavy furniture around or building something new,  but it's part of my thirst for interior design. There is an underlying common theme in my taste, but I love exploring new looks and keeping things fresh.
Steps For Trimming The Seat Base:
1. To trim out the seat base, I scored three long 1.5″ x 1/4″ moulding wood pieces from a local woodsmith for $10. When I got them home I gave them a rough sanding and primed them. Then I measured out long pieces to frame the top and bottom of the seat base and secured them using my nail gun.
2. Next I measured the interior distance between the top and bottom pieces and cut several pieces this size.  I spaced them out evenly and nailed them on perpendicular to the long top and bottom pieces.
3. I repeated this entire process on the sides of the seat base.
4. Once everything was nailed in, I rubbed in wood filler to any noticeable gaps in between the moulding pieces. I like this wood filler because it changes colors when it dries and it dries quickly.
5. After sanding the wood filler smoothly I painted everything in Glidden's Giant Gray.
6. For extra protection and ease of cleaning, I applied two coats of Rust-Oleum's Water Based Poleurethane in Gloss. The higher the sheen, the easier it wipes off. I usually stick to satin, but I must say that the rich gray with the extra shine created a very elegant look for the space. And it is night and day keeping up with foot marks. It's been several weeks and I've not had to clean anything off. The surface seems to act as a repellent.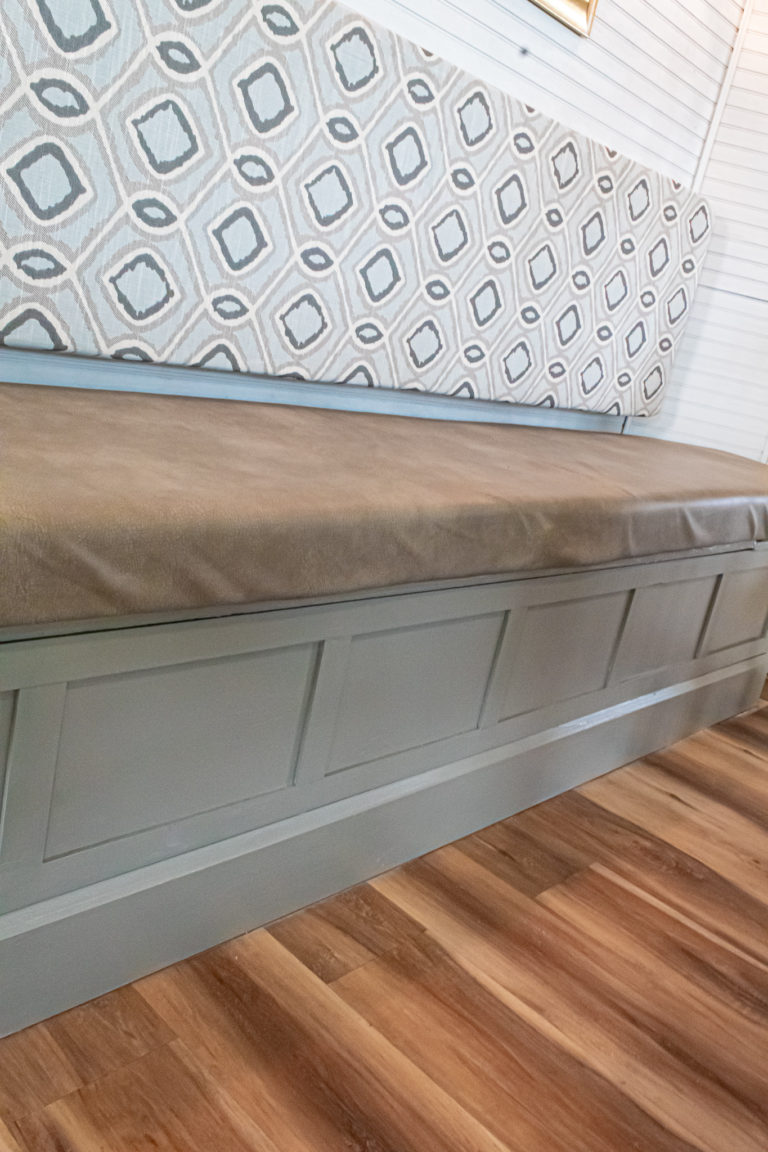 Steps For Re-Upholstering The Back Cushion:
Changing the cushion fabric was probably the easiest part of this renovation.
1. Although time-consuming, I decided to remove all the prior staples along the back of the cushion that were used to secure the old fabric. I could have cut out the fabric, but I preferred to start fresh and ensure a smooth new fit.
2. I took a pointy and very flat kitchen knife and carefully slid it under each staple. I then used the knife to twist up on each corner of the staples back and forth until they would pop up and off. This is the way I found to be the easiest. But there may be other safer tools to removing staple gun staples.
3. Once my old fabric was off, I removed the side frame of wood we had used to create an inclined back.
4. I then placed my new fabric on our king size bed with the outside pattern facing down.
5. Next I centered the foam piece with its plywood backing on top of the fabric.
6. I went around with my staple gun and stapled the new fabric.
**Tips For A Nice Upholstered Look**
–Don't over tighten if your foam is not cut perfectly on all edges. I cut mine by hand and it had some uneven edges. Keeping things flush, but not too snug, allowed for a straight line look.
–Work in sections. Take your time going around the entire piece.
–Fold corners like you would a nicely wrapped present. Smoothly tuck in fabric to create a nice curved layered look around each corner.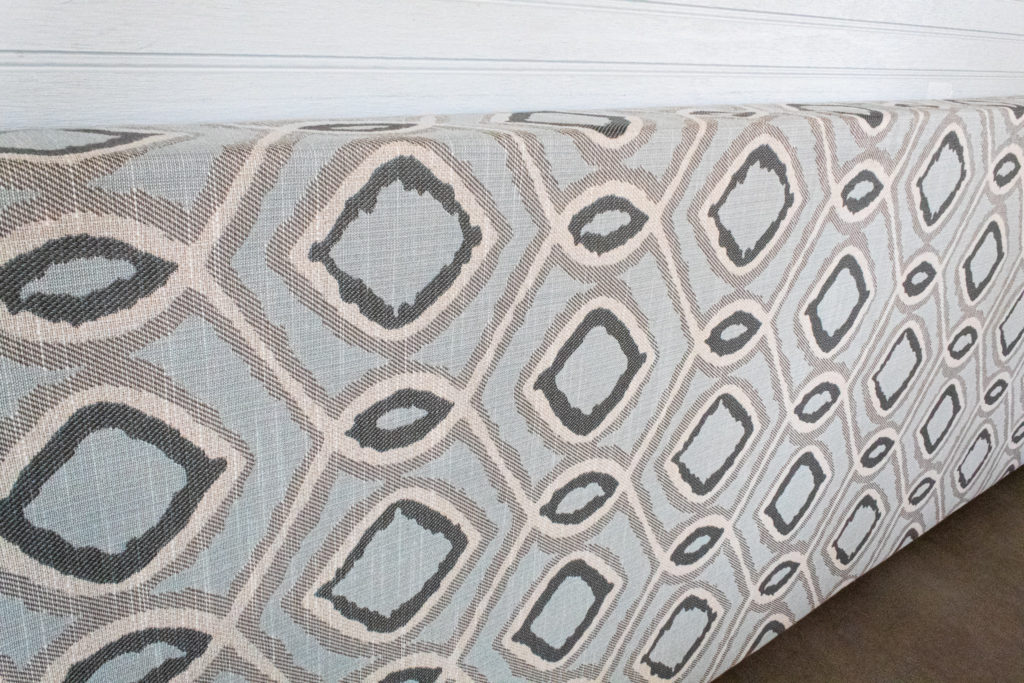 I found this fabric at Hobby Lobby and loved the pattern. It is a better quality fabric than the one I had before. I've spot cleaned it once and it looks like new. Hopefully it will hold up longer than the last!
My friends, it was such a treat to share this renovation with you. This was one of those projects that I enjoy admiring every day. I'm proud of the end result…this doesn't always happen! Please let me know in your comments if you liked the new version of our banquette updo. And here is one more before and after.