Having a creative outlet is very important for me. In fact, if I'm not creating I start to feel stuck and notice I get more irritable and am no fun to be around! So around our house I'm always working on projects and the family are used to seeing things change…often! Today I'm sharing my most recent DIY, a new look for our dining nook banquette.
You may recall we had previously built a wall-mounted back cushion with a pretty floral print for the banquette. It's a very easy project and if you'd like to see how we did it check out my Banquette Back Cushion post. 
After some time however the fabric had worn , sagged and gotten dirty from little messy hands. The white base was constantly showing shoe marks and dirty spots and it was time for a new look.
Disclosure: Some of the links provided are affiliate links. By purchasing through these links you are supporting this family blog and the work we do and there is no extra cost to you. If you would like to read our full disclosure, click HERE.
I also wanted to change the cushion to make it flush against the wall. Before we had made it with an angle and I wasn't digging the angled look anymore.
1. To trim out the banquette I cut two pieces from my moulding, each the length of the front side of the banquette. One piece would frame out the top and one the bottom. I gave them a quick sanding and nailed them on.
2. Next I measured the interior distance between the top and bottom pieces of moulding I just mounted and cut several small pieces.  Then I nailed them along the front side of the banquette perpendicular to the already mounted trim. I spaced them out evenly.
3. I repeated this entire process on the sides of the banquette.
4. Once everything was nailed in, I used wood filler to smooth out any gaps.
5. Once the wood filler was dry and sanded, I primed and painted the banquette.
6. For extra protection and ease of cleaning I applied two coats of Rust-Oleum's Water Based Poleurethane in Gloss.
Steps For Re-Upholstering The Back Cushion:
Changing the cushion fabric was the easiest part of this project.
1. I took a pointy and very flat kitchen knife and carefully slid it under each staple. Then I pulled up on each side of the staple alternating sides until it popped off. This is the way I found to be the easiest, but there may be other safer tools to removing staple gun staples.
4. I then placed my new fabric from Hobby Lobby on our king size bed with the outside pattern facing down.
5. Next I centered the foam piece with its plywood backing on top of the fabric.
6. I went around with my staple gun and stapled the new fabric.
Tips For A Nice Upholstered Look
√ First iron your fabric.
√ Don't over tighten if your foam is not cut perfectly on all edges. I cut mine by hand and it had some uneven edges. Keeping things flush, but not too snug, gave the appearance of a straight edge.
√ Work in sections. Take your time going around the entire piece.
√ Fold corners like you would a nicely wrapped present.
Wonderful readers, it was such a treat to share this DIY project with you. I hope you like the new aesthetic in our dining nook! Here is one more look at the before and after.
And I thought I'd share with you that I finally got around to renovating our dining table which had yellowed over time. If you'd like to see its new French Farmhouse finish, check out my tutorial HERE.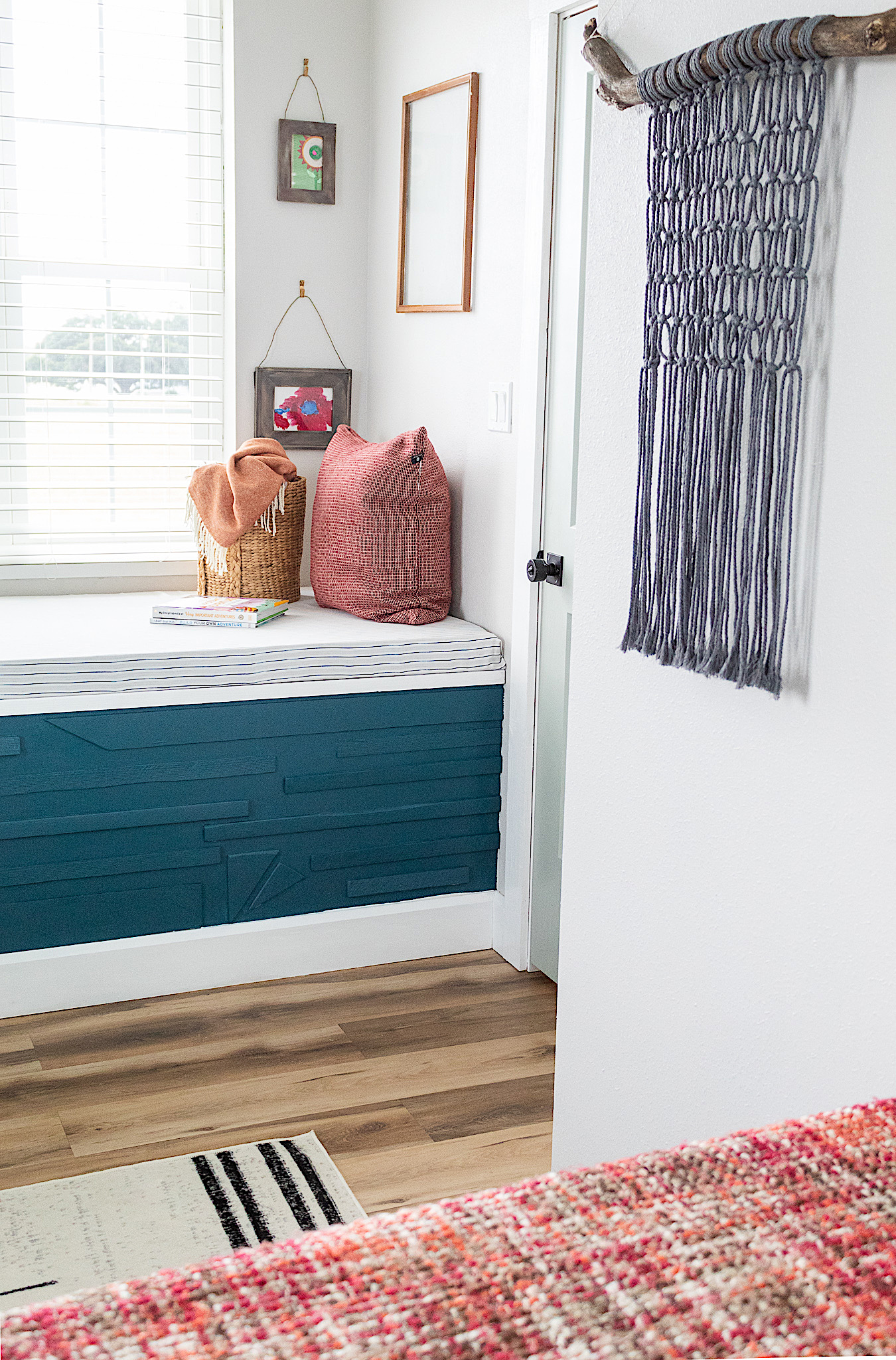 31 shares 31 Today we are doing a very cool DIY on our son's window seat.  Some scrap wood, a fun paint color and a little sweat equity and you too can use this
Read More »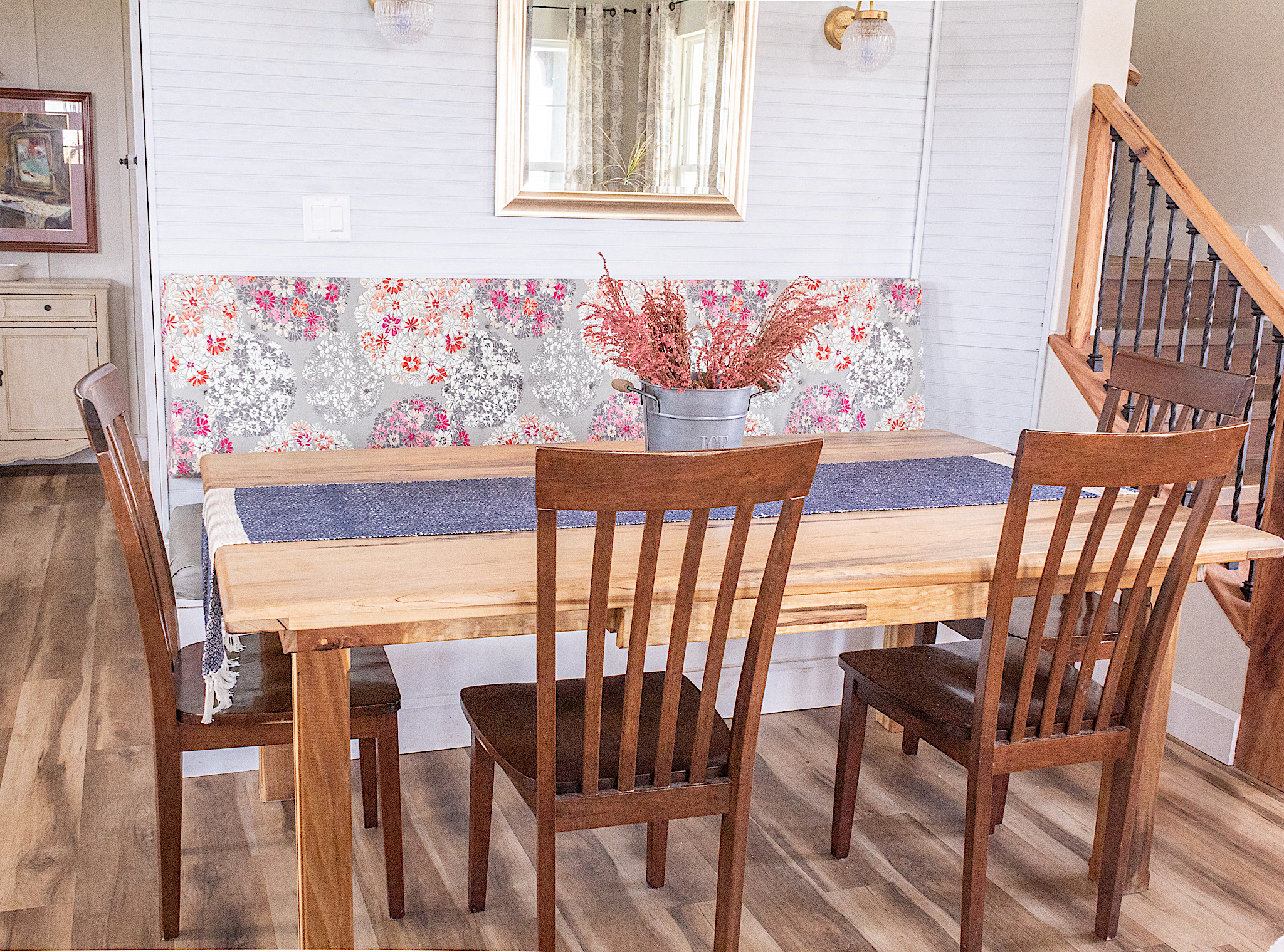 HELLO, TODAY WE ARE MAKING A STYLISH BANQUETTE BACK CUSHION. Well before we built our house I envisioned a banquette for our dining nook, one large enough to accommodate a family of six plus
Read More »