LET'S TALK LIGHTING! TODAY I'M DOING A WHOLE POST ON LIGHT FIXTURES AND SHARING MY TOP 3 TIPS FOR PICKING THE RIGHT LIGHT FOR YOUR SPACE. If you've been following me for a while you know how obsessed I am with lights!
Light fixtures are a staple of my home decorating for function and style. I love how lights can instantly transform a space without having to do any major work. Whether it's a ceiling pendant, wall sconce, outdoor light or table lamp, the right light can anchor a room, elevate the wow factor, and illuminate beautifully.
When it comes to picking the right light for a particular area of your home, it's important to consider the size of the space. Larger rooms can shoulder a more substantial fixture. Dining rooms, large foyers, living rooms, even bedrooms and large bathrooms are all potential areas for showcasing large light fixtures. In fact, the right light can become the decor focus of a room.
Take a look at the chandelier in our living room…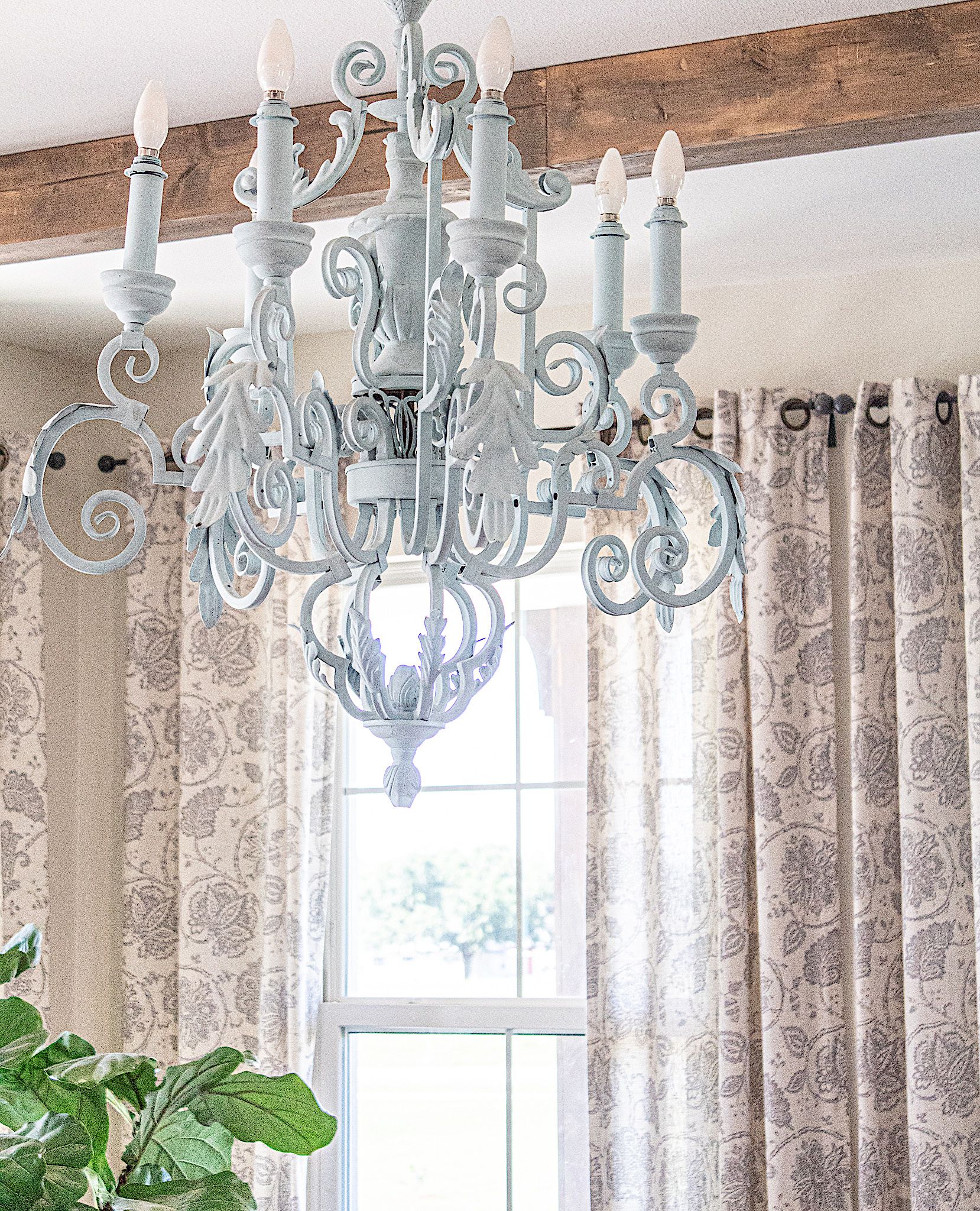 Our living room is not very big but it is the largest open space in our home. If there was anywhere to display my craigslist chandelier it would be in the living room.
I will touch more on color and design later in this post, but I purposely chalk painted this chandelier in a light blue to soften the aesthetic for my farmhouse vibe. Although it is soft and feminine in appearance,  its stature enables the chandelier to still claim a striking presence in the space.
Fill large spaces with big and bold lights. A small pendant hanging from the ceiling can underwhelm in a spacious family room. However, it could shine in a cozy breakfast nook.
Scaling lights to the size of your space works both ways. A gigantic chandelier in a small bedroom may be overpowering and can cause design discord. Not that you can't take some risks in small places with larger fixtures, but be mindful of proportion.
In our guest bathroom I intentionally wanted to make a bold statement with this Watercolor Hanging Light…
I felt this medium-sized chandelier was scaled proportionately for the design statement I wanted to create—substantial enough to make a stylish impact, but not so much where it would overtake the small bathroom or cramp the other elements.
Disclosure: Some of the links provided are affiliate links. By purchasing through these links it supports this blog and the work we do and there is no extra cost to you. If you would like to read our full disclosure, click HERE.
2. Choosing The Right Style
With so many beautiful lights on the market these days, narrowing down your choices can get overwhelming. Since I tend to fall in love with so many options when I'm searching for a new light, I've created some guidelines to help me choose the right light for my design vision.
• Choosing By Color: make sure the color of your new light will be in rhythm with the color palette of your space.
When I saw the Sigrid Hanging Lamp In Antique Bronze on Houzz, its primitive style and unique lines immediately caught my eye. I knew it would beautifully complement the gold mirror and sconces in our breakfast nook. (Unfortunately this light it currently unavailabe but this Calgary Pendant has a similar style and looks oh so beautiful.)
When it comes to decorating I like a little mismatch. I prefer it if colors are not perfectly coordinated, but instead flow together. The antique bronze of the pendant harmonized with golden hues in this small area to add elegance.
Although not all the elements were the exact same color, they were in rhythm. As an example, I wouldn't have chosen a bright purple or lime green pendant for this area because it would have caused discord instead of appeal.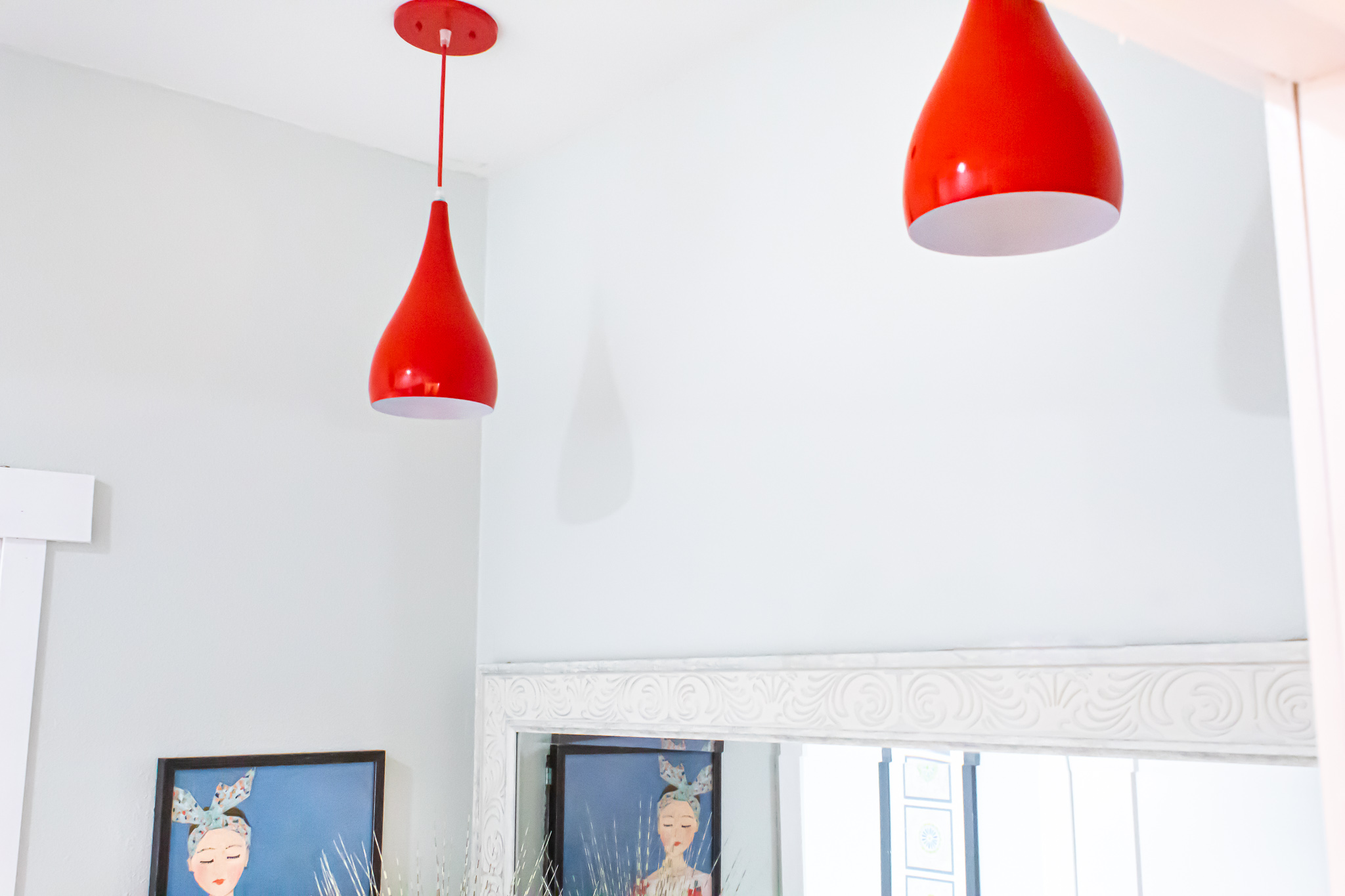 You can also do something more daring by picking a colorful light which will contrast with its backdrop. This is a way to create a color pop and make a decor statement. For balance you can either make your canvas more muted with soothing colors on your walls, or another option is to synchronize the bright color of your light with similar colors in your decor.
These Art Deco Pendant Lights add cheer and a pop of color in our kids' bathroom. You can also apply this design technique to create bursts of color on the exterior of your home. I painted these Ikea macrame pendants in Cherry Red and I love how they look on our breezeway.
•Choosing By Design: when it comes to the actual design aesthetic of a light fixture I don't worry so much about matching it to the existing style in the room. In fact, I like to change things up for design impact.
Whether it's a modern light in a traditional setting or a sparkly chandelier in a farmhouse scene, you can mix up your styles in the right doses to enhance the aesthetic.  Take a look at this dainty pendant in our downstairs hallway…
This was another Ikea light that I fell in love with. The strings of beads with the little flower details are so classic and beautiful.
I love how this small pendant added just the right amount of sparkle and elegance against the rustic backdrop of our pantry door.
I'm all about getting creative with styles of lights and thinking differently for their use. An outdoor light can be used indoors in the proper scale and setting. It could add some unique character to the space. An industrial ceiling pendant used in factories could add some funky detail.
These Vintage Black Sconces with White Globes  from Amazon created a pretty detail in our master bedroom. They reminded me of London street lights.
3. Purchasing With Price In Mind
You may know that I am all about finding good deals and not having to overspend when it comes to creating a beautiful home.  The goal with home decorating is beauty without becoming house poor. I don't believe I've ever paid even $100 for a light.
You can find light fixtures that are gorgeous and affordable. I have one chandelier that I bought off of walmart online for around $60 and it absolutely stunning. My pictures don't do it justice…
This Gymax Crystal Chandelier is unfortunately no longer in stock, but there are many other beauties like this that you can scout online which won't break the bank. I typically search sites like houzz, overstock, amazon, build.com and wayfair for lights. I also like finding unique second-hand lights.
If you're like me and like to add your personal touch and style to your decor, I recommend thrifting for your next light. In my Brassy Light Lamp Renovation post, I share how I converted an outdated lamp into a refined and timeless piece for our living room.
In conclusion and to recap, these are the three tips I suggest for helping pick the right light for your space:
1. Size-be mindful of keeping light fixtures in proportion to your space. Avoid oversize fixtures that may look overbearing in a small space. But don't underwhelm a large area with something puny.
2. Style-pick lights with colors that flow with the decor in the room. When it comes to aesthetic, use light fixtures to enhance your design and don't be afraid to step out of your comfort zone and create some contrast in styles.
3. Price- be resourceful and creative with your shopping. Fill your home will beautiful and affordable finds. When looking at a $500 light compare it with similar, less expensive styles. Chances are you will find something you love!
Thank you so much for reading my friends. I always appreciate your time. I'll leave you with a view of this lovely Tosca Square Pendant I hung in our downstairs hallways. It is one of my favorites!