Being conscious about your health does not mean you have to sacrifice eating things you enjoy, especially if sweets are your thing! After a bit of experimenting, I came up with just the right balance of healthy ingredients to create this delicious, moist and super easy cake.
I make this cake a lot at our house and it is gone within one day! The hints of cinnamon and caramel combined with the texture of almond flour and other goodies makes this dessert a favorite for the whole family.
Since I have dealt with a chronic illness, I have found proper nutrition and avoiding things like sugar, dairy and gluten, has greatly helped me on my healing journey. When it comes to desserts, I have been left disappointed with the "healthy" options available in the stores. The taste is usually lacking and often times the desserts are packed with sugar and other unwanted ingredients.
This cake is made all in one bowl and the sauce can be whipped up in less than 5 minutes.
Rich and Moist To Please All The Senses!
What gives this cake its incredible moisture? I would say the cake alone (not including the sauce) is already a delightful treat.  You will taste the texture and softness with every bite. But, I think what makes this cake delectable is the syrup-like sauce that is drizzled over the top. The cake becomes gooey in parts and the taste is amazing.
Disclosure: Some of the links provided are affiliate links. By purchasing through these links it supports this blog and the work we do and there is no extra cost to you. If you would like to read our full disclosure, click HERE.
The good thing about this recipe is that you can reduce the amount of sauce (or even omit it), making the cake less gooey, while still enjoying all the flavors and texture.
You can also change up of the flours for variations in taste and texture. I've made this cake with combinations of other flours like almond, buckwheat and oat flours, yum!
If you are craving a sweet fix without an overpowering taste and whether you are vegan or not, you should give this recipe a try! Chances are you will be wanting seconds or thirds…And you don't have to be skilled in the kitchen to make it come out amazing every time.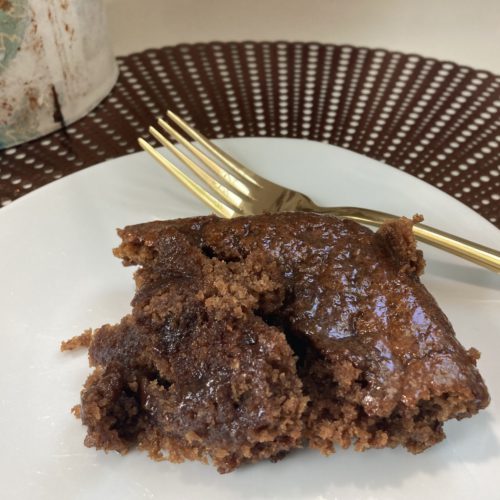 Guilt-Free Almond Caramel Cake (Gluten Free, Vegan, No Refined Sugar)
This is a cake that the whole family will love! The best part is you don't have to feel guilty about eating it or feeding it to your kids. Ready for a new favorite dessert?
Ingredients
1/2

cup

Organic blanched almond flour

1

cup

Gluten-Free Flour

1

cup

Organic Coconut Sugar

1

tbsp

cinnamon

1

tspn

white vinegar

4

tbsp

organic coconut oil

1

tspn

baking soda

1/2

tspn

salt

1 1/2

tspn

organic vanilla

1/2

cup

organic maple syrup

1

cup

water

water amount can range from 3/4 cup to 1 1/4 cup depending on your mixture's consistency
For The Sauce
1/8-1/4

cup

organic coconut sugar

2

tspn

coconut oil

1

tspn

cinnamon

1/8-1/4

cup

maple syrup

plant based milk

as needed
Instructions
In a large mixing bowl add your dry ingredients (flours, coconut sugar, cinnamon, salt, and baking soda)

Whisk your dry ingredients together until evenly combined.

Using the back of a spoon, form three caves (depressions) into the mix.

In one of the caves pour the coconut oil. In the second pour the vanilla and vinegar. In the third one pour the maple syrup.

Next, begin mixing the wet and dry ingredients. The mixture will be lumpy and difficult to mix.

Slowly begin adding in the water while mixing.

Mix thoroughly until a thick pancake-like batter consistency is achieved.

Pour batter into coconut oil-greased 8 x 11 inch pan.

Bake at 350° between 30-35 minutes or until a toothpick comes out clean.

When done baking, let the cake rest inside the oven for 20 minutes.
Making The Sauce
Add the coconut sugar to a small saucepan over low to medium heat.

Begin stirring the coconut sugar and oil. The two will begin to melt.

Add in the cinnamon and mix some more.

Finally, mix in your maple syrup.

Continue mixing until the mixture begins to bubble up slightly.

You can now add any plant-based milk if you want to tone down the sweetness or make the sauce more syrupy. (this step is optional)

Pour the sauce over the cake and spread out.

You can now enjoy your delicious dessert!
Links To Ingredients I Buy: