I knew I wanted an open concept feel for the kitchen in our new home. For me, the days of cabinet overload in a kitchen were behind me. I love how wall-mounted shelves can dress a kitchen with character while offering breathability and of course, storage.
I wanted to share this project with you because it is very doable and relatively quick to complete. I was able to make 3 shelves in one afternoon—kid interruptions included!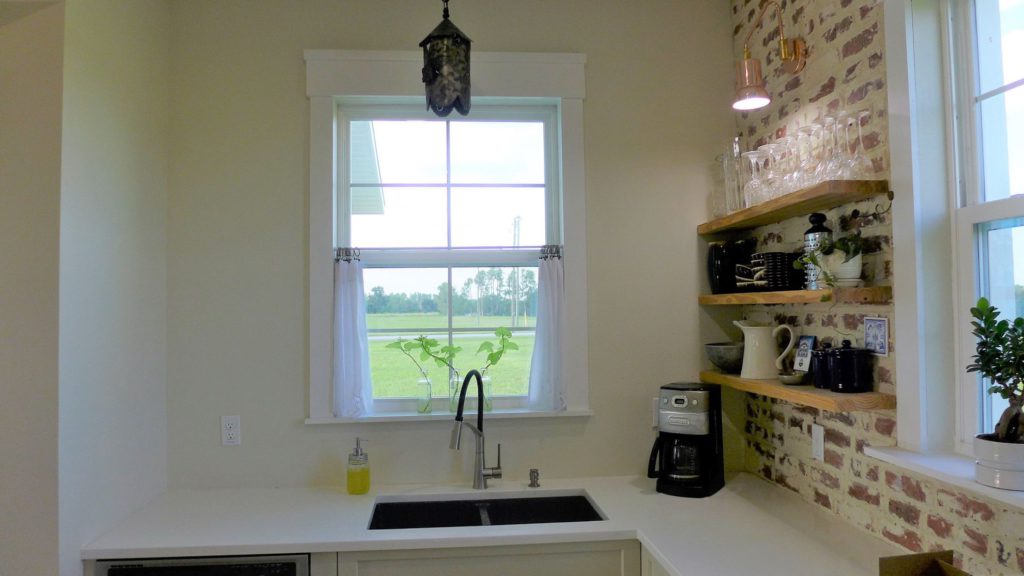 MATERIALS LIST:
2 – 1" x 8" whitewood boards (You can use any wood you like. We got these at Home Depot and I liked the look and price. At $11.13 per 6 foot board, that comes out to less than $8 per shelf.
Measuring Tape (I have a lightweight one like this. Toss it in my purse. Comes in handy!

Level (something like this)
Stud finder (this stud finder has been a life saver for us)
Drill (one like this cordless screwdriver. I've had mine for years and it's my favorite go to tool)
Anchors (These worked just fine for the amount of weight I planned to have on the shelves)
 Shelf brackets (I bought these on amazon. I used two brackets per shelf)
Wood Screws. The brackets come with screws which I used. Make sure the screws you use are shorter than the thickness of your wood.
Stain. I used Varathane's Golden Pecan

They cut our boards at Home Depot as follows:
3 pieces measuring 26 inches
3 measuring 12 inches
First I stained my boards on all sides. Paper towels worked fine but any old rag would do too. Don't ask me why I didn't wear gloves!
You can let your stain dry according to the can instructions or be impatient like me and give it maybe 10 minutes.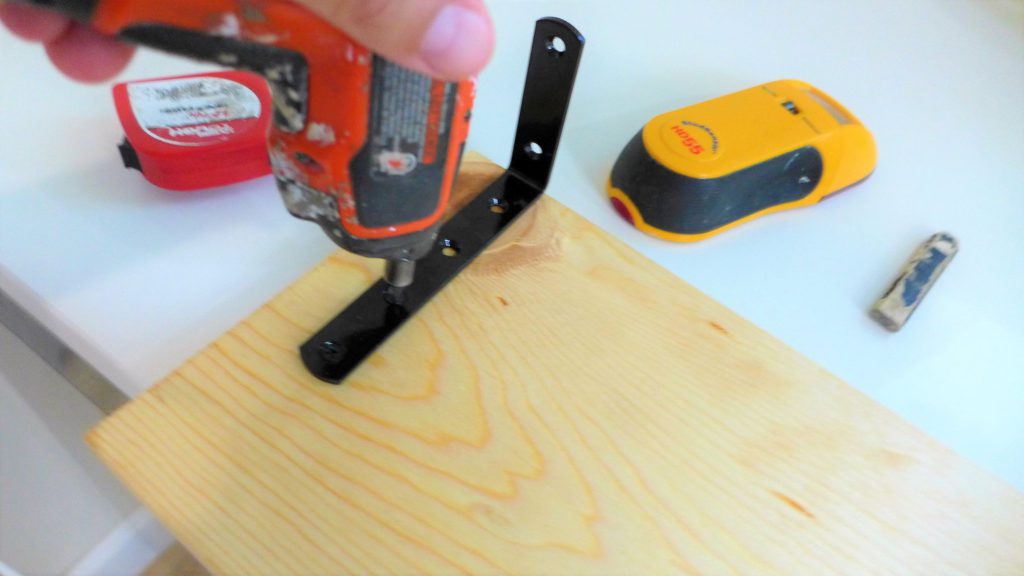 Next I screwed the brackets to the top side of each board with my little drill. If you're worried about splitting the wood, you can drill pilot holes before drilling in your screws. You can also attach the brackets under the boards. It's a matter of preference. In hindsight, I would've placed them under to avoid interference with items on the shelves.
Time to hang the shelves! I distanced mine 15 inches apart. Make sure to use a level before you mark your drill holes. Your stud finder can help you locate studs. You can drill your wood screws directly into the stud (no anchor needed). If you don't have a stud where you want to mount, then first drill an anchor into the wall and then you can drill your screw into the anchor. The anchor will hold well.
And that's it! Not too difficult huh? You can change up the look by picking a different type of wood, stain or paint. Let me know what you think in the comments below. Please let me know if you have any questions!