Hello beauties! Today I'm sharing how to renovate a space with a little paint and some stylish budget-friendly accessories. No gut work, nothing laborious. Our hallway nook went from just okay to fabulous with these simple changes.
Lately I've been craving more modern colors and features in our farmhouse while still retaining a vintage feel. This end-of-hallway nook was a perfect spot to try out a new vibe. Here is how it looked before.
This cherished painting by my very talented aunt, Costa Rican artist Ana Hine is the focal point of this space. I picked black chalk paint to modernize the new, more upscale look.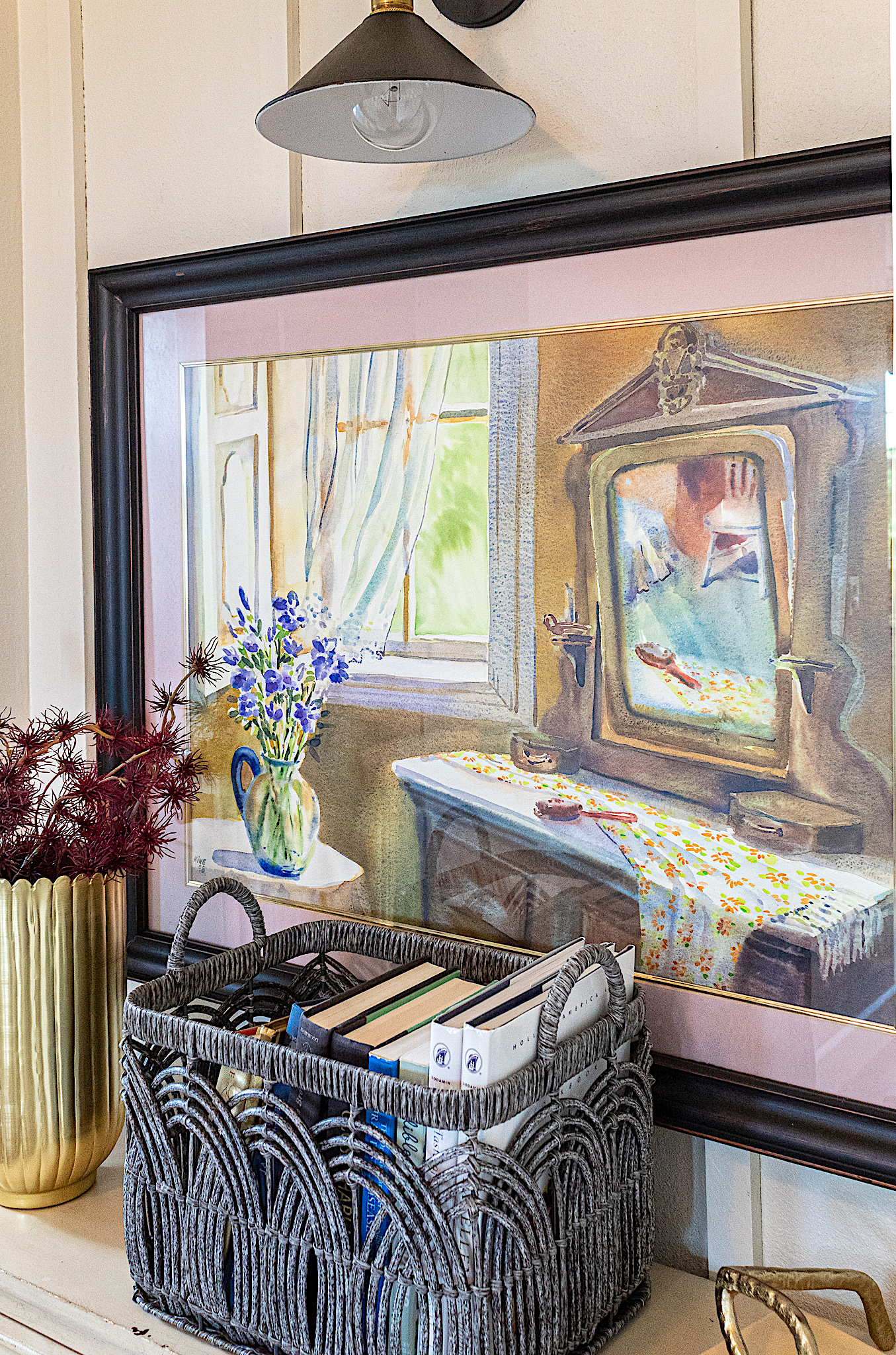 It's amazing what a couple of coats of paint can do to the aesthetic of a space. I didn't prime or sand my wooden picture frame. I simply painted on two coats of black latex paint which I converted to chalk paint using this recipe and voila, instant facelift.
To maintain some vintage appeal, I avoided a sleek stark black finish by lightly distressing all around the frame with a piece of sandpaper. 
Disclosure: Some of the links provided are affiliate links. By purchasing through these links it supports this blog and the work we do and there is no extra cost to you. If you would like to read our full disclosure, click HERE.
I used my favorite clear wax to finish the frame and the light. I like to seal with clear wax because it adds a richer dimension to the paint without altering the color.
Although I love my Nordic Wall Sconce, I had outgrown the pink. The good thing about chalk paint is it adheres very well to surfaces, even metal. I was able to get nice coverage on this sconce with three coats. Here is the shade after one coat of paint.
The wax in the picture below is not yet dry. In fact, it takes about a month for wax to fully cure. Once it does it serves as a protective barrier on your surfaces and I personally prefer the finish to that of clear coat.
I always try to stay on a budget when decorating especially since I'm constantly re-decorating! I headed to our local Ross store and found the cutest items.
I filled a tall vase I found with some faux fuzzy blooms from Hobby Lobby. The deep reds looked stunning against the gold modern lines of the vase.
I love making a statement through my decor. These gold metal glasses are snazzy and fun. Scaling bold pieces to the size of your space helps keep things in balance. The small decoration works on the furniture surface without competing or overwhelming.
Decorating with baskets is both functional and stylish. I have baskets all over the house. They are great for storing books, blankets and toys and warm the aesthetic with their earthy texture.
The curved, intricate details and the grayish black hues made this basket perfect for the more upscale look.
Luxurious Look, Gentle Price
I snagged this vibrant Persian style area rug for $10. In the store I wasn't sure if it would even go in the space. I figured at this price if it didn't work I could just find another spot for it. But once in place the rug made all the difference… 
The pattern and the colors of the rug anchored the space and completed the look. Rugs help to add another layer of design dimension. When I look for a rug I try to find colors that will match those in my decor.
What do you think of the new look? Adding modern elements to a more traditional background is a nice way to freshen things up without having to commit to a full-on modern or contemporary look.
Watch the video of this renovation
If you enjoyed this post and would like to see more design tutorials, be sure to SUBSCRIBE at the bottom of this page. Hope to see you again!