Hello lovely readers! Today I'm sharing a really cool technique that you can use on any block or brick surface. Armed only with some paint and plaster I took our garage cinder block wall from drab to dapper.
I needed a nice backdrop for staging my furniture renovations when I photograph them for the blog. I wasn't sure how it was all going to come together, but I had an idea in my head. I really love how it came out and the wall is now ready for the limelight.
Take a look at how the wall looked before. It was originally painted white by our painter when we built the house. You'll notice a few spots of my cream paint that I started applying…I caught myself just in time to snap a before picture.
3 paint colors of choice (I used a cream, a maroon and a charcoal)

ladder

(I have a lightweight one like this which I love)
Step 1. First Paint Color
I chose three paint colors for my layers. Since my walls were already painted white, the white would actually act as another color layer. If your cinder block walls are not painted and are likely gray in color, then the gray undertones will make your end result look a little darker, but surely just as beautiful.
Here I am using my mini roller to apply the first color, a creamy off white (Glidden's Meeting House White). I rolled in all directions all over the wall careful to leave white parts exposed. You are not aiming for full and uniform coverage with this technique, but rather sloppy and sporadic strokes.
I made a maroon color by mixing some brown, black and red paint I had. I applied it as my second color. I rolled it on also sporadically going over some of the cream as well as leaving some of the cream and white parts exposed.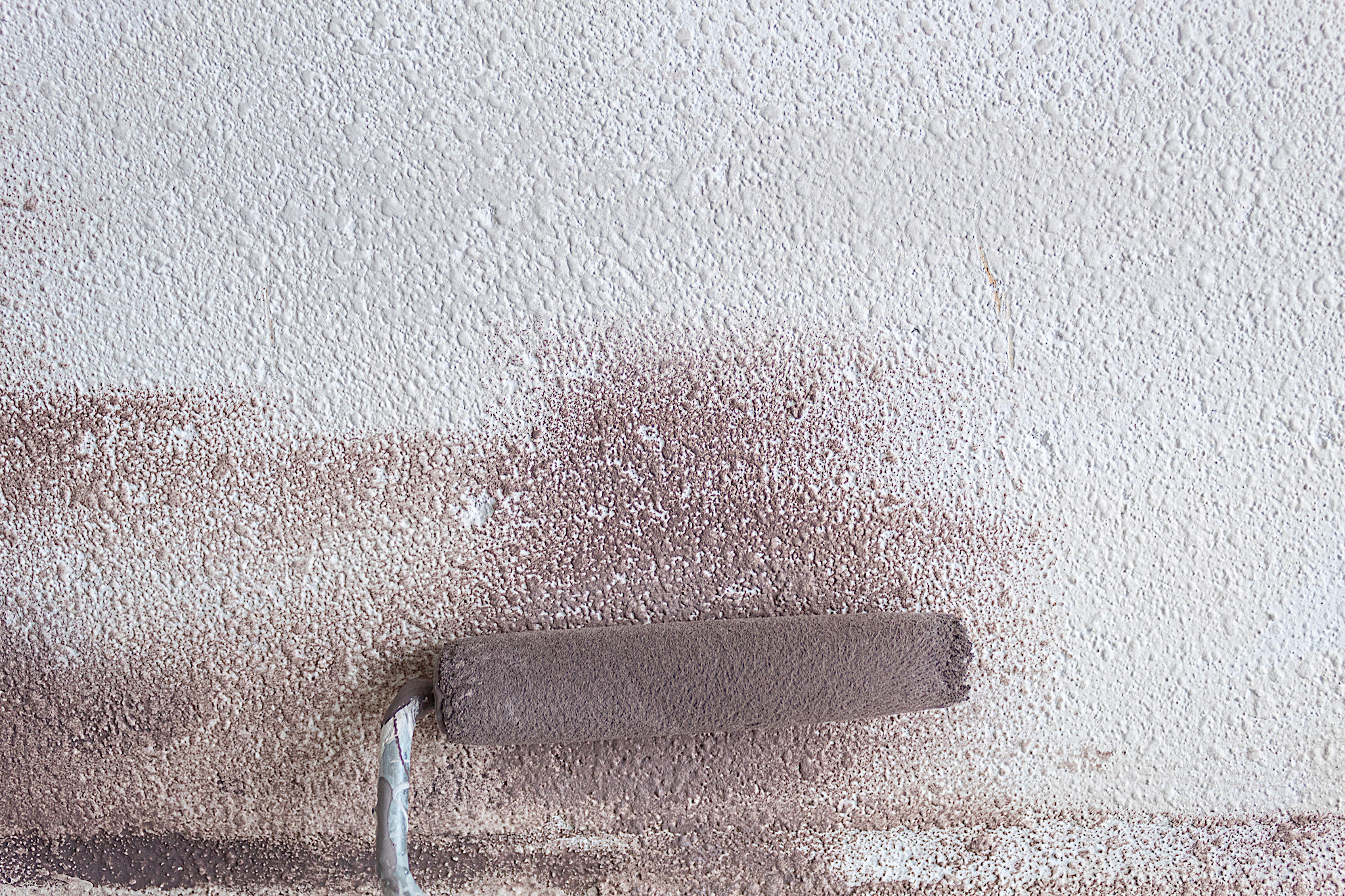 All the paints I used were leftovers of latex paint I had. I don't know that I'd use chalk paint for this finish. Because to make chalk paint move and go a long way you use water. Either by thinning the paint beforehand or misting as you paint.
If paint is watered down, it will seep into all the nooks and crannies of your blocks reducing the textured effect. If you dry brush it on (no watering) you will get a nice textured effect but you will quickly use up your chalk paint on such a large surface. I think latex worked out well for this project.
For my final color I used Valspar's Carbonized, an off black color.
As you roll over each prior layer of color and with the texture of the cinder block, you start to achieve a gorgeous mirage of depth and colors. There really is no wrong way of doing this. Because the paint will be only slightly showing after you apply the plaster, you can go crazy with your rolling strokes! I first tried this technique with a paint brush but I didn't like the look I was getting. With only a minimal amount of paint on the roller I was able to beautifully accentuate the wall's texture.
Here is the wall after the 3 paint colors. Pretty wild huh? If you really wanted a funky industrial look, you could stick with this. But I wanted a more subtle and neutral canvas for my background with an exposed brick look.
Last Step: Add Your Plaster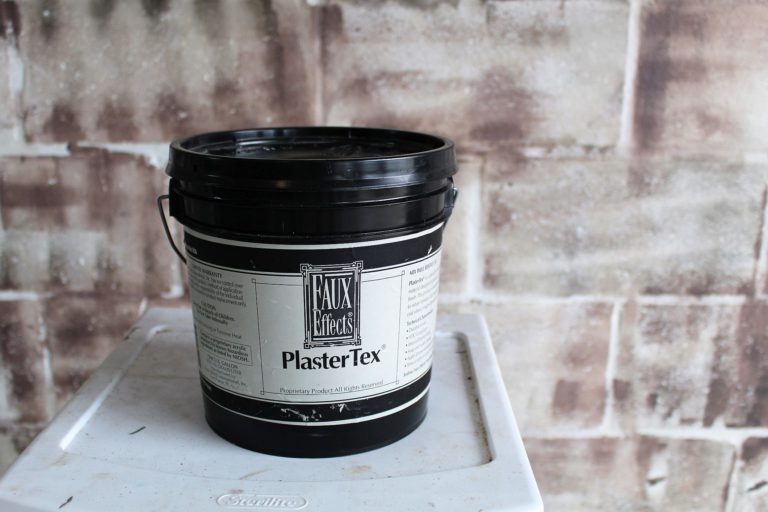 I had originally bought Plaster Tex to create a German Schmear brick wall in our kitchen.  I honestly was a little scared to use the PlasterTex on the brick since I had never worked with it. So instead I used mortar and it came out really well. And the upside was I now had a gallon of PlasterTex to play with on our cinder block wall. I wasn't so worried about messing things up in our garage!
Once I opened up the PlasterTex I loved the consistency. It was creamy and textured at the same time.  Prior to application I tinted it by mixing in about half a cup of the beige paint per half a gallon of the plaster. The plaster is like cake batter so it was easy to mix in the paint by using my trowel.  I folded in the paint over and over until it was completely blended in with the plaster.
The technique I used for the finishing details was to apply  layers of the plaster in swooping motions with my trowel. Leaving parts where the colors of paint are exposed is what's going to give your wall a really neat smeared and exposed brick look.
I was careful not to cake the plaster on as I did not want a heavy look. I played with it and went back over certain parts skimming the plaster.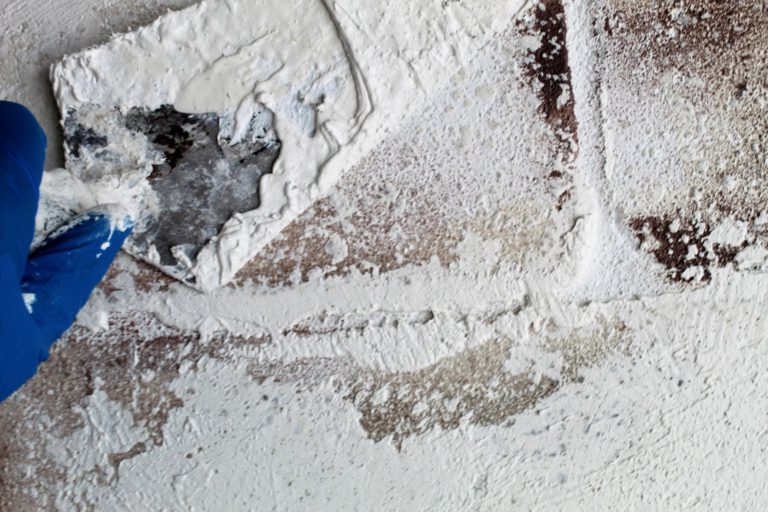 Occasionally step away from the wall to see if you like how it's looking. You can leave more color exposed too if you like. Below is a video demo of the plaster application process.
And that is it! What do you think? Isn't it beautiful! This part of our garage looks like a cool studio now…I try hard to ignore the messy clutter everywhere else.
This was a really easy way to make a bland wall look amazing and change the whole aesthetic of the space. It's the perfect backdrop for several design styles, from rustic chic to boho to modern industrial.
And I've made great use of it as my staging wall for my furniture renovations. Take a look.
If you enjoyed this post, you'll love how I renovated our kitchen wall. I used paint using and Saltwash® to create a stone look accent wall. It came out so dreamy! Read more >>.
CHECK OUT WHAT THIS READER DID!
"I followed your directions step-by-step and used oops paint from the store.  I was nervous at first since my paint went on heavy and looked like graffiti, but once I put the plaster on, I couldn't stop smiling.  Loving my new look.  We are doing 3 out of 4 basement walls like this and have found that one gallon of PlasterTex went about 100 sq ft.  Thank you for the tutorial, without it, I never would have thought to try this at home."
                                                                    ~Jennifer Browning

It makes me so happy when others are empowered to create their own art! Thank you for stopping by friends! I hope you enjoyed this tutorial. Be sure to SUBSCRIBE at the bottom of the page. I will be sharing some more exciting projects soon!